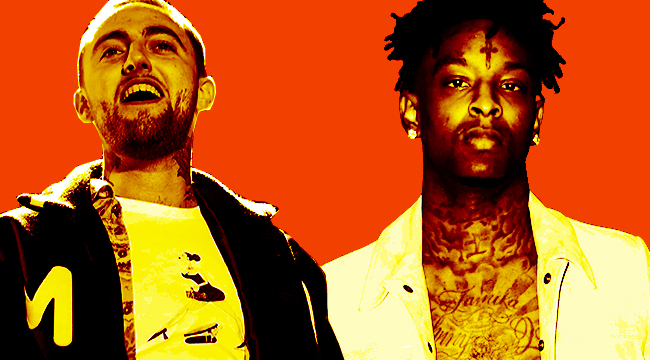 Hip-Hop is moving as fast as ever. Luckily, we're doing the work to put the best music in one place for you. This week, we got a slew of collaborations. There was Gucci Mane and Meek Mill connecting on "Backwards," Benny The Butcher and Pusha T talking their talk on "18 Wheeler," and Dreamville offering the first taste of Revenge Of The Dreamers III with "Down Bad" and "Got Me." Freddie Gibbs and Madlib also further stirred anticipation for Bandana with the Anderson Paak-assisted "Giannis." Here's the best of the rest:
Free Nationals Feat. Mac Miller & Kali Uchis, "Time"
Free Nationals was able to deliver the world the first posthumous Mac Miller verse for the lush "Time," a soulful reflection on frayed. While Kali Uchis sings softly about taking time to grow before investing in romance, Mac urges her to rethink her decision because he needs her in spite of his troubles.
Bazzi Feat. 21 Savage, "Focus"
Last Sunday, Lebanese artist Bazzi teased a song with a "special guest" to his followers. It turns out that the guest turned out to be 21 Savage, one of the hottest rappers in the game. 21 added his razor-sharp presence to "Focus," a breezy track where Bazzi croons to the person of his affection over a trap-driven production.
Blueface Feat. Rich The Kid, "Daddy"
Father's Day is Sunday, but Blueface and Rich The Kid linked up to celebrate a completely different context for the term. "Daddy" is a raunchy ode to the women in their life over a thumping slapper that will sure to rattle speakers all summer.
Kamaiyah Feat. Tyga & Quavo, "Windows"
Kamaiyah's been quiet as of late while prepping her upcoming album, but she's back on the scene in a big way with "Windows," an unabashedly Bay-flavored track featuring braggadocious appearances by Tyga and Quavo.
Lil Jon & Mac Dre, "Ain't No Tellin"
Two of hip-hop's biggest personalities ever connect on "Ain't No Tellin." Lil Jon has said that the bouncy beat was originally made for Janet Jackson, but she never used it. Perhaps the rap gods were working overtime, as Jon had an epiphany that the production was fit for the Mac Dre verse he had. Mac Dre is a Bay Legend who was murdered in 2004, but maintains a cult following based on his one of a kind personality and catalog full of invigorating bangers like "Ain't No Tellin."
03 Greedo, "Can't F*ccin Believe It"
03 Greedo offered up another track from behind the wall with "Can't F*ccin Believe It," a piano-dominated production where his knack for catchy choruses and head-nodding flows is on full display. Hopefully, this song title will be apropos to the day that Greedo is granted an early release from his 20-year sentence on gun and drug charges.
Don Q, "Better Have My Money"
The Bronx New York's Don Q is one of the most skillful rappers in the game, and his skills are on display on "Better Have My Money." It's unclear if the mix is off or the muffled vocals are for purposeful effect, but once the listener gets past that, they can take Don's lyrics for what they are.
Snap Dogg Feat. Mozzy, "Free"
It's a D-Town to Sactown thing on "Free," a collaboration between Sacramento rapper Mozzy and Detroit's Snap Dogg where the two shout out everybody in jail and explores the factors that led some of the peolpe in their lives to make mistakes.
Jay Critch, "Adlib 2"
One of Brooklyn rapper Jay Critch's breakout tracks was "Adlib," and this week he released the sequel to the affirming song. With a double-time flow, Critch affirms that no one can beat his adlibs, and dishes off a slew of witty wordplay such as "I got mob ties way deeper than your swimming pool / you ain't gonna hear me talk about it on no interviews." Smart.
tobi lou, "Waterboy"
Chicago's tobi lou is back with his first offering of the summer, pushing hip-hop's "drip" conceit to new heights on "Waterboy." The bright, fun song was paired with an aquatic-themed video that perfectly fit his wish to "drip."
Young Chop, "Chop Way"
Chicago's Young Chop is known along with Chief Keef and others as a forefather of Chicago's drill movement, but he's also a rapper nowadays. His upcoming album is ready, and he decided to drop off a preview of what to expect along with the announcement. "Chop Way" shows his production skills still intact as he rhymes melodically about his evolution from a rocky upbringing to "rocky diamonds" on his neck.
Lil Dude, "Amiri"
This week DC's Lil Dude dropped off "Amiri," a haunting track where he rhymes intently over a lurching, horror-movie-ready production. And yes, he's using a variation of "the DMV flow" on the gritty track.
Some artists covered here are Warner Music artists. Uproxx is an independent subsidiary of Warner Music Group.