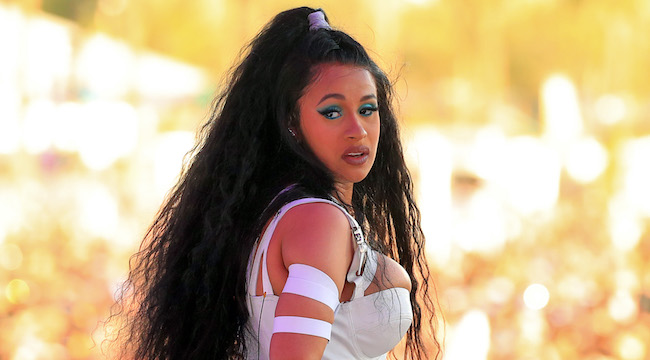 Maroon 5 may have been confirmed as the musical performer for the vaunted Super Bowl Halftime Show at Super LIII in Atlanta, but Cardi B just might be getting her own solo set, according to TMZ. While the "Ring" rapper would naturally be set to appear during Maroon 5's performance for their collaboration "Girls Like You," it looks like Cardi wants to make the most of her appearance, negotiating for her own solo set as well.
Due to her newly busy schedule featuring a veritable stream of offers since she had her baby Kulture with Migos rapper Offset, Cardi's team seems to be making a determination if it's worth showing up at the Super Bowl halftime just to perform one 16 and bounce. The Maroon 5 announcement didn't quite move the needle as much as the NFL probably hoped, and with the league's continued reluctance to engage with controversial artists in the wake of recent scandals with Colin Kaepernick and Nike — even ones from Atlanta themselves — having Cardi B as part of the band's set will almost certainly inject some much-needed excitement into the anticipation of the the show.
Of course, Cardi herself has been the subject of recent uproar herself; earlier this month she made headlines for nearly getting into a tussle with rival Nicki Minaj after having her fill of the elder rapper's subtle shade over the last few months.
Cardi B is a Warner Music artist. Uproxx is an independent subsidiary of Warner Music.