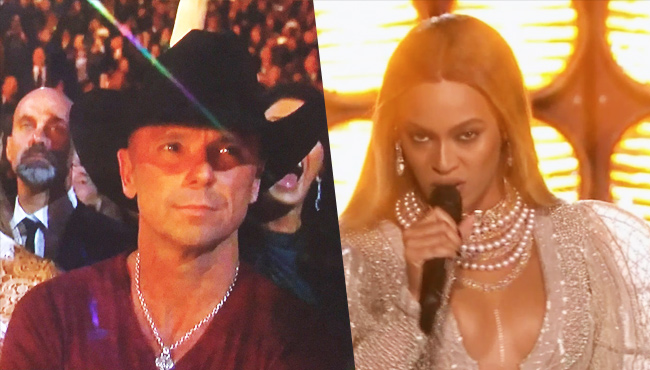 Beyonce's appearance at the CMAs with the Dixie Chicks in tow has already caused quite a stir. First of all, there was the fact that it was a surprise, then that the new version of the track with the Dixie Chicks on it was available as a free download, then the controversy when the CMAs removed some social media posts.
One of the more disappointing moments of the night was when it appeared that Kenny Chesney wasn't enjoying the supergroup's rendition of "Daddy Lessons." The BeyHive rather nastily swarmed him over it.
Beyoncé is SLAYING for these white folks… But Keith Chesney doesn't seem impressed. ? pic.twitter.com/VB2HxYFmfS

— Shady Music Facts (@TheFactsOfShade) November 3, 2016
But! Yonder window breaks — it was all a huge misunderstanding. No sh*t, some of us just have resting b*tch face. I feel you Kenny. He's clarified in a statement to AP that just like any other sane person in the world, loves Beyonce.
He said:
"I love Beyonce… I loved her Super Bowl performance, her sense of how to make the music hit really hard — and give it drama when she's onstage."
According to ABC, he also noted that "fans shouldn't be so quick to judge him or assume to know what he was thinking." That's also a tiny bit true BeyHive, maybe next time keep your stingers sheathed until we have the full story? Still, it's pretty funny that Beyonce's fans can induce a singer to release a statement confirming his support for the object of their affection.