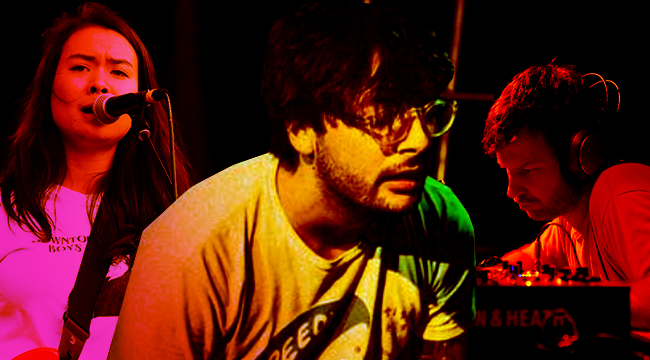 Indie music has grown to include so much. It's not just music that is released on independent labels, but speaks to an aesthetic that deviates from the norm and follows its own weirdo heart. It can come in the form of rock music, of pop, or of folk. In a sense, it says as much about the people that are drawn to it as it does about the people that make it.
Every week, Uproxx is rounding up the very best of the indie releases from the past seven days. This week offered up new albums from Foxing and Tomberlin, a great solo tune from Big Thief's leader, and Mitski showing that her upcoming album might be among the best of the year. It was a pretty great week for indie music.
Foxing — Nearer My God
[protected-iframe id="0e31e118f42d31f3d64dbbcfb956f1f3-60970621-76566046″ info="https://open.spotify.com/embed/album/6l3mTuQHtjeqoyYWkTxld8″ width="650″ height="380″ frameborder="0″]
Ambition is never something to take lightly in music, and Foxing's latest is loaded with it. In Steven Hyden's RX interview with the band, they call the record to their equivalent to OK Computer, meaning they set out to make a masterpiece and didn't land that far off. Bandleader Conor Murphy expands: "We're realizing what this band actually could sound like, where we can jump off and maybe make something like a Kid A, or maybe a Hail To The Thief."
Tomberlin — At Weddings
[protected-iframe id="5dd17ce10c9925389385f75a57da3211-60970621-76566046″ info="https://open.spotify.com/embed/album/1v55LXxVAFvFV02xGMImwP" width="650″ height="380″ frameborder="0″]
Every once in a while a new songwriter emerges that hits on all the big emotions that remind us why we love music: Sadness, longing, healing, heartache. Tomberlin is one of those, but she's also her own entity that comparisons just don't quite accurately describe. And at a young age and full of promise, the overwhelming feeling is that this is just the beginning for the evocative indie musician.
The Beths — Future Me Hates Me
[protected-iframe id="cddaf8338f0ab52b10767e158836bb52-60970621-76566046″ info="https://open.spotify.com/embed/album/4xG41eVnTuDK6uMmcksQ9B" width="650″ height="380″ frameborder="0″]
While it feels like so many of the great new rock bands hail from Australia, The Beths offer up a counterpoint: New Zealand. This band of jazz-trained musicians make C86-sounding tunes with particular vigor, sounding natural and at home as they put infectious melodies and confessional lyrics to foot-tapping tempos. It's a debut record full of promise, that also stands on its own as the band feels fully-formed, aware of their musical goals and able to achieve them.
Mitski — "Two Slow Dancers"
Through already releasing a pair of great singles from her new album and getting the upcoming collection, Be The Cowboy, released as the next Vinyl Me, Please record of the month, Miski looks to be topping the impressive run from her breakthrough previous album, Puberty 2. Her latest, "Two Slow Dancers," is another different look for the artist, featuring lush orchestration and a tender, spare melody. She can impress with grandeur and she can impress with intimacy. Basically, Mitski can do it all.
Adrianne Lenker — "Cradle"
As the leader of Big Thief, Adrianne Lenker has turned her highly intimate and personal songwriting style into a project that can (and did) play the Hollywood Bowl. On this solo outing, Lenker folds her songwriting inward for a song that is best heard in solitude, that can fill a quiet bedroom with her forthcoming, artful delivery. Lenker excels in both forms, and her prolific work of late means we don't have to pick and choose which we prefer.
Dilly Dally — "Sober Motel"
Dilly Dally take on a very real subject on their raw, sludgy new song "Sober Motel": sobriety when you're surrounded by substances. But lyrics aside, frontperson Katie Monks sells the song's emotional power through her guttural wails and the music's towering heights. There's a reason why this album is one of our most anticipated rock releases in the coming months.
Aphex Twin — "T69 Collapse"
With the announcement of a new EP, Collapse, comes a glitchy, propulsive new track from the electronic music legend. Aphex Twin is still relatively fresh off his return to American performances and the song, for the most part, is par for the course from the often great artist. But it's at its most interesting when the song turns itself inside out at its midway, getting lodged inside computer bleeps and pinball percussion.
Yowler — "WTFK"
The delightfully sludgy, throwback nature of this new Yowler tune puts it perfectly in place with the grunge renaissance the music world has been seeing of late. That isn't to say that Yowler is unoriginal, far from it. Her yearning, plaintive vocals ground the song in deeper emotions than angst, even if the song never explodes like it threatens to. Sometimes the tension alone is enough, and it never gets to be released.
Connor Youngblood — "Pizza Body"
He had me at the title alone. Even though this rising songwriter admits in a statement "obviously the lyrics to the song are not 'oooh I wanna pizza body', but in hindsight I wish they were," we can all pretend this song is about some Spaceballs-esque, Pizza The Hut scenario. But the song's woozy longing puts all jokes aside, beautiful enough to make any silly title fade from memory.
Restorations — "Nonbelievers"
One of my favorite things about this Philly band is the attention they demand. When singer Jon Loudon opens his mouth and lets out his lyrics, they force you to stop what you're doing and listen. There is weight in his tenor that can't be taught, and the fortunate thing for Restorations is that they can live up to this fact. It might seem a little more self-serious than a lot of what is happening in rock right now, but earnestness will never go out of style in my book.