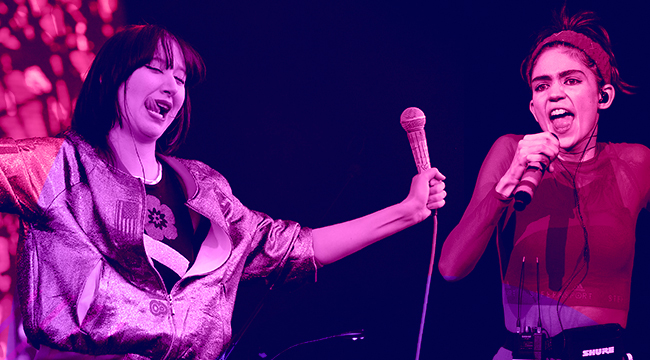 Indie music has grown to include so much. It's not just music that is released on independent labels, but speaks to an aesthetic that deviates from the norm and follows its own weirdo heart. It can come in the form of rock music, pop, or folk. In a sense, it says as much about the people that are drawn to it as it does about the people that make it.
Every week, Uproxx is rounding up the very best of the indie releases from the past seven days. This week saw the quite good collaborative album from Karen O and Danger Mouse, Grimes returning to dropping music when she feels like it, and Arcade Fire interpretting a childhood classic. Yeah, it was a pretty great week for new indie music.
Karen O And Danger Mouse — Lux Prima
[protected-iframe id="4b507dc4db63d7770444af0458f01577-60970621-76566046″ info="https://open.spotify.com/embed/album/1kgurOfUl0Qu20MDK46xur" width="650″ height="380″ frameborder="0″]
She's one of the great artists of our time, able to pulverize with punk energy or lull with remarkable gentleness. He's a producer who considers himself the musical equivalent of an auteur, successful both behind-the-scenes for bands like The Black Keys and Portugal. The Man, as well as in the spotlight on projects like Gnarls Barkley and Broken Bells. Together, they've pushed each other to exciting new places on this collaborative debut, Lux Prima.
Grimes — "Pretty Dark"
There was a time a few months back when it looked like we'd be in full Grimes album cycle by now. But "We Appreciate Power" didn't quite take off like hoped and the indie pop icon has been pretty quiet since then (except for in-the-bag collabs that have been seeing the light of day). "Pretty Dark" won't be on her next album she says, but feels like a way to check in and let her fans know she's still here, crafting weirdo pop songs that walks the tightrope between homespun and polished.
Arcade Fire — "Baby Mine"
The Disney live-action remake scene is wild, with three due in the coming months. But Dumbo has the added bonus of having Tim Burton at the helm, who already has a successful track record for rebooting kids classics, with Alice In Wonderland and Charlie And The Chocolate Factory already massive hits regardless of whether they are as beloved as their predecessors. For Dumbo, Burton taps indie rock royalty Arcade Fire to offer a new version of the film's signature song, the heartbreaking "Baby Mine."
Shura — "BKLYNLDN"
Following the release of her breakthrough debut in 2016, English singer-songwriter Shura is back with her first new music after a long break. "BKLYNLDN" is actually a reference to her relocation from London to Brooklyn in order to be with her long-distance flame. The song's catharsis is palpable, particularly the closing minute in which all tension is released for a bright, celebratory conclusion.
Jenny Lewis — "Wasted Youth"
The wait for Jenny Lewis' first solo album in five years is nearly over. But before On The Line drops next week, Lewis offered up one last early sampling. Once again, Stevie Nicks comes to mind through Lewis' '70s rock radio aesthetic on the song that has already become a staple of her live show.
Nasty Cherry — "Win"
Nasty Cherry is a new group made up of four women from seemingly very different worlds: Kitten's Chloe Chaidez, Star Wars set decorator Georgia Somary, Charli XCX drummer Deborah Knox-Hewson, and model Gabbriette Bechtel. On their debut single, they take a song co-written by Charli XCX and make a big splash. As our own Chloe Gilke wrote, "Win" is "a winsome pop anthem, confident and right out of the gate."
Holly Herndon — "Eternal"
It's been a while since we heard from electronic experimental Holly Herndon, and even as much as her previous music straddled the line between the organic and the artificial, it couldn't have prepared us for what is to come. Her latest employs artificial intelligence as a direct collaborator, enforcing the idea that technology does not have to be dehumanizing. Her music has red blood pumping through it, it just lives happily next to a source code.
The Head And The Heart — "Missed Connection"
Seattle folk rockers The Head And The Heart are coming off the biggest hit of their career with 2016's "All We Ever Knew," but don't think they are going to try to catch lightning in a bottle twice. With their fourth album just announced, the band has never shied away from pushing forward creatively, leaving their past in the rearview while the explore unfamiliar territory. And that's what's happening on "Missed Connection," as the band replaces jubilance for something a little more mysterious. It's still a singalong in the same vein as their best music, the band is just more nuanced than ever.
Frankie Cosmos — "Dancing" and "Tunnel"
[protected-iframe id="77074eccdf94c129fcb70751762abd8f-60970621-76566046″ info="https://open.spotify.com/embed?uri=spotify%3Aalbum%3A4SoTJBCKips0DryPkfakPb" width="650″ height="380″ frameborder="0″]
Over the next four weeks, Frankie Cosmos is dropping a pair of songs a week from her new eight-song digital collection, Haunted Items. Her first offerings from this set, "Dancing" and "Tunnel," are solo piano endeavors with little frills beyond the occasional vocal harmony. Still, the project's mastermind, Greta Kline, remains a captivating figure when she's at her most spare, marking these new songs as essential entries into her oeuvre.
Some artists covered here are Warner Music artists. Uproxx is an independent subsidiary of Warner Music Group.\
If you want even more indie music, sign up for our newsletter, Indie Mixtape, curated by Steven Hyden here.