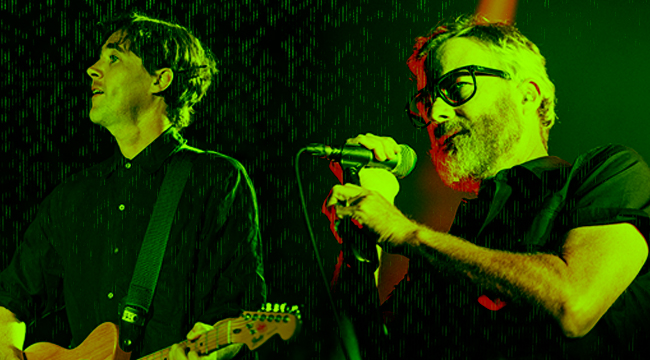 Indie music has grown to include so much. It's not just music that is released on independent labels, but speaks to an aesthetic that deviates from the norm and follows its own weirdo heart. It can come in the form of rock music, pop, or folk. In a sense, it says as much about the people that are drawn to it as it does about the people that make it.
Every week, Uproxx is rounding up the very best of the indie releases from the past seven days. This week saw a great duet from The National's Matt Berninger and Julien Baker, Maggie Rogers nailing a cover of a Taylor Swift classic, and Cass McCombs continuing to prove why he's one of indie's most dependable songwriters. Yeah, it was a pretty great week for new indie music.
Matt Berninger, Julien Baker, and Stephen Altman — "All I Want"
[protected-iframe id="a17211f5183bcf20335f912a19714018-60970621-76566046″ info="https://open.spotify.com/embed?uri=spotify%3Atrack%3A6feFeOFIvBbrB5BL72mt2f" width="650″ height="380″ frameborder="0″]
Julien Baker has been killing the collaborations in 2018, with her incredible Boygenius project and now this single with The National's Matt Berninger. The two are masters of the melencholy in their own right, and together, they take this single for Planned Parenthood through the emotional roof.
Maggie Rogers — "Tim McGraw" (Taylor Swift cover)
[protected-iframe id="157ebf74b8d85cad9343100bbb3b17df-60970621-76566046″ info="https://open.spotify.com/embed/track/5sn1BmEOPP1bu4cZq9OgoF" width="650″ height="380″ frameborder="0″]
With her debut album due out next month, Maggie Rogers has already conquered the big stages of Saturday Night Live and music festivals. But filling the shoes of Taylor Swift is something that seemed like a tall order, and she handles it with grace on this Spotify single. It's one of Swift's most iconic songs and Maggie gives it her own spin, showcasing the power of her voice along with her impecable taste.
Cass McCombs — "Estrella"
Cass McCombs is an indie lifer who still has a lot of new tricks up his sleeve. On his latest, "Estrella," the nomadic songwriter finds warmth and nuance in this tribute to Juan Gabriel. This, along with the previously released "Sleeping Volcanos," bode well for his upcoming album, Tip Of The Sphere.
The Decemberists — Traveling On
[protected-iframe id="f1cc2a2d502e1963b72a393bf4a17f28-60970621-76566046″ info="https://open.spotify.com/embed/album/1QIZTvmt08nhtYXfnCj2E6″ width="300″ height="380″ frameborder="0″]
The Decemberists are now firmly entrenched as the elder statesmen of indie, but this brief EP is a nice reminder of the endelessly hooky and sturdy songwriting of leader Colin Meloy. The upbeat lead song "Down On The Knuckle" and the longing title-track make it worth the price of admission on their own to hear the band embrace their R.E.M. influence. It's songs like these that the band is at their very best.
M.I.A. — "Reload"
Fans who check out M.I.A.'s current documentary MATANGI/MAYA/M.I.A have a treat if they watch the end credits, with the unreleased song "Reload" playing during them. Now M.I.A. has released the entire vintage track, capturing the indie rapper at her spirited best and reminding of just how effortless her music seemed from her early days. Her sound is undeniably singluar, and even though this song is likely more than a decade old, it still lands with immediacy.
American Football — "Silhouettes"
There was a time, like, five years ago, where we all thought that the lone American Football album was all that fans were meant to hear from the seminal emo band. And though that would have been okay, too, we now have the announcement of a third American Football album, and their second record in the last three years. Lead track "Silhouettes" is a sprawling and gorgeous seven-minute odyssey, the kind of song that envelopes its listener in its own majesty, boding well for the new record.
Martha — "Heart Is Healing"
UK punks Martha show their jangle-pop side with this warm holiday gift. Along with the catchy tune, the band shared a message that promised potentially new music on the horizen. And true to their anarchist roots, they also asked fans to "unite and seize the means of production" as a present, or just a Nintendo Switch if that proved impossible. It's nice to have this band back on the radar.
Jim James – "What The World Needs Now Is Love" (Burt Bacharach cover)
[protected-iframe id="ff43d11ed70dd4dc3cb6fda935f24332-60970621-76566046″ info="https://open.spotify.com/embed/track/0h2oCOYgIx2u88ZwPPTSnk" width="650″ height="380″ frameborder="0″]
There are countless Christmas songs, but Burt Bacharach's 1965 classic "What The World Needs Now Is Love" has always felt like the quinessential New Year's Eve song. It's hopeful and a bit sad, the kind of tune you could easily use to look forward or backward. The timing of Jim James' cover of the song is probably just coincidence, but the gorgeous choral rendition might be the perfect soundtrack for this year's ball drop.
Dave Harrington Group – "Well"
[protected-iframe id="bd92411c22e829b9556f055f55213dcf-60970621-76566046″ info="https://bandcamp.com/EmbeddedPlayer/album=1745935114/size=large/bgcol=ffffff/linkcol=0687f5/tracklist=false/artwork=small/transparent=true/" ]
As one half of Darkside, Dave Harrington produced what might be the most beloved electronic album (and accompanying tour) of the decade. But after a few years of silence, Harringon is back with a new song from his current project, Dave Harrington Group. "Well" is brief and vivid, bordelining on chaos but never without a coherint vision and roadmap. And the vibraphone absolutely rules.
Some artists covered here are Warner Music artists. Uproxx is an independent subsidiary of Warner Music Group.
IF you want even more indie music, sign up for our newsletter, Indie Mixtape, curated by Steven Hyden here.