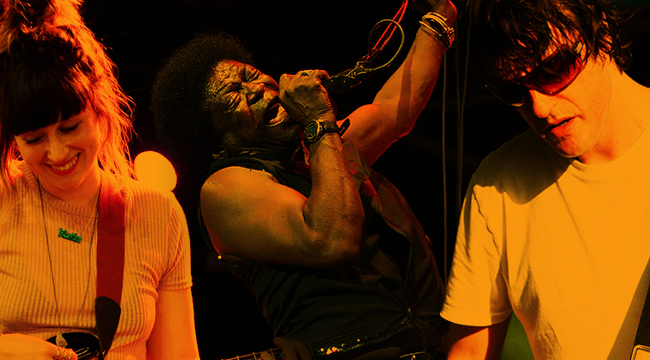 Indie music has grown to include so much. It's not just music that is released on independent labels, but speaks to an aesthetic that deviates from the norm and follows its own weirdo heart. It can come in the form of rock music, of pop, or of folk. In a sense, it says as much about the people that are drawn to it as it does about the people that make it.
Every week, Uproxx is rounding up the very best of the indie releases from the past seven days. This week offered up another staggering album from legends Spiritualized, a posthumous stunner from Charles Bradley, and new short works from the likes of Waxahatchee and The Mountain Goats. It was a pretty great week for indie music.
Spiritualized — And Nothing Hurt
[protected-iframe id="ba02c96a6e1af5859d5e8c87f8d091ea-60970621-76566046″ info="https://open.spotify.com/embed/album/3ToLAAL4scA1rjgdLmbftg" width="650″ height="380″ frameborder="0″]
Though traditionally dubbed space rock, there is also something remarkably grounded about Spiritualized as a musical project. Their roots are less in the cosmos and more in pop music traditions. On Jason Pierce's latest, and his first Spiritualized album since 2012, he's in top form even though the album was recorded almost completely solo in his apartment. As I wrote in my review of the record, "Spiritualized is a portal to bygone days, when music was expected to be bigger than a room and bigger than your resources."
Waxahatchee — Great Thunder
[protected-iframe id="54d741ad519381fb6826a03b21261f0c-60970621-76566046″ info="https://open.spotify.com/embed/album/4XklW1gNW49SnWYPBNQI5y" width="650″ height="380″ frameborder="0″]
One of a couple short releases on this week's list, Waxahatchee's latest finds her repurposing old songs for a new purpose. Recorded for a now-defunct project called Great Thunder, the songs date back to the Cerulean Salt-era, with the track "Chapel Of Pines" recasting Katie Crutchfield closer to her southern roots than she usually drifts.
The Blaze — Dancehall
[protected-iframe id="de43d74259c4655f0261835ddd191df0-60970621-76566046″ info="https://open.spotify.com/embed/album/4Ekdf8v7lFV5c3zIdtpyjY" width="650″ height="380″ frameborder="0″]
French duo The Blaze operate in a very specific realm, which we'll dub cinematic electronica for the next couple of sentences. It's not just cinematic because the songs often are paired with ambitious video narratives, but just in the scope, building to huge cathartic peaks and almost demanding other senses be put to work beyond just hearing. This audio-visual marriage is the kind of pairing that makes it feel like the future is now. Fortunately, the songs of The Blaze or more than able to exist comfortably on their own.
Mothers — Render Another Ugly Method
[protected-iframe id="88d6ddffeff7d373accc7abd7d1c6163-60970621-76566046″ info="https://open.spotify.com/embed/album/3Kox52zVsSJ981xD9kKOQW" width="650″ height="380″ frameborder="0″]
When Athens-based band Mothers first formed, it wasn't a band at all, but just a solo project for songwriter Kristine Leschper. The DNA from those beginnings was still felt on their debut, when Angel Olsen felt like the closest analog for their sound. Now back with a new record, Mothers sounds almost like an entirely new band, infusing their aesthetic with post-punk and krauty elements that stand in contrast to the more straight-ahead songwriting fare. The result is a more ambitious version of the project that bodes well for their future.
The Mountain Goats — Hex Of Infinite Binding
[protected-iframe id="497dbcfe5c17aaf10b79fa5878e87781-60970621-76566046″ info="https://open.spotify.com/embed/album/1MbrGdr3eLlzIZs4xW5CIZ" width="650″ height="380″ frameborder="0″]
John Darnielle has always been prolific, saying in the past that an album a year, or roughly a song a month, seemed like the bare minimum for what a working songwriter should produce. But the form has changed over the years, going from solo home recordings to more ambitious full band affairs. One of the things that he'd gotten away from, the EP, seems to be returning to the forefront of his mind, and this surprise release promises to be just the tip of the iceberg.
Charles Bradley — "I Feel A Change"
Though it's been nearly a year since soul singer Charles Bradley died, the loss of one of music's most lovable personalities and unmistakable voices still stings sharply. This November, on the week of what would have been his 70th birthday, Bradley's final album will be released, and in advance is a powerful vocal performance that reminds of what a special talent Bradley was. Try to hold back the tears while listening to this one loud.
Dilly Dally — "Doom"
Call me old-fashioned, but I f*ck with just about anything with the title of "Doom." For Dilly Dally, whose upcoming Heaven is one of Uproxx's most anticipated albums of the next couple months, "Doom" represents both the sludgy sound that's been present on all their new releases and a more hopeful message than what might be expected. As frontperson Katie Monks says, "The song is about preserving your spirit despite all odds."
Skyler Spence — "Cry Wolf"
Skyler Spense can sound like an artist removed from the indie rock narrative. On his latest, "Cry Wolf," the skeleton of chillwave holds the song together, but Spense's sound almost represents an alternate reality where chillwave didn't fade away as a fad earlier in the decade and was instead given the chance to evolve into a more pop-adjacent movement. There's something delightfully homespun about Spense's sound regardless of how it was actually created, which probably just speaks more to the singularity of his vision.
Strange Ranger — "New Hair"
Back when they were called Sioux Falls, Portland-based Stange Ranger released an album of Modest Mouse-y indie rock jams on Rot Forever that made its mark as one of my favorite debuts in memory. The sound has shifted a little bit on new song "New Hair," almost sounding like Joyce Manor if they'd been signed to Merge record. Still, Strange Ranger tap into a songwriting style that is engrossing for anyone that love '90s indie, faithfully interpreting the sound for a new generation of music fans.
Julia Holter — "I Shall Love 2"
To describe Los Angeles-based musician Julia Holter as simply a songwriter would be to undersell what she accomplishes musically. As is demonstrated on her latest single, "I Shall Love 2" from the upcoming new album Aviary, Holter is more in the business of making wide-reaching, ambitious compositions. Sure, there is some traditional songwriting at its core, but the song unfolds with more majesty than pop music generally offers. And when the big reveal comes near the ending, the realization is just how much control Holter was in the entire time.
Phosphorescent — "Christmas Down Under"
On his first single from his upcoming album C'est La Vie, Phosphorescent channeled Paul Simon for something light and airy on "New Birth In New England." For his next song, we get something totally different as Matthew Houck harmonizes with a vocoded backing track. The result is a song that feels in communion with both contemporary pop music and someone like Bon Iver who is taking experimental folk rock to new and exciting places. Phosphorescent is proving to be equally deserving of inclusion in that conversation.