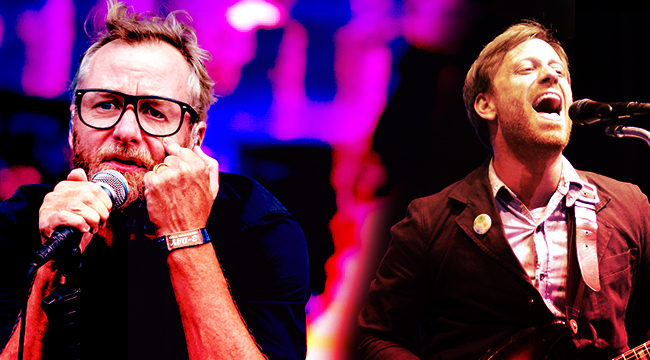 Indie music has grown to include so much. It's not just music that is released on independent labels, but speaks to an aesthetic that deviates from the norm and follows its own weirdo heart. It can come in the form of rock music, pop, or folk. In a sense, it says as much about the people that are drawn to it as it does about the people that make it.
Every week, Uproxx is rounding up the very best of the indie releases from the past seven days. This week saw the first new Black Keys song in five years, an album from Helado Negro that is among his career best, and the unexpected the return of The National who continue to prove why they are one of the best bands of this era. Yeah, it was a pretty great week for new indie music.
Helado Negro — This Is How You Smile
This gentle, meditative album evokes the likes of Caetano Veloso and Devendra Banhart in both its relaxing take on Bosa Nova and its effortless use of bilingual wordplay. But even if you only speak one of the languages being presented, there's enough truth in the melodies and arrangements that the emotion can be gleaned without following the words. This Is How You Smile is a special album that doesn't hide how personal it is for the artist, and it's all the better because of it.
Warm Human — Ghastly
Chicago songwriter Meredith Johnston lovingly refers to her Warm Human project as "sludge pop" in the press materials, and the debut album is bedroom pop in its most literal sense, even if you can't tell by listening to it. But regardless of how it is classified, Warm Human is instantly presented as music that can't be ignored. Writing about the record for Uproxx, Sasha Geffen said, "These are bold, capital-P pop gestures kidnapped from their native environment and thrown against the wall in new and surprising formations."
The National — "You Had Your Soul With You"
The last time The National went two years between albums was between Alligator and Boxer. Does that mean that the just-announced I Am Easy To Find is ready to join these classics? Not necessarily, but 2017's Sleep Well Beast won a Grammy and started a new chapter for the band, and with the strength of this first single, it's easy to imagine the band continuing a new level of quality for this second part of their career.
The Black Keys — "Lo/Hi"
Ohio's favorite blues rockers return after a five-year break. And the good news is, they have added at least one new fan to the mix. Still, this is an example of a reliable band sticking to their guns and continuing down the path that has earned them festival-headlining status. Sure, it's a little Foghat-esque, but that's part of what makes the band so charming. Few acts are this consistent, and we're lucky to have The Black Keys because of it.
Billie Eilish — "Wish You Were Gay"
It didn't take much more than reading this song's title to know it was going to be controversial. But the relaxed tune provides a sort of bait-and-switch approach, really about how Billie wishes the object of her attraction had a different reason for not reciprocating her feelings besides simply not being interested. Of course there has been a backlash, but not enough to take the shine off of one of pop music's most intriguing new voices.
Illuminati Hotties — "I Wanna Keepy Yr Dog"
We've all been there. Sometimes the best part of a relationship is the pets you met along the way. And on Illuminati Hotties' first new release since last year's excellent Kiss Yr Frenemies, this is the subject for a boisterous, infectious jam. Illuminati Hotties have a way for turning life's little idiosyncrasies into honest and hilarious songwriting, where the listener gets to know the mind of songwriter Sarah Tudzin and learns just what a creative artist she is.
Field Medic — "Used To Be Romantic"
Last month's "Henna Tattoo" is one of the best songs of 2019. Full stop. Following it up, Los Angeles songwriter Field Medic offers up a song trades timeless melancholy for biting humor, without losing his innate sense of melody along the way. One of 2019's most intriguing emerging artists.
Stef Chura — "Method Man"
In 2017, Detroit's Stef Chura offered up a collection titled Messes that caught a lot of attention. Two years later, "Method Man" announces a new chapter, where she will release an album on a new label, Saddle Creek, produced by Car Seat Headrest's Will Toledo. The song is a fever dream, all anxiety and full-throttled energy, proudly announcing that Stef Chura is an artist that cannot be ignored.
Caracara — "Better"
Rare does emo reach for the rafters like on Caracara's "Better." But the Philly band does just that with the help of producer Will Yip, crafting an anthem that hits its stride when it spins the wheel and retreats from the skeleton it has carefully assembled. It's a promising look at the catharsis of rock music, that feels as much about healing as it does about sharing the experience together.
Charly Bliss — "Chatroom"
While Charly Bliss' music sounds like sugary power-pop, that doesn't mean the lyrics are always as bright and colorful as the music. On "Chatroom," bandleader Eva Hendricks wrote about processing her own sexual assault, which also permeates throughout the upcoming record, Young Enough. "'Chatroom' is a song about reaching ecstatic joy through consuming rage," Hendricks said in a statement. "Simply put, it's a colossal 'f*ck you' and a celebration of reaching the point of a 'f*ck you' that isn't diluted by self-blame or apologies."
Bedouine – "When You're Gone"
Syria-born singer-songwriter Bedouine makes music that sounds eternal. The timelessness of her gentle folk permeates her typically spare work, along with this latest track which is expansive by comparison. A light dusting of percussion, orchestral swells, and even a guitar solo make its way into the mix as the artist keeps things intimate and immediate.
Some artists covered here are Warner Music artists. Uproxx is an independent subsidiary of Warner Music Group.
If you want even more indie music, sign up for our newsletter, Indie Mixtape, curated by Steven Hyden here.