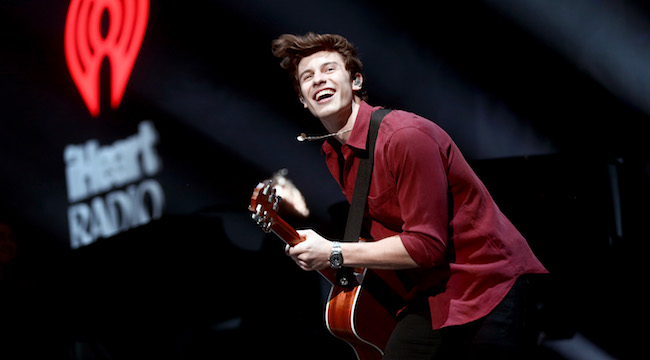 Over three studio albums, three headlining tours, 14.6k tweets, and hundreds of seconds of Vine clips, Shawn Mendes has told us a lot about himself. He sometimes struggles with panic and anxiety. He idolizes John Mayer and Harry Styles. He's a hopeless romantic. He's close with all his hometown friends in the Toronto suburbs, and with Taylor Swift. He thinks showers are "just unreal."
I feel like I know Shawn Mendes pretty well. I've never spoken with him, but I've listened to his albums enough that the stories in his songs feel like my own. I've never dared to do a meet-and-greet or been lucky enough to run into Mendes out in the real world, but everyone I know who has met him say the young pop star is incredibly kind and gracious. In the rock star profile published in Rolling Stone earlier this week, the journalist who is writing about him says that, as a rule, Mendes "never says no to a selfie." He'll take a photo with everyone who lines up outside his hotel to meet him.
Mendes is on the cover of the latest issue of Rolling Stone magazine, which is a huge career accomplishment; Rolling Stone is rock legacy, and artists grace its cover for the first time during peak moments in their career. Mendes is known for being honest in his music and equally open in interviews, but his candor in Rolling Stone sparked a bit of controversy. In the profile, Mendes admitted to drug use (don't worry, just weed), tossed back shots across the table from a journalist, and hooked up with a VIP tent bartender after a festival set.
All the talk about sex, drugs, and rock and roll made for an exciting read in some ways, though the edgy singer portrayed in this piece was difficult to reconcile with the Mendes that fans know. Just last month, Mendes filmed himself juggling for Instagram Live, and hung out watching soccer on I'll-wake-up-at-midday-and-marry-my-bed Hollywood introvert Niall Horan's couch. In the social media storm of Monday, I heard a lot of people say that this interview reveals more about who Mendes "really" is than any of his nice-kid social media schtick. But, as someone who admires his music and follows his projects closely, is this really new information?
The article's real controversy came when Mendes addressed all the speculation about his sexuality. The young singer told Rolling Stone that he frequently searches his own name on Twitter, and obviously, has seen all the comments insinuating he's gay. He was terrified for Taylor Swift to post a video of him wearing sparkly eyeshadow backstage because it would only "feed the fire." He stays up late studying his body language in interviews, noting what he needs to change to appear less feminine. "In the back of my heart, I feel like I need to go be seen with someone — like a girl — in public, to prove to people that I'm not gay," Mendes told the magazine. "Even though in my heart I know that it's not a bad thing. There's still a piece of me that thinks that. And I hate that side of me."
"In my heart I know that it's not a bad thing. There's still a piece of me that thinks that." The ambiguity of these words left me reeling when I first read them. I was hurt by Mendes' comment. He candidly admitted to an internalized homophobia that many know too well, and acknowledged the sad truth that in many ways, it's not completely cool to be gay. I thought of how it might feel for closeted fans to read Mendes' words on the Monday after Thanksgiving in the US, after spending a potentially painful weekend with family (or without them) and to see their favorite person put words to the sensation they might have had all through the holiday. "I hate that side of me."
I spoke with a few fans to gather perspectives on the Rolling Stone piece, and some others echoed my disappointment upon hearing Mendes' comment. One queer female fan, Kate, told me, "I'm 30, I have a strong sense of self, but I can't imagine being 17 and identifying with 'In My Blood' or something and being so aware that my fave's greatest fear is to be like me," she said. Others read his words differently. Another fan, Alexis, pointed out that Mendes' statement might have been meant to reflect homophobia and toxic masculinity as broader concepts: "I've also seen people describe him as homophobic, and I think they missed the point that his internalized homophobia was from the pressure of people saying he's gay instead of being able to live his truth," she explained.
Because the truth is, despite the blossoming careers of young queer pop artists like Hayley Kiyoko, Troye Sivan, and Kim Petras, along with legends-in-the-making like Frank Ocean and Janelle Monáe, the music industry is still undeniably homophobic.
Musicians' privacy when it comes to this very sensitive subject is an afterthought, and binary narratives of "gay or not gay" are clumsily shoved upon them, whether or not those labels actually apply. Even though pop phenomenon Harry Styles has said many times that he prefers not to label his sexuality, after he began performing the ambiguous "Medicine" on tour, Twitter was packed with misinformed people declaring him a "bisexual icon." After releasing the single "Girls," Rita Ora was forced to out herself after the ensuing controversy, saying that the lyrics "sometimes I just wanna kiss girls" were actually true to her experience. If you're a queer musician today — if you're lucky — you can be a massive indie icon. But my mom hasn't heard of Janelle Monáe, and they don't play King Princess on the radio in Wisconsin.
Mendes isn't even gay, and he has faced the effects of all of this. As he's gaining greater exposure and more people are listening to his music, he also has to keep articulating who he is. For any young artist, or any young person, it's exhausting. Mendes has already spoken out on this issue before, years earlier in his career. In June 2016, a 17-year-old Mendes posted a video to Snapchat to dispel the rumors. "I know 99% of you guys aren't making assumptions like this, but this is just for the 1% of you that are. I just want you guys to know before you judge someone on the way they speak or act to think 'Hey, maybe I shouldn't be judging someone' or 'Wait it actually doesn't even matter.'"
I guess he's saying pretty much the same thing in the Rolling Stone interview: "You f*cking guys are so lucky I'm not actually gay and terrified of coming out. That's something that kills people. That's how sensitive it is. Do you like the songs? Do you like me? Who cares if I'm gay?" But printed in a legacy publication like RS, there's no distinction made between that ugly 1% and the 99% percent of fans who love and support Mendes. I feel bad for everyone reading the profile who assumes that Mendes' own fans are obsessed with the idea of him being gay, and he's breaking our weirdo-deviant little teenage hearts by coming out as straight. For the most part, fans take Mendes' word for it when he defines himself. They take him seriously, and have expert knowledge about his music and public image.
Another Mendes fan, Larisha, wishes that the singer had been prompted to elaborate on internalized homophobia, or that more detail would have been included to contextualize sensitive issues. "When he says that he hates the part of him that thinks that way — I want to know why, I want to know how he thinks he can reverse that internalized thinking," she said. Larisha shared with me some of the questions she'd ask Mendes if ever given the chance to interview him, and her questions were brilliant. It's a shame that "objective" rock industry men are most often the ones granted the chance to sit across the table from stars like Mendes, instead of the people who spend so much time thinking critically about his music and image.
Another Mendes fan, H, told me, "We [as a culture] don't really know how to deal with a male star who is not performing a persona. Like, [Mendes] is not performing sensitivity or vulnerability, he actually is that way." Multiple people I talked to brought up Timothée Chalamet and Harry Styles' interview in i-D published earlier this month, where the two talk about the virtues of vulnerability in masculinity. It's a lovely piece, but those two don't get as real and as ugly as Mendes discussing what makes them nervous. Anyone can go onstage or step in front of a camera and perform sensitivity, but H is right. From his evocative, raw lyrics to his confessional social media habits, Mendes actually is this vulnerable.
A star of Mendes' level doesn't have to say anything. Plenty of artists let their music alone speak for themselves, and use social media sparingly, keeping their private lives private. Mendes was raised on Vine, though, and uses social media like only a digital native could — for everything from joking around with friends to expressing some very real anxieties. I don't know anything about the real Shawn Mendes, or about any musician I'm not close personal friends with. But I've seen Mendes perform live, and witnessed his smile as he looked out at a packed festival crowd stretching halfway to the other end of the park. I laugh at his tweets, and his music has personal meaning to me. This stuff counts, as much as any words printed on a page. This stuff makes up who we are.
After a few days and dozens of conversations with fans, I'm still left with one question, though. Who are profiles like this Rolling Stone one for? Given the nature of my job, I read a lot of interviews with musicians, but even before I was a journalist I used to obsess over long-form pieces like this one. Even the more salacious ones (looking at you, One Direction in The Guardian or, uh, Zayn in GQ) didn't have a ton of information I didn't already know. Liam Payne is a nervous talker. Zayn is tired of being seen as the "bad boy." Shawn Mendes is more openly sensitive than most cis, straight guys in Hollywood, but yeah, he's straight.
But talking to these fans, I remembered that there's a thrill in seeing someone you admire — someone who mainstream media outlets don't take as seriously as they should — on the cover of a magazine, talking to a professional journalist. It's not made for fans, necessarily, and I'm sure the imagined audience of Rolling Stone magazine isn't just "Shawn Mendes stans." Admiring someone's music and work this much, you come to know a lot about them, more than can be contained in one article, written by someone who doesn't know all of that specific context. Even if the rendering in the profile isn't perfect, and even if some of the quotes don't go along with everything fans know about their idol, there's still some value in seeing their glossy face looking up at you from the magazine newsstand.
I'd like to believe the real picture of Mendes does and has already come through for us, though. Like most 20-year-olds, Mendes spends a lot of time online. He's native to the digital brand-building that most older musicians have to awkwardly adopt. For people of his (our, I guess) generation, expressing yourself via social media is a natural part of social life. The picture you build of yourself from pixels and characters is an aspirational, if not completely flawlessly accurate, approximation of you. Even if, on social media, words can become louder in a vacuum of anonymity. Still, the story goes like most of the best ones do: We've got our flawed, lovable hero. We've got our tormentors. And we've got our friends and fans who will stick with us to the end.