The Scoreboard is Uproxx Music's bi-monthly look at who is putting points on the board and who is taking major L's in the music world over the past couple weeks.
Music really affects me: It makes me smile, cry, and realize I'm in bad shape because I got winded after dancing to Ginuwine's "Pony" in the kitchen a few days ago. It's a real mixed bag, and sometimes, things happen in music that aren't that all good. They need to be addressed too, along with all the praise we normally dish out. So, let's look back at the highs and lows of the music world over the previous two weeks, via DJ Khaled's new health goals, homogeneous music festivals, and Drake's mistreated teeth.
Win: Caring about your health
Most of us gave up our newfound passion for the gym, kale, and moving our bodies at all a few days into 2018 — I personally shut down most physical activity in the winter because it's too cold to run outside in Maine this time of year and using a treadmill makes me feel like a genetic experiment. However, some big-time players probably think I should take better care of myself all the time. DJ Khaled has teamed up with Weight Watchers to be his best self in 2018, Swizz Beats says I shouldn't put off getting a colonoscopy, and I ought learn from Eric Clapton's mistakes and wear earplugs to concerts and other loud places (which I have started doing over the past year or so, for the record). I don't get to stay on this flat Earth forever, so I'll do what I can to stick around for a while.
Loss: Boring festival lineups
Music festivals are facing a big and statistically proven problem: The lineups are getting so boring. Eminem is headlining just about every fest in 2018, and overall, there's not a ton of diversity between festivals, which makes each a bit less special and robs them of any identity. People are catching onto this, too: Louis Tomlinson wants to know where all the bands are, Halsey wants to know where all the women are, and Uproxx's Philip Cosores wants to know if this all means that the festival bubble is about to burst (Spoiler: definitely maybe).
Win: Brutal honesty
Is it a coincidence that singing competition shows got a lot less fun when Simon Cowell left American Idol? Good singers are fun to listen to, sure, but if the show is all happiness and warm feelings not being undercut by savage criticisms and difficult truths, where's the drama? Thankfully, Diddy is filling this Cowell-sized hole on The Four, and he established himself as the resident Jenna Maroney on America's Kidz Got Singing from the very first episode, when he made a singer cry and responded to getting booed by telling the audience, "You're all liars."
There are no participation trophies in life, and even if there were, don't expect Diddy to be the one handing them out.
Loss: "Mixtapes"
It's tough out there for an up-and-coming music producer: It turns out that labels are using the distinction between albums and mixtapes to get away with paying beat-makers less. There doesn't always seem to be a clear reason why one release is considered an "album" while another is called a "mixtape," and it's sad if the primary motivation for these semantics is robbing some hard-working folks of some cash they deserve. Maybe Uproxx's Andre Gee is right and hip-hop producers should form a union so they can stop getting ripped off.
Win: Arts and crafts and rock and roll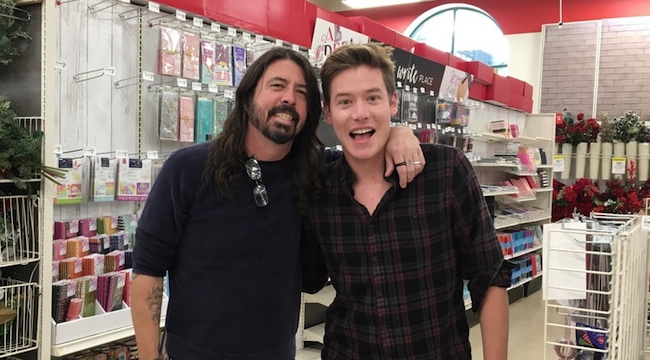 I've got another confession to make: I'm sure being a rock star is fun, but I bet they just want to do normal stuff sometimes. Case in point: Dave Grohl was spotted at a Michaels arts and crafts store, and now I can't stop wondering what sort of crafty project he could have been working on. Maybe it was a custom guitar display? A case for his reading glasses so they're not left exposed hanging on the front of his shirt? A "FRESH POTS!" cross-stitch?
We may never know, but there goes my hero, and I'll watch him as he sews.
Loss: That one time Justin Timberlake went camping
JT unveiled the tracklist for his upcoming album Man Of The Woods, and from the sounds of it, he read Into The Wild once and became obsessed with big open fields. Actual song titles include "Supplies," "Flannel," "Breeze Off The Pond," and "Livin' Off The Land," which is basically impossible to parody (but I tried). To make another 30 Rock reference, it feels like Timberlake is trying to beat Weird Al by making music that can't be parodied. That said, "Filthy" is undeniably fun, so here's to Man Of The Woods being more than an awkward tribute to the time JT saw an autumn leaf and was really moved by it.
Win: "AHHH KELLY CLARKSON"
Steve Carell screamed Kelly Clarkson's name while getting his chest waxed in The 40-Year-Old Virgin 13 years ago, and all these years later, the two finally met each other at the Golden Globes. An iconic pop culture moment has come full circle, they both looked as happy as Dave Grohl at a craft store in the photo, and for a split second, the world was beautiful.
Loss: "Who is Eminem?"
Hahahaha this just happened on Jeopardy pic.twitter.com/WaNFRVZmRg

— Jernst (@john_ernst5) January 12, 2018
Jack White and Eminem are both white musicians who proudly represent Detroit, which was enough to convince poor, poor Jeopardy contestant Julie into thinking that a photo of White was actually one of Eminem, making a wrong guess, and probably quickly realizing that she turned herself into a meme. Also, it seems like somebody at the show has it in for White, because they sure did use an unflattering photo from years ago. They might as well looked in his high school yearbook, or asked White's mother for baby bathtub pics.
Win: Everybody was wrong and Jay-Z continues to make so much money
The rumor about Jay-Z's current tour late last year was that it was bombing because he wasn't selling out a ton of shows. While the part about empty seats is true, it turns out that this was actually by design, and Jay still made a ton of money (48.7 million moneys, to be specific). This was all part of a "slow ticketing" plan that's used to prevent scalpers from getting all the tickets and jacking up the prices, and it certainly seems like it's worked, even though something didn't look right initially. Most importantly, Jay's still putting on a great concert, and it's a show so nice that we reviewed it twice.
Loss: Brushing your teeth like Drake
Somebody on Instagram accused Drizzy of having dirty teeth, so he fired back and said that not only is this untrue, but that he even uses charcoal toothpaste before hitting the club to make sure his pearly whites are extra pearly. Brushing your teeth is a good thing, but don't believe the spam your favorite Instagram meme accounts post: This trendy oral care product flat out doesn't work. My cousin who's in dental school told me that, and Colgate, a company that knows about teeth, agrees: charcoal activated toothpaste is actively bad for you and could actually make your teeth look more yellow:
"While you might not notice any negative effects right away, the American Dental Association warns that activated charcoal is too abrasive and will wear away your tooth enamel. Once the enamel is gone, it's gone forever. The layer beneath, known as the dentin, becomes more visible. Dentin has a natural yellow tinge, meaning that you're likely to be left with teeth that look more yellow or stained than they did to begin with."
Don't listen to Drake, reach your hand into your fireplace, and shove whatever you come up with into your mouth: stick with normal toothpaste and you'll be fine.