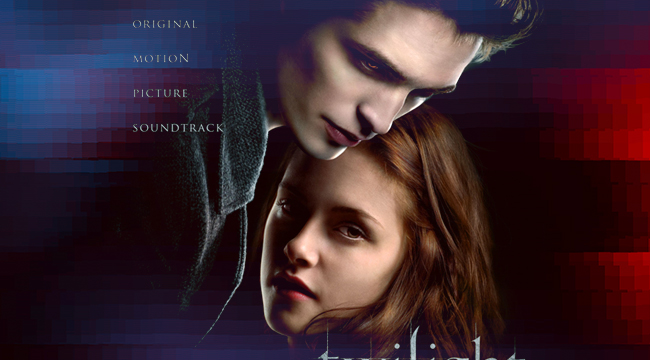 The first time I heard a Radiohead song was at a midnight premiere for a movie about teenage vampires. It was 2008, and I was a freshman in high school, the age when I started to wonder if I'd outgrown The Jonas Brothers but was still gleefully blind about how dorky it was to go to school in a puffy painted t-shirt pledging my allegiance to Team Jacob. I'd read the Twilight books a dozen times each, my paperbacks worn enough to fray on the corners of the covers. I was also obsessed enough to keep second copies on a shelf in my closet, protected from the elements and the clumsy hands of my little sister, who dropped my everyday-use New Moon paperback in the pool.
2008 was a long time ago, and Twilight has not aged all that gracefully. The story's gender politics don't hold up to close (or any) scrutiny — ordinary girl/vampire paramour Bella Swan is an incredibly inactive heroine, literally ready to give up her entire life to have sex with her hot vampire boyfriend. Jacob, the "nice guy best friend," is possessive and toxic, and in the movie, the Native American character is played by a white actor with a tan. Breakout stars Kristen Stewart and Robert Pattinson are indie film darlings now, and do everything to distance themselves from the banal crowd-pleasing of the Twilight franchise. I was a freshman in college when the last movie came out, and sat in the back row, laughing with my friends at how stupid it was.
But over the years, Twilight has regained a place in my heart. I look back on the silly 14-year-old girl who waited in line for hours to get a good seat at this movie premiere, and I see the same person who slept on the ground outside the Bridgestone so I'd be close enough for Harry Styles to see me from the crowd. I see something beautiful and maybe a little bit badass about uninhibitedly loving something so girly, so culturally derided, and not giving a single sh*t about how uncool that might look. More than the Twilight movies themselves, I look back on the soundtracks, which were absolutely killer, and packed with a who's-who of late '00s indie.
If you weren't a young teen girl in 2008 and somehow missed the incredibly sincere Twilight train, let me recap to you who is on these soundtracks. Radiohead lent "15 Steps" to the soundtrack for the first film, and Thom Yorke wrote a song for the second movie's soundtrack. The author of the book series, Stephenie Meyer, made playlists for each of her books, and she was a Muse superfan. Before the first Twilight movie even came out, I'd already packed my iPod with the Muse songs she'd introduced to me. "Supermassive Black Hole" was on the first album's soundtrack, but like Thom Yorke, Muse also wrote songs for some of the other movies.
Other artists who contributed original material to the film's soundtracks? The Killers, Lykke Li, Metric, Sia (pre-mainstream pop takeover), Paramore, Vampire Weekend, Victoria Legrand of Beach House, Bon Iver, St. Vincent. Stephenie Meyer used to put Blue October songs on her book playlists, and the band ended up following her on her book tour in 2008.
Of course, powerhouse soundtracks are nothing new, and nothing special. Just last week, Shawn Mendes and Troye Sivan contributed Queen covers to the Bohemian Rhapsody soundtrack. Lorde wrote a song for a Hunger Games movie, Taylor wrote one for Fifty Shades Darker. But Twilight was different. Look at that list of artists again. There are some killer indie rock ladies on that list — Lykke Li, St. Vincent, Hayley Williams, Emily Haines. But there are also some dude legends — Bon Iver, Thom f*cking Yorke. The soundtracks were my introduction to all of them, and showed me that I was welcome in music.
Indie is often thought of as a masculine-coded space. Every year, with the breakout of another Liz Phair disciple with a guitar and raw, wrenching lyrics, there are headlines about how things are changing now. Women have a place in rock! It's always implied that there's a progress narrative, that these things are better than they were a few years ago. It's important to highlight new talent, and especially to do so when there's so much at stake. (If only laudatory reviews and sold-out tours were enough to get more women top-billed at a music festival…) But to build this progress narrative where we as music critics, insiders, and listeners are So Much Better than those who came before us, we sometimes erase the history of the women, girls, and non-dude folks who carved their place in the scene long before we arrived.
The songs on the Twilight soundtracks and Stephenie Meyer's playlists were like portals to a new world. Hearing "15 Step" in the end credits led me down a beautiful, twisted rabbit hole to OK Computer, and the Eclipse book playlist introduced me to Neon Bible and the observational wit of Win Butler. I often felt like their inclusion on Twilight soundtracks were the artists' way of letting me know that they saw me. They didn't mind that I wore pastel dresses and dangly earrings — they respected the fact that I gave them my full devotion, and these extra songs were a nod to me. You're not who they imagine when they think about indie, but we're glad you're here.
As boys I knew doubted my knowledge of Arcade Fire's discography, the fact that these soundtracks existed was a lifeline. I know I'd probably have listened to Radiohead eventually if I hadn't heard it in the end credits of Twilight. But I'm not sure I'd be writing about music if I weren't reassured that it had a place for me.
Before I saw Bon Iver this January in Austin, I looked up the show's setlist. Justin Vernon changed it up every night on that tour, but sometimes he treated listeners to "Roslyn," his gorgeous song with St. Vincent from the New Moon soundtrack. "Roslyn," like most of the songs on these soundtracks, isn't even streaming on Spotify. Unless you owned a scratched-up CD of that soundtrack, you probably don't know the song. I found a video of Vernon performing the song in Richmond, VA. The theater was dark, obviously, and you couldn't really see anyone's faces. But I imagine from his vantage point, a few 20-something-year-old women lighting up with recognition when they heard the opening chords. This is our song! Like Edward and Bella, our favorite vampires, may it live forever.