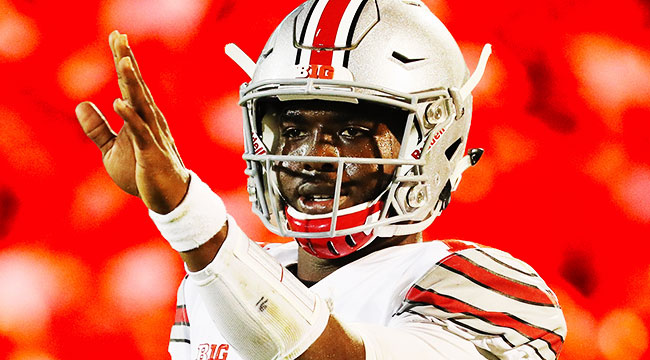 We're back, baby! Hope you rested up last week and got to bed early on Friday, because Saturday kicked off at noon with a slate that would knock your Grandfather off his rocker, and not just because he realized there are 14 teams in the Big Ten for some reason.
The day started off with FSU at Louisville, and if you didn't believe us before, you'd better start listening now. Louisville is legit, Lamar Jackson is the light and the truth, and anyone taking on Bobby Petrino's squad this season had better keep their head on straight. Despite a rainy, noon kickoff, Louisville came out strong and knocked the blocks off Florida State and never let up en route to a 63-20 win. Yes, FSU was missing one of its key defensive pieces in Derwin James, and Josh Sweat also wasn't 100 percent, but the defense is only half the team. Louisville's defense also stepped up huge and stopped FSU on offense, avenging the ghosts of two years ago when the Seminoles came back from 21 down in the second half to steal a win.
And that was just the opening game. We were then treated to Alabama-Ole Miss, where if recent history is to be believed, Ole Miss has a hex on the Tide. We also had Oklahoma hosting Ohio State, Michigan-Notre Dame, and Stanford-USC. No matter where you live in this country, there was a game of epic regional proportions on to watch.
Welcome back, Clemson. After a week in the dog(cat?)house, you're allowed back into the Power Rankings thanks to the first truly dominant performance we've seen out of you all season. Nebraska and Florida also join us in a nod to blue bloods of yore, while another storied program in Notre Dame drops out.
Has everyone recovered from that incredible third week? Hope so, because week four brings a couple big games to set your Saturday schedules around. Let's start by talking about reloading, not rebuilding, because the Buckeyes are No. 1 in this week's POWER RANKINGS!
(Opening Credits)
1. Ohio State (3-0)
Last week: 4
Last game: Beat Oklahoma, 45-24
Next up: October 1 vs. Rutgers
Ohio State lost 12 players to the NFL Draft this past year, and Urban Meyer could be forgiven for riding his young 4 and 5 stars to a 10-2 season in 2016. But all signs point to the Buckeyes being just as good as past editions, with the steady hand of (yes, he's still there) J.T. Barrett. The Alabama of the North prepares as well as anyone, as shown by their composed, quiet dismantling of Oklahoma in Norman this past weekend. It doesn't hurt that they can also pull some straight magic on catches like this:
2. Louisville (3-0)
Last week: 1
Last game: Beat Florida State, 63-20
Next up: Saturday at Marshall
I don't know what to tell you that we haven't said so far. If you're not on board the Lamar Jackson train, may we suggest the Brandon Radcliffe bus? The senior running back had 14 carries for 118 yards and a score against the Noles, with most of them coming in the first half. Yes, Jackson got more yards by the end of the day, but it can't be overstated how much having Radcliffe break some big runs in the first half forced the Seminoles defense to respect him as well as Jackson, and froze one of the fastest defenses in the country with the option the rest of the day. Just like this!
3. Alabama (3-0)
Last week: 3
Last game: Beat Ole Miss, 48-43
Next up: Saturday vs. Kent State
Congratulations, 'Bama, your curse has been lifted! I'm sure there aren't any more ghosts in the rest of your schedule.
4. Michigan (3-0)
Last week: 5
Last game: Beat Colorado, 45-28
Next up: Saturday vs. Penn State
Well well well, looks like Michigan finally faced a little trouble! Good job hanging with them for most of the game, Buffaloes, but in the end there's no way anyone on your team was going to catch The Dude:
5. Stanford (2-0)
Last week: 10
Last game: Beat USC, 27-10
Next up: Saturday at UCLA
"Route me momma like a wagon wheel,
route me momma any way you feel.
Heyyyyyyy momma route me."
6. Clemson (3-0)
Last week: Unranked
Last game: Beat South Carolina State, 59-0
Next up: Thursday at Georgia Tech
Welcome back, Tigers! After a week in the wilderness, we're glad to see you've finally found your true selves. Just in time, too, because after having to spend this week prepping for the wild option attack of Georgia Tech, you've got Louisville on deck.
7. Houston (3-0)
Last week: 6
Last game: Beat Cincinnati, 40-16
Next up: Saturday at Texas State
I swear this game was a lot closer than the score shows. In fact, it wasn't until 11:45 left in the 4th quarter that Houston took their first lead of the game. But five minutes later, they were up by 10. But the Bearcats' back didn't break until the resulting two drives, when Houston got two pick-sixes seven seconds apart to blow the game open.
Beware, Houston, other teams might not be so giving with the interceptions.
8. Michigan State (2-0)
Last week: 17
Last game: Beat Notre Dame, 36-28
Next up: Saturday vs. Wisconsin
Mark Dantonio's squad has started quietly thanks to an early bye, but after knocking Notre Dame out of the playoff running, Michigan State will start conference play with a strong Wisconsin team this week. With a win, that'd put them on the short list of Big Ten contenders. Both Michigan and Ohio State travel to East Lansing this year, meaning there's a chance that Sparty could upend the conference once again.
9. Arkansas (3-0)
Last week: 15
Last game: Beat Texas State, 42-3
Next up: Saturday vs Texas A&M at AT&T Stadium
Well look who's 3-0! Bret Bielema's Razorbacks only have one marquee win so far, but it's against TCU, one of the Big 12's former favorites heading into this year. They handled Texas State like an SEC team should and can make it 3-0 in the state of Texas on Saturday with a big game against A&M in JerryWorld.
10. Texas A&M (3-0)
Last week: 20
Last game: Beat Auburn, 29-16
Next up: Saturday vs Arkansas at AT&T Stadium
Hey, look at that! What a coincidence! Ignoring their 67-0 destruction of Prairie View, the Aggies have two solid wins, though admittedly Auburn isn't really the class of their conference this year. Beating Arkansas in Arlington will go a long way towards establishing A&M as the premier program in Texas, especially with Baylor's off-field issues, TCU's stumbles, and Texas' youth.
11. Tennessee (3-0)
Last week: 9
Last game: Beat Ohio, 28-19
Next up: Saturday vs. Florida
We just don't know what to think about you, Volunteers. You barely escaped Appalachian State, but then put away Virginia Tech relatively easily. But then Ohio (and not Ohio State) gave you some trouble. ESPN's College Gameday is coming to Knoxville this weekend. Are you guys ready for the lights or not?

12. LSU (2-1)
Last week: 12
Last game: Beat Mississippi State, 23-20
Next up: Saturday at Auburn
I mean, as long as you've got Leonard Fournette, you're never really out of it.
In all seriousness, until the rise of Lamar Jackson, this season was expected to be a battle between Fournette, McCaffrey, and Dalvin Cook among running backs for Heisman honors. So far Cook hasn't looked his best, and while McCaffrey is juking dudes out of their shoes on the west coast, Leonard Fournette is still capturing all the attention back east.
13. Georgia (3-0)
Last week: 13
Last game: Beat Missouri, 28-27
Next up: Saturday at Ole Miss
Maybe you've noticed this is the fifth SEC team in a row! That's what you get for a conference that has one elite team in Alabama, and a whole mess of others who are good, but not nearly the cream of the crop nationally as they normally are. We've bunched them all together to give them all a shot at climbing out of the heap, but with conference play underway, they should quickly begin to sort themselves out. (Don't get your hopes up, Athens. Everybody knows Georgia is a Hufflepuff.)
14. Florida State (2-1)
Last week: 2
Last game: Lost to Louisville, 63-20
Next up: Saturday vs. South Florida
"I'm not mad, I'm just disappointed."
15. Florida (2-0)
Last week: Unranked
Last game: Beat North Texas, 32-0
Next up: Saturday at Tennessee
Granted, it's been UMass, Kentucky, and North Texas, but the Gators have given up only 14 points in three games. Say what you will about his offensive acumen, Will Muschamp left that defensive cupboard stocked for Jim McElwain when he arrived two years ago.
16. Washington (3-0)
Last week: 18
Last game: Beat Portland State, 41-3
Next up: Saturday at Arizona
Yup, I'll admit it – there's some Midwest bias going on in this selection. Look, Washington, I love college football, but you can understand why I might not have wanted to stay up late for your games against Rutgers, Idaho, and uhh …
[checks schedule]
the hell is a Portland State?
But I've got your trip to Tucson marked on the calendar for this weekend. Let's see how you do in the desert against a fellow Pac-12 team and then I'll slot you accordingly.
17. North Dakota State (3-0)
Last week: Unranked
Last game: Beat Iowa, 23-21
Next up: Oct. 1 vs. Illinois State
Hahahahahahahaha Iowa, you dumb, dumb school. And for once we're not just talking about re-signing Kirk Ferentz.
18. Nebraska (3-0)
Last week: Unranked
Last game: Beat Oregon, 35-32
Next up: Saturday at Northwestern
Oregon's having a down year, sure. But this is a good win for a team that's been trying to climb back to relevance for almost two decades. They've got a schedule that could get them to November undefeated if they can beat Wisconsin on the road, and then that litmus test against Ohio State looks a lot bigger. (Also, because gestures like this should be appreciated, way to go, Oregon.)
19. Miami (3-0)
Last week: 22
Last game: Beat Appalachian State, 45-10
Next up: Oct. 1 at Georgia Tech
Look at it this way, Appalachian State. In a way, Miami destroying you 45-10 was a sign of respect. I mean, that clearly shows they actually prepared for you and studied you and were concerned about what you bring to the table. Congratulations, you're just like Georgia Tech!
20. Texas (2-1)
Last week: 8
Last game: Lost to Cal, 50-43
Next up: Oct. 1 at Oklahoma State
I'll admit, I'm not sure Texas belongs in the rankings this week. I decided to stop their plummet from 8 because 43 is a lot of points, and I think with a week off to regroup they'll start to shore up that defense and be much tougher the rest of the season.
Also, this game was stupidly entertaining, and in the Power Rankings, we're nothing if not suckers for stupid entertainment.
21. Oklahoma State (2-1)
Last week: Unranked
Last game: Beat Pitt, 45-38
Next up: Saturday at Baylor
Welcome to the Power Rankings, Oklahoma State! You're here because if it ain't a power move to make Pitt wait around for two hours during a weather delay tied at 38 just to send them packing with the L, we don't know what is.
Also, you're a false 2-1: while it ain't great that you let Central Michigan beat you with the finish of the year, technically that play shouldn't have been allowed to happen. We're willing to consider you 3-0 until we see how you do in Waco this weekend.
22. TCU (2-1)
Last week: Unranked
Last game: Beat Iowa State, 41-20
Next up: Friday at SMU
So begins the long climb back up for the Horned Frogs. Truth be told, there's a lot of football left to be played. While their game against Oklahoma later this year doesn't look so fierce to the Playoff Committee as it once did, maybe Texas can keep improving to up their strength of schedule even more. Point is, September is the one month teams can lose and still have a shot at redemption in the Playoffs, so keep at it, TCU.
23. Utah (3-0)
Last week: Unranked
Last game: Beat San Jose State, 34-17
Next up: Friday vs. USC
Utah is an ebb and flow team normally, and it's unclear if this is one of the "flow" classes. But with USC reeling, now is the Utes best chance to stake a claim to the Pac-12 and snag a win against one of the traditional conference standard-bearers.
24. UCLA (2-1)
Last week: Unranked
Last game: Beat BYU, 17-14
Next up: Saturday vs. Stanford
Good luck with all this, UCLA:
25. Baylor
Last week: 24
Last game: Beat Rice, 38-10
Next up: Saturday vs. Oklahoma State
You're the weakest 3-0 of the bunch, Baylor. Just give us this chance to cast you down among the unranked yet again.
Next Five: Oregon, Boise State, UNC, Ole Miss and the return of dark autumn beers.
The clock is ticking, guys–this is the last week you could possibly take a loss that the pundits won't care about come December. It's time to separate yourselves from the pack and leave the rest of your conference behind if you hope to make the Playoffs. But tread carefully, even you Buckeyes and 'Bama's of the world, because there's a Lamar Jackson up ahead for all of us. Let's just hope we're a little more prepared than the Seminoles.
(End Credits)