What a long, strange trip it's been. As we enter this final week, the playoff teams are mostly decided, and all that is left are some questions of seeding. Certain things we thought were true in the preseason have been exposed. Remember when Chip Kelly torpedoed the team and everyone talked about how he was so radical and going to succeed because now he had total control? Well, that didn't work out, did it?
Remember when the Cowboys looked like Super Bowl contenders? Then they had to start Brandon Weeden? Then Brandon Weeden basically led the other team in Texas to the playoffs? Meanwhile, the much-hyped Colts stumbled through a down year and have the world's slimmest chance of reaching the post-season.
Remember when the Falcons looked like major contenders? Then completely imploded, then managed to be the first team all season to beat the Panthers? Remember when the Chiefs started 1-5 and are now in the playoffs on an insane win streak?
Remember when we all thought Peyton Manning was just broken and old instead of possibly a cheater? Remember when San Diego, Oakland and St. Louis all had professional football teams at the same time? Drink it in, we won't see that again for a while.
Anyway, I couldn't be happier about the regular season coming to a close because for only one more week can I get more than four picks wrong. Things have gotten bad as the season has gone on, and while I didn't have my worst week ever this past week, I had my second worst ever. It was a crazy week. Seattle, Pittsburgh, New England and the Panthers all lost, and I presume many people likely lost a lot of money to go with it. I did not lose money, but I did lose eight picks, so lucky me. But they were my better ideas; didn't get one of the throwaways this week, so good stuff incoming:
If the Redskins win, I will draw RG3 as a hobo.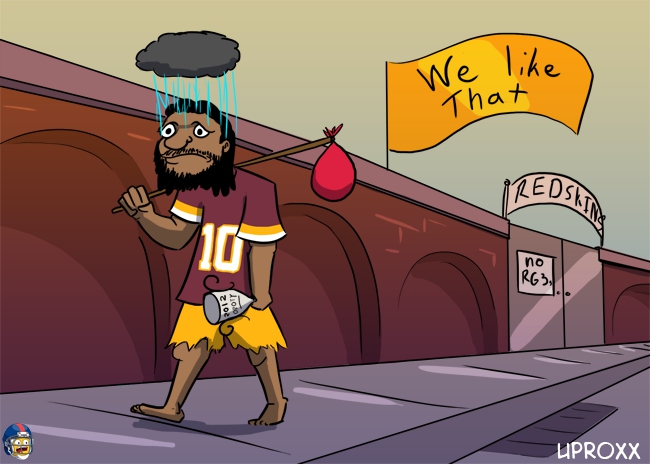 If the Colts win, I will draw Clipboard Jesus.

If the Bears win, I will draw Jay Cutler not caring as a pirate ship sinks.

If the Jets win, I will draw Ryan Fitzmagic.

If the Bills win, I will draw Jerry Jones on The Amazing Race to the Bottom.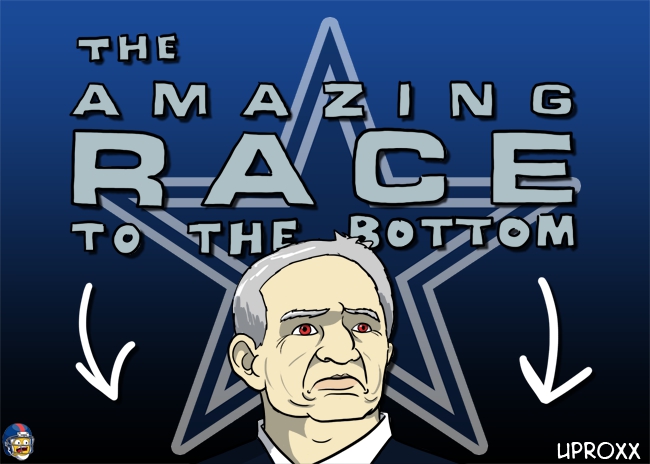 If the Falcons win, I will draw Matt Ryan dabbing.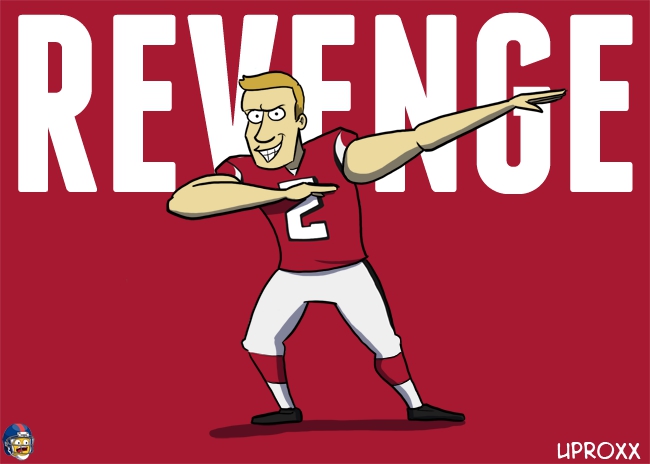 If the Ravens win, I will draw Antonio Brown with Crabs.


If the Rams win, I will draw Aaron Donald eating tiny Russell Wilson.


Check out my previous weeks failures in full glory right here!
WEEK 1 | WEEK 2 | WEEK 3 | WEEK 4 | WEEK 5 | WEEK 6  | WEEK 7 | WEEK 8 | WEEK 9 | WEEK 10 | WEEK 11 | WEEK 12 | WEEK 13 | WEEK 14 | WEEK 15
So, with one week left, we have no frills. No Thursday nonsense. No Monday Night Madness. Nothing but pure, straight Sunday football divisional action. So, being that this is our final go-around for many teams, let's do things just a tad differently for this week and have each pick revolve around a theme. I'm thinking…Mortal Kombat Fatalities. That's what football is really about anyway, celebrating violence.
JAGUARS @ TEXANS
The Texans have the division essentially locked up. But don't discount the Jags, they are playing for pride, and Gus seems to have given the team something to fight for. But you just can't stop Brandon Weeden, future playoff quarterback. Just run that sentence over in your mouth a few times like a fine wine. Sample it. Feel the texture. Try to fully grasp what it means that we might be seeing Brandon Weeden in a playoff game. Football is the best.
If the Jaguars win, I will draw Blake Bortles' selfie fatality on J.J. Watt.
STEELERS @ BROWNS
Hey, if the banged up crap fest that is the 2015 Ravens can sweep Pittsburgh, maybe the Browns can wihahahahahahahahahaha god hates Cleveland.
If the Browns win, I will draw Johnny Manziel's party fatality on Big Ben.
JETS @ BILLS
Rex Ryan feels as if he was exposed this year. The Bills were expected to have a stifling defense and a crappy offense, and the Jets were expected to implode. Instead, the Jets are actually kinda good and may reach the playoffs one year after jettisoning Rex, and the Bills have been the exact opposite of expectations (modest defense at best, pretty decent offense). It would be very Rex Ryan to take this game too personal and ruin the Jets' chances at the playoffs, but it would also be Rex Ryan to take the game too personal and lose in embarrassing fashion.
If the Bills win, I will draw Rex Ryan's foot fetish fatality on Ryan Fitzpatrick.
PATRIOTS @ DOLPHINS
Does Lamar Miller have illicit affairs with all his coaches wives or something? His entire Dolphins tenure has been marked by excellent play and being completely underutilized despite averaging insane yards per carry. Miller is a free agent this offseason, and expect him to go to some other team and contend for the rushing title in 2016 because the Dolphins are excessively dumb.
If the Dolphins win, I will draw Ryan Tannehill's deflated ball fatality on Tom Brady.
TITANS @ COLTS
I don't want to pick the Titans here. I really don't. They've done nothing to deserve any sort of goodwill. Mariota isn't even playing. They are a trash team. If they lose, they get the No. 1 overall pick, too, so they have even more incentive to suck. The Colts may have a fart's chance in a tornado of making the playoffs, but…the Colts…they may legitimately have to start Josh Freeman. Josh Freeman. The Yankees would have a better chance to win a baseball game if they had Lou Gehrig play shortstop, and Lou Gehrig is dead.
If the Colts win, I will draw Andrew Luck throwing his ruptured organs at Mettenberger fatality.
RAVENS @ BENGALS
The poor Bengals. We all knew this was coming. We knew it wouldn't actually work out. I think deep down even the Bengals' fans knew. It is their destiny to get beaten in the wild card round, as A.J. McCarron throws a pick six against the Texans. This has all happened before, and it will all happen again. It's the circle of life for Cincinnati, and the only way off is death. However, the Ravens still suck.
If the Ravens win, I will draw Edgar Allen Poe performing the pit and the pendulum fatality on Geno Atkins.
REDSKINS @ COWBOYS
The Skins could actually rest their starters. They are the fourth seed, no other possibility exists. There is no incentive to really try against the woeful Cowboys. But here's a fun fact: The Cowboys went 8-8 three years in a row. Then last year, they finally got over .500 with a 12-4 record. This year? They rest at 4-11. A loss puts them back at exactly .500. If this doesn't happen, take it as proof that there is no god and everyone become anarchists.
If the Cowboys win, I will draw Jerry Jones performing his soul sucking fatality on RGIII.
SAINTS @ FALCONS
The Saints are on the way into a transition rebuild. Drew Brees is an old dusty fart. Sean Payton may be on the way out. The defense is in serious need of a fix. The Falcons found a new confidence by beating the Panthers, so maybe they can ride that nonsense and send Payton into the sunset a loser.
If the Saints win, I will draw Drew Brees dusty old fartality on Matt Ryan.
LIONS @ BEARS
This game has no implications toward anything. Who even cares? Watch a real game.
If the Bears win, I will draw Jay Cutler's smoking fatality on Matt Stafford.
GIANTS @ EAGLES
Yeah, the Eagles are a mess, and they just fired their head coach with the interim standing no chance of keeping his job. That said, the Giants losing to a stupid Eagles team in a meaningless game near the end of the year in a game they should win would be the most Giants thing. Eli will throw seven picks, OBJ will literally punch Kiko Alonso, and Tom Coughlin will yell all the way into the retirement home.
If the Giants win, I will draw OBJ's head spear fatality on Sam Bradford.
RAMS @ 49ERS
We've all sort of forgotten the 49ers, because they died a horrible death several weeks ago, and we all just sat back, shrugged our shoulders and said well, we saw that coming.
If the 49ers win, I will draw Blaine Gabbert's gold miner fatality on Nick Foles.
BUCCANEERS @ PANTHERS
The Panthers had a lucky superstition with a baseball bat before each game. The Giants ruined that, and their first game without the bat was a loss. I'm not saying the Giants cursed the Panthers, but they did. But not really because the Bucs will lose anyway.
If the Bucs win, I will draw Jameis Winston's crab fatality on Cam Newton.
RAIDERS @ CHIEFS
The Chiefs' incredible win streak won't end until the first round. Bengals style, baby.
If the Raiders win, I will draw Khalil Mack's black hole fatality on Alex Smith.
CHARGERS @ BRONCOS
I had a lot of sympathy for the Chargers with all the LA stuff going on, but they just fined Eric Weddle for watching his daughter perform at halftime instead of coming into the locker room. Screw the Chargers.
If the Chargers win, I will draw Philip Rivers' baby frenzy fatality on the Brock.
SEAHAWKS @ CARDINALS
The Seahawks had the fifth seed lined up all nice and neat, and then the Rams trolled them, and now they face possibly the best team in the NFC to try and get it back. Yeah, the Cardinals might be the best team in the NFC, maybe even the league overall. The Panthers have the headlines, but believe it or not, the Cards could actually take the No. 1 seed this weekend if they win and the Panthers lose. The Cards are on a roll and feel unstoppable, and in my opinion are the real threat, not Carolina.
If the Seahawks win, I will draw Russell Wilson's recovery water fatality on Carson Palmer.
VIKINGS @ PACKERS
The Packers have not played great football this season and feel extremely flawed. That said, the Vikings are one of the few teams they already soundly beat this season, and the Pack is hard to dethrone. The Vikes are probably just glad to be in the playoffs already.
If the Vikings win, I will draw Teddy Bridgewater's viking fatality on Aaron Rodgers.