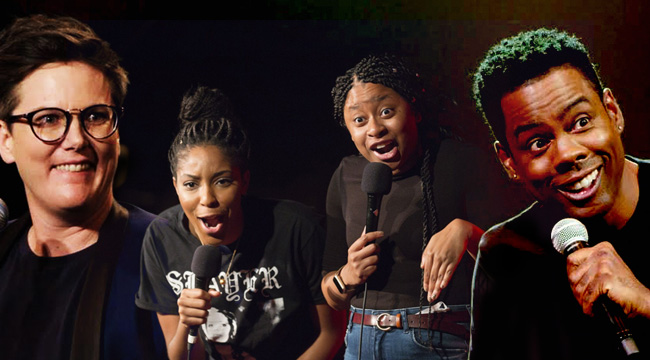 Despite offering a brief respite from the Netflix-dominated landscape that is the ever-widening world of stand-up comedy specials, Seeso is no more. Then again, Seeso's loss matters in the long run since every year since Netflix first entered the comedy game in 2013 (especially 2016 and 2017), viewers have seen a dramatic increase in the number of new hours available to watch. Much of this has to do with the streamer's more recent push into stand-up aimed at global audiences, but not entirely. Either way, by July 1st there will be well over 50 new specials out there courtesy Comedy Central, Showtime and Netflix. But mostly Netflix.
For the sake of space, this list is organized around the first six months of 2018, and each gets a top pick and a bonus selection (for the sake of spreading the wealth). The inclusion of some, like Chris Rock's Tamborine, are unquestionable, while others may stir disagreement. Which is fine, as what we find funny varies as far and wide as Hannah Gadsby's Nanette and Katt Williams' triggering Great America.
January — Todd Glass: Act Happy
Watching Todd Glass' Act Happy results in a ridiculously strong feeling of FOMO. That's because the 53-year-old comedian's uncanny ability to improvise his way through a seemingly unprepared set is so intoxicating, you'll be jealous of his audience. (Especially the people in the front row, about whom he writes and performs a new song on the spot.) In fact, a lot of things will make viewers envious of Glass' audience — like his spot-on impression of Brian Regan, his jokingly anti-Rory Scovel chant and his ability to perform while the band backing up throughout the show plays "Battle Hymn of the Republic."
BONUS — Katt Williams: Great America
Katt Williams recently turned heads with a cameo in the second season of Donald Glover's acclaimed Atlanta, and frequently turns up in mainstream and smaller film roles. Even so, his career began on the stand-up stage in 1991, and he continues to put out new specials every few years. Like Great America on Netflix, in which Williams riffs on everything from politics to roast beef. The opening 12 minutes is especially considerable, for as Neal Brennan told Vulture, "To do 12 minutes on America's, like, 30th most populous city? The commitment alone is hilarious. And miraculously, you stay with him the whole time."

February — Chris Rock: Tamborine
As ridiculous as the marketing was for Chris Rock's first special in a decade, Tamborine, the special itself is equally silly. Along with fellow comedian Bo Burnham's stylized direction (which also graced Jerrod Carmichael's 8 last year), Tamborine creates an hour of laughs that is as beautiful as it is thought-provoking. Rock begins with a question that, thanks to multiple cameras and some quick editing, is repeated three times: "You would think?" It's immediately followed by the first of many highly politicized topics, but Rock can't resist piling onto Tamborine's efforts to stall the inevitable punchlines until the last second.
BONUS — Jessica Williams and Phoebe Robinson: 2 Dope Queens
Whether the four 2 Dope Queens episodes that aired on HBO in February count as a "stand-up comedy special" is beside the point. Yes, co-hosts Jessica Williams and Phoebe Robinson interview a few major guests, but they also serve as the masters of ceremonies for a wide array of comics. From Michelle Buteau and Naomi Ekperigin, to John Early and Sheng Wang, 2 Dope Queens gives them one hell of a prominent stage on which to perform (not to mention direction from Tig Notaro). That being said, as podcast listeners have known for years, Williams and Robinson's comedic banter reigns supreme.
March — The Standups: Season 2
Like HBO's 2 Dope Queens, Netflix's The Standups isn't necessarily a "stand-up comedy special," though only because each of its two seasons feature half-hour sets from six comedians. Yet season two of the streamer's own version of HBO Comedy Half-Hour and Comedy Central Presents… features a number of heavy hitters whose smaller acts quickly gained widespread attention. Chief among them are Aparna Nancherla and Kyle Kinane. The former, who also guests on 2 Dope Queens, presents a perfected version of her riffs on anxiety and depression. The latter, meanwhile, tells what Vulture dubbed one of the year's best, and saddest, jokes.
BONUS — James Acaster: Repertoire
Last summer, Conan O'Brien introduced his audience to a young British comedian named James Acaster, and not many people in the American show's mostly American audience knew who he was. That didn't phase Acaster in the slightest, and it surely didn't deter Netflix from swooping in to record and stream his Edinburgh Fringe Festival series Repertoire almost a year later. The whole thing consists of three shows (Recognise, Represent and Reset) the comic wrote, performed and perfected across many years, and a fourth (Recap) created solely for the purpose of wrapping everything together for Netflix.

April — Natasha Leggero and Moshe Kasher: The Honeymoon Standup Special
Speaking of multiple shows all rolled into one, married comedians Natasha Leggero and Moshe Kasher embarked on a "Honeymoon Tour" shortly after their 2015 wedding. In the years since, it became a Comedy Central web series and, more recently, a three-part stand-up special on Netflix. Filmed over the course of a weekend at a small Austin, Texas venue, The Honeymoon Standup Special begins with Leggero and Kasher's individual routines, then ends with the pair coming onstage together to roast themselves and the couples in their audience. It's a lot of fun to watch, especially with a significant other.
BONUS — Greg Davies: You Magnificent Beast
"I have a system for stand-up," British comedian Greg Davies says in You Magnificent Beast. "I go home to Shropshire, where I'm from, with a notepad and a pen, and I wait for my parents to say weird shit." It's worked quite well for his previous two specials, Firing Cheeseballs at a Dog and The Back of My Mum's Head, and judging by the London audience's reaction here, it still seems to be working. Whether American Netflix subscribers will know of Davies depends on whether they've streamed U.K. imports like Man Down, Cuckoo or The Inbetweeners, but Beast is also a great place to start.
May — Ali Wong: Hard Knock Wife
When Ali Wong's first comedy special, Baby Cobra hit Netflix in 2016, those who knew of her were more familiar with her via ABC's Fresh Off the Boat than they were through her stand-up. This quickly changed, as the hour featuring a woman running around the stage while seven months pregnant telling raunchy, painfully funny jokes spread rapidly online and via word of mouth. This led to 2018's Hard Knock Wife, in which an again-pregnant Wong graced the stage for another hour of uproarious laughs and insights about motherhood. In a month that was already chock-full of great stand-up, Wong's latest quickly dominated Netflix's May offerings.
BONUS — John Mulaney: Kid Gorgeous Live at Radio City
Prior to May, comedian John Mulaney's most recent live escapade was he and frequent collaborator Nick Kroll's Oh, Hello on Broaway Netflix special. The show is fantastic, and the story behind it is equally funny, but the comic best known for hours like New In Town and The Comeback Kid hadn't released much in the way of new stand-up for a few years. Everything changed last March when Netflix announced the first of many new Mulaney specials, Kid Gorgeous Live at Radio City, which dropped soon after. It's comprised of classic Mulaney, and anyone who enjoys the comic's exemplary writing will definitely get a kick out of it.

June — Hannah Gadsby: Nanette
If you haven't watched Australian comedian Hannah Gadsby's new special Nanette, you should. Though a mix of stand-up and one-person show-esque monologues in the vein of Whoopi Goldberg and Mike Birbiglia, Gadsby's hour debuts what The New York Times dubbed a "new voice in comedy… that attacks comedy." Why? Because the performer's own story, mixed in with her adept deconstruction and condemnation of the comedy business, serves as the perfect starting point for the question facing comics and comedy fans the world over: Where does comedy go after #MeToo and Time's Up? Nanette offers an interesting preview.
BONUS — Cameron Esposito: Rape Jokes
Cameron Esposito does many things with many media, but her wonderful work recently took a backseat to her new self-made and self-distributed comedy special, Rape Jokes. Described as a concert film "about sexual assault from a survivor's perspective," the new hour is technically free and only asks for a donation of whatever amount interested parties are willing to give. However, the proceeds "benefit RAINN, the United States' largest anti-sexual violence organization." It's a tough hour to watch, but as funny as it is enlightening — due largely to Esposito's uncanny ability to weave her well-crafted comedy with far more serious issues.