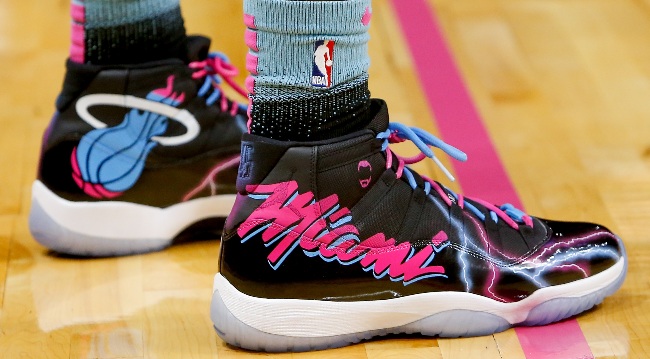 The Miami Heat's "City" jerseys are the best in the NBA, and everyone is going all-out to celebrate their first use of the season on Friday. The team had a special Midnight Madness event to prime everyone for their first use of the season, giving out special merch to go along with a first chance to buy the jersey and other Miami Vice-themed apparel.
Miami has a special court ready to go with neon pink and green coloring to get everyone excited. The look is an instant classic, one the Heat brought back for a second straight year after the wild success of a white Vice-inspired jersey that was among the league's best.
And the players are certainly pumped to wear the jerseys, too. That includes sophomore big man Bam Adebayo, who has a special colorway of Jordan 11s ready to go for Friday night's game against the Indiana Pacers.
These are, of course, tremendous. Essentially anything in this Vice style will look good, but there's a nice touch with the Miami skyline on one side of the colorway and the Miami script on the other.
Adebayo is one of the players Minnesota reportedly wanted back in a potential trade for Jimmy Butler, so let's all be thankful that the Heat didn't pull the trigger so these shoes could be put to good use for this special night. Plus certainly knows how to dress, so it's no surprise he's taking advantage of a big fashion night in the NBA to show off a bit of his own style.