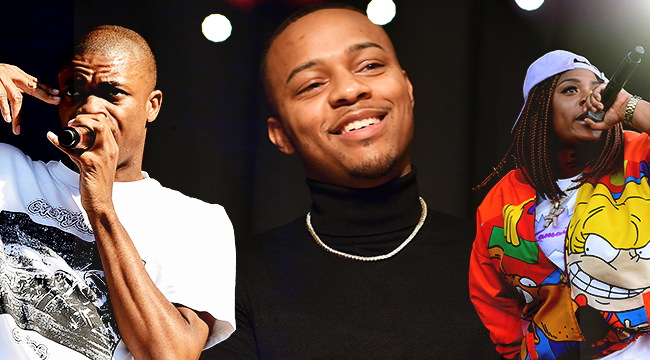 By now, you've already seen the memes, the jokes, the hashtags.
Anytime Shad Moss — BKA Bow Wow — comes up in conversation online, ridicule is sure to follow.
How could it not? After all, he has a tendency to be, well, a bit of a cornball. Whenever he does something he determines to earn back just a little of his cultural cachet, it backfires, no matter what it is. He just cannot seem to make himself cool again.
Whether he's bragging on once dating the current spouse of the much more universally popular Kanye West, pretending to be chased by crazed fans, or flossing someone else's private jet as his own, the only thing he ever seems to accomplish is giving his tormentors more ammo with which to turn him into the butt of jokes.
However, once upon a time, before the CSI: Cyber vest combos or the ridiculous photoshops, Bow Wow wasn't just cool, he was one of the most influential people in hip-hop.
That's right, Shad "Bow Wow" Moss, standing all of 5'7″ and prone to public antics that make Drake look smoother than peak Billy Dee Williams, used to be somebody. He had gold and multi-platinum selling albums, chart-topping hits, starring roles in successful films like Roll Bounce and Like Mike and was such a regular fixture on BET's 106 & Park that he was eventually chosen to host the show himself.
But what truly highlights just how influential he really was is the lasting impact he continues to have on rap today.
He doesn't have a hit record on the radio now and the days when his music videos gave his fellow teens a reason to feverishly rush home from school in order to catch them are long gone. However, if you ask some of today's fastest rising rap stars about him, his impact on the game can be seen in their enthusiastic responses.
When the hilarious Vince Staples was questioned about tweets praising Bow Wow and demanding the fallen star receive past due respect on The Breakfast Club, he emphatically pointed out the impact the then-young rapper had on his own musical ambitions. "Bow Wow was hard," he insisted, "I'm tired of n—-s acting like Bow Wow wasn't hard. N—a had Pharrell beats and Timbaland beats and TI and Snoop Dogg helping JD and Jay-Z was helping writing the songs. How is the n—a not hard?"
Vince admits his respect for Bow Wow stems from his own youth when Bow Wow's popularity peaked as Lil Bow Wow in a 2015 interview with Time magazine — the same interview where he also called the '90s overrated for someone who barely lived through them. In the interview, he calmly points out that he was 7 years old when Lil Bow Wow released "Bounce With Me," putting him squarely in the lighthearted single's target audience (Bow Wow was thirteen). He sparked a firestorm of outrage from which some of his grumpier elders have never quite recovered, but without Bow Wow providing him with his first taste of rap music, would he have gone on to try his own hand at putting rhymes together?
Likewise, in a more recent profile in Billboard, up-and-coming, 23-year-old Bay Area rapper Kamaiyah extolled the virtues of Bow Wow's early output, saying "Bow Wow was who inspired me to write my first song because he was a kid, and I was like, 'Well, if he's a kid and he can rap, I can do this shit, too.'"
The influence is evident in her own fun, party-vibe aesthetic. Like Bow Wow, she makes music designed to dance to, unconcerned with the trappings of more serious-minded rap. While she touches lightly on the street-focused elements of hardcore contemporaries, she rarely tries to reinvent the wheel with her rhyme schemes or concepts. She wants you to sing along to songs like "How Does It Feel?" and "Successful," because that's how Bow Wow first roped her into hip-hop, with goofier fare like "Puppy Love" and "Take Ya Home."
I graduated in 2003, when Shad dropped the "Lil" from his name in an attempt to take on a more "grown-up" approach with the largely TI-penned Unleashed. I remember being impressed with his improved delivery and pen game on "Let's Get Down" and "The Don, The Dutch" before I perused the liner notes and realized those songs were probably more Clifford than Shad — a fact which added a considerable boost to TI's own then-burgeoning, soon-to-be influential rap career.
However, that was also probably right around the time people began to take Bow Wow less seriously, not more. Dropping off the "Lil" actually screamed of trying too hard, and he seemed reluctant to completely renounce the pop-rap leanings that had earned him the bulk of his still-young fanbase. Unfortunately, what he failed to realize was that he needed to go one way or the other and commit, as other teen rappers like Lil Wayne were able to maintain their popularity by knowing what their product was and exactly to whom they wished to sell it (and without the silly name change, no less, can you imagine if he was known now as "Wayne"?).
And while Bow Wow probably hoped his transition into film as his ticket out of tween rap purgatory, he showed poor judgment in role selection, while his actually theatrical skill left a lot to be desired. Picking up supporting roles in the worst Fast And Furious movie and low-budget, chitlin-circuit comedies like Madea's Big Happy Family did as much to throttle his career as his increasingly desperate attention-grabbing shenanigans.
None of that changes the fact of his contributions to the rap game. He inspired a generation of young fans who would follow in his footsteps as the modern champions of pop rap, he indirectly helped to spark the career of one of trap-rap's pioneers, and he helped tank the action movie franchise that would go onto reboot itself into one of the most successful multi-movie series of all time.
Along the way, he was a part of the early 2000s rap movement that took hip-hop culture and music more mainstream than it had ever been before. He had his moment in the spotlight early in his life, made the most of it, and whether consciously or inadvertently, changed the game — in many ways, for the better. Now, he's making a return to the music game with the release of a new single in "Yeaahh," and a co-sign from one more big name: Sean "Diddy" Combs, who told Bow Wow that he's "f*cking legend."
Vince Staples is right: Bow Wow deserves the respect he earned as one of the most popular and influential figures of rap music's biggest boom period. It's just that he also probably deserves a lot of the jokes as well. Unfortunately, it seems he may never get out of his own way, but if he ever does, he probably deserves one other thing as well, something all too rare in the fast-paced, modern era of rap: A second chance.