Summer is just around the corner. Prices for flights, hotels, cruises, and travel have already bottomed out for the first half the year and are (slowly) inching higher and higher. Now is the time to buy if you want to hit the road this summer without paying premium prices.
Below, we've compiled some of the best deals right now. These are the cheapest flights, best hotel rates, and steepest travel package discounts out there today.
TOP THREE DEALS OF THE WEEK:
$11 FLIGHTS AROUND EUROPE WITH RYANAIR
Flights to Europe have never been cheaper. Likewise, flights around Europe cost less than a couple of trips to Starbucks or a single trip to the movies.
Ryanair offers tickets for as low as $11.99 to destinations all over the continent. If you take a little extra time to shop fares (and plan ahead), you can score tickets for as little as $4-$5 each way. You just can't beat those prices.
$290 ROUNDTRIP FLIGHTS TO COPENHAGEN THIS WINTER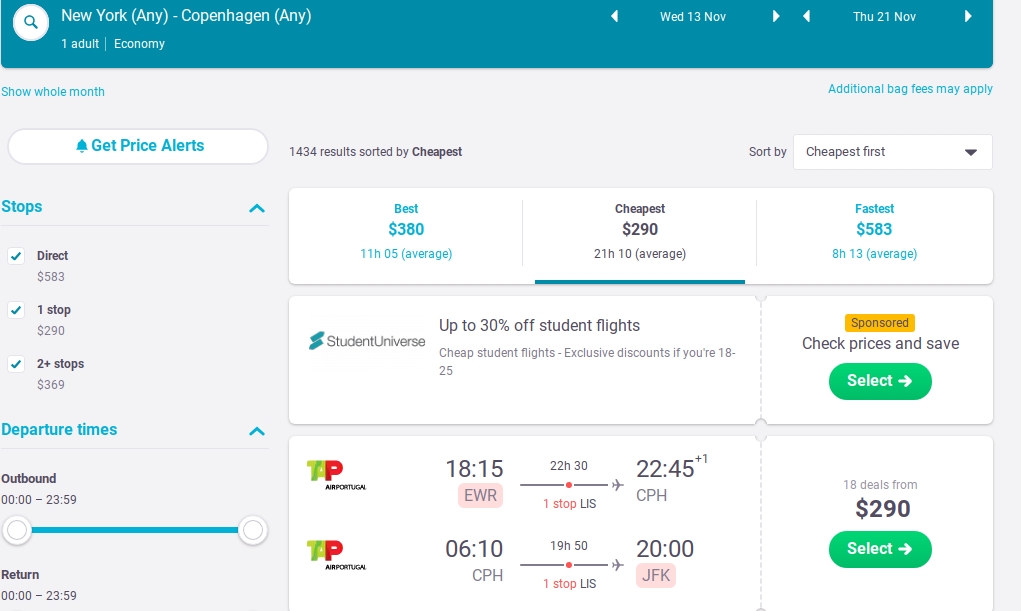 Sometimes it pays to plan ahead as far as possible when you're looking to save cash on travel. Case in point, flights from New York to Copenhagen, Denmark are only $290 roundtrip in November. That's not on a budget airline so seats, carry-on bags, and food are included in that price.
CELEBRATE JANE GOODALL WITH G ADVENTURES
To celebrate Jane Goodall's birthday and the amazing work she's done in wildlife research and preservation, G Adventures has teamed with the Jane Goodall Institute to help you travel. G Adventures has compiled 20 animal-focused trips around the world into a single collection.
Each trip focuses on adventure and animal preservation with part of the tour fee going to support the Jane Goodall Institute. You can also receive up to 25 percent off some of the trips, with others clocking in with ten to 20 percent discounts.
BEST FLIGHTS OF THE WEEK:
$96 ROUNDTRIP FLIGHTS FROM ATLANTA TO HOUSTON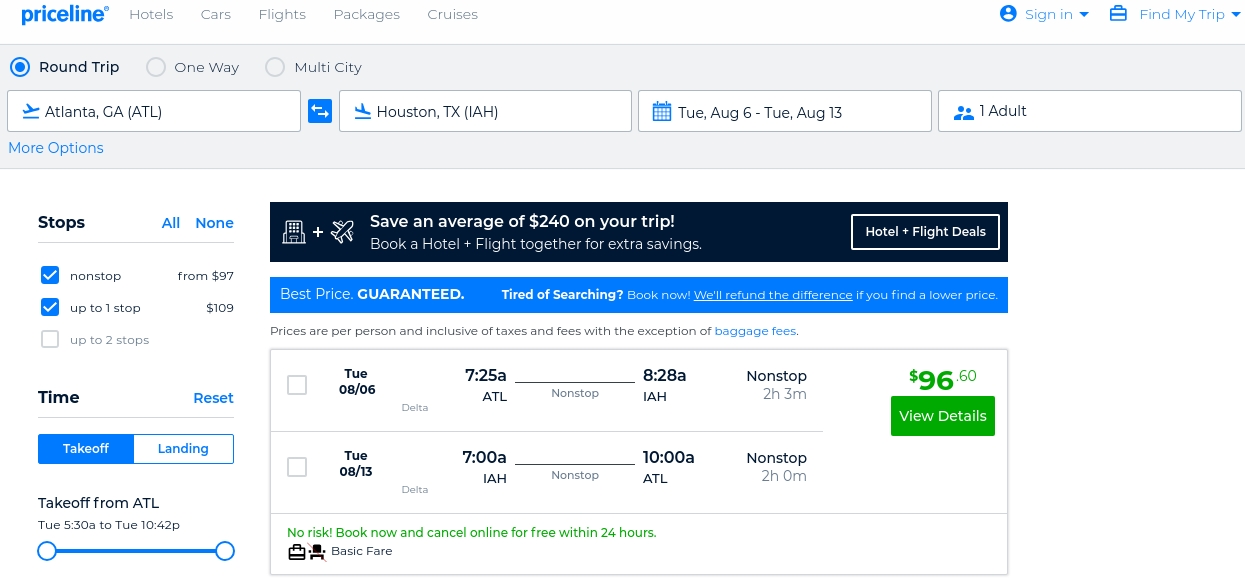 Summer travel is still affordable if you can book now. Flights from Atlanta to Houston (and vice versa) are less than $100. If you're looking to take a late summer trip, this is a great option.
$236 ROUNDTRIP FLIGHTS FROM LA TO NEW YORK (and vice versa) ON JETBLUE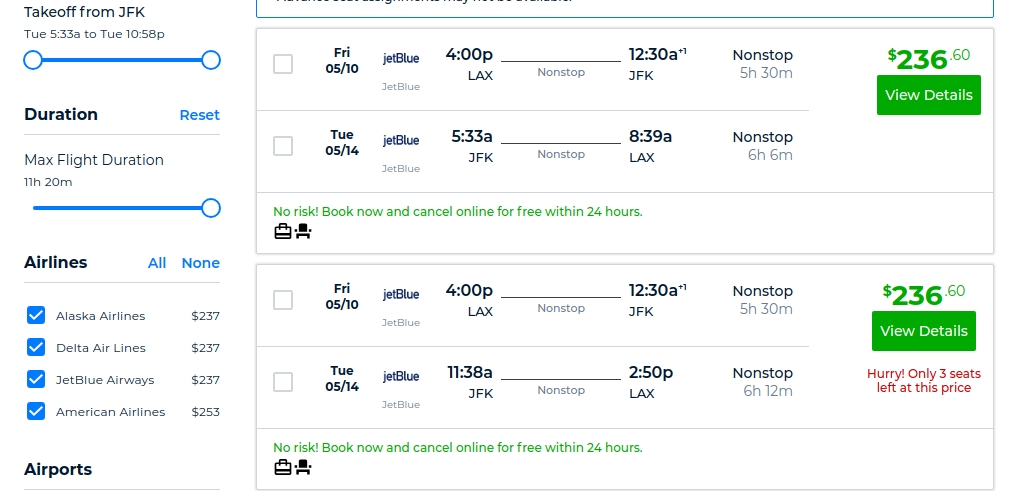 Getting across the country (and back) for less than $250 is a great deal. Roundtrip prices from NYC to LAX (and reverse) are only $236 on JetBlue right now. That's a steal for a cross-country journey.
$194 ROUNDTRIP FLIGHTS FROM LAX TO LOS CABOS, MEXICO
Escaping to Mexico for a little r'n'r is always a great choice. Currently, you can score roundtrip tickets from Los Angeles to Los Cabos for only $194. You'll have to travel in September to take advantage of this one.
$159 ONE-WAY FLIGHTS TO ROME ON NORWEGIAN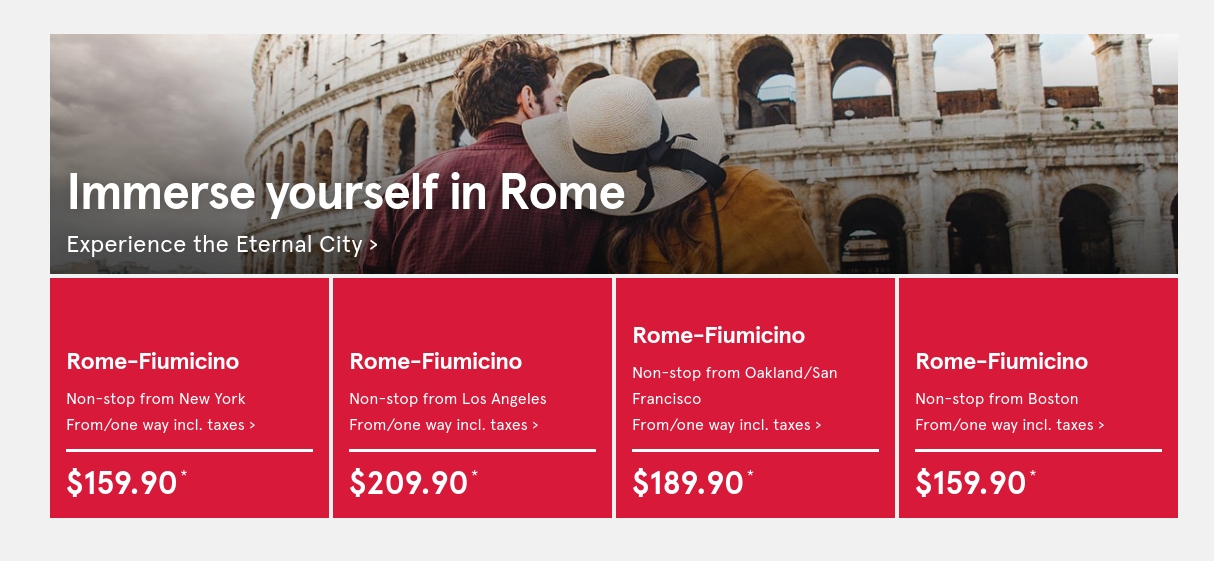 Norwegian is one of the best options for flying across the pond. Currently, they're running sales on trips from the U.S. to Rome. You can snag one-way tickets for $159 from the East Coast and one-way tickets for $189-$209 from the West Coast.
$428 ROUNDTRIP FLIGHT FROM NEW YORK TO GUANGZHOU, CHINA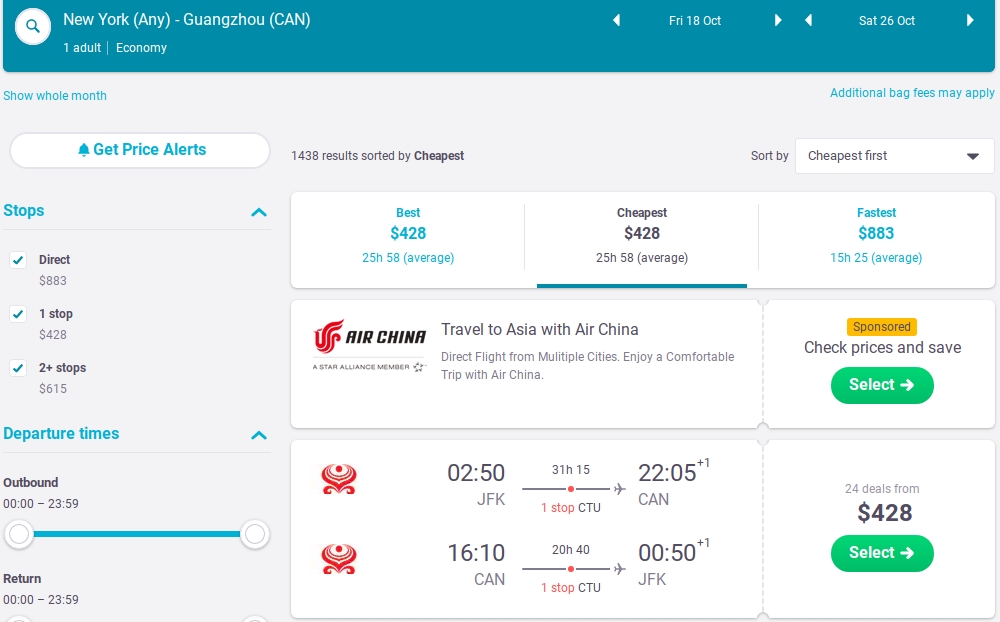 Another great fall deal is already popping. Roundtrip flights from New York to Guangzhou are only $428. That's easily half the price of the average fare. If you've been dreaming of seeing southern China, now's your chance.
$20 ONE-WAY FLIGHTS AROUND AMERICA ON FRONTIER
Looking to see a new corner of America? Frontier is the way to do it. They're currently offering $20 one-way fares to destinations all over the country. Keep in mind that these fares only cover a reservation. Carry-on bags cost another $35 each. So look at this as a $55 one-way ticket.
BEST TOUR AND PACKAGE DEALS OF THE WEEK:
CELEBRATE OYSTER MONTH AT ALDERBROOK RESORT AND SPA, WASHINGTON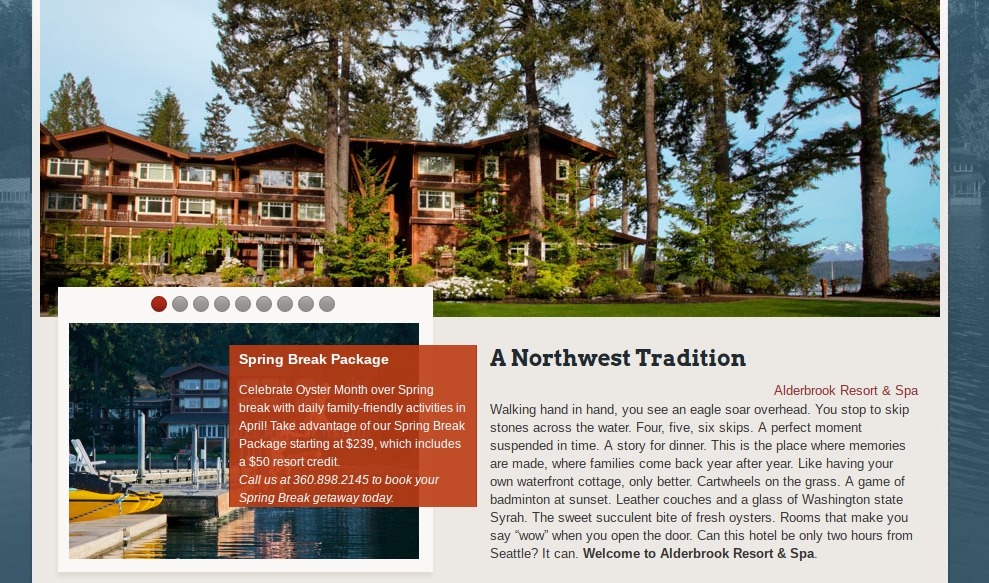 Alderbrook Resort & Spa on Washington's Olympic Peninsula is the perfect mix of nature and luxury at an accessible price point. This spring, they're offering a special package built around their annual Oyster Month.
You can book a Spring Break Package starting at $239 per night. That'll get you a plush room, a $50 resort credit, a beach tour to an oyster BBQ, oyster shucking lessons, and more oyster-related activities during your stay. Every single day in April has oyster activities planned that you can take part in.
VISIT ICELAND WITH CONTIKI AND CHASE REAL LIFE FIRE AND ICE
With the final season of Game of Thrones approaching, travel companies are leaning into the hit show's locations. Contiki — the world's leading travel company for 18 to 35-year-olds — is currently offering trips to Iceland that highlight the iconic locations from the show in one awesome trip.
VISIT GAME OF THRONES DESTINATIONS WITH FRIENDLY PLANET TRAVEL
Friendly Planet Travel is also getting on the Game of Thrones fan-wagon and offering $100 discounts on trips that cover filming locations all over the world. Use promo code WINTERISHERE to receive the discount at check out.
SAVE 30% OFF U RIVER CRUISES THIS YEAR
U River Cruises is offering 30 percent off their 2019 sailings until the end of the month. 30 percent off a $1,800 average price tag equates to a $540 savings. That can easily go towards a roundtrip flight. That's a win-win.
BEST HOTEL DEALS OF THE WEEK:
SAVE UP TO $150 ON TAX DAY HOTEL DEALS WITH HOTWIRE
Starting April 11th, Hotwire is offering a discount of $15 to $150 off their hotel deals. Here's how it works: Hit up Hotwire, search for a great hotel price, and then use promo code TAXGETAWAY15 at check out to get the discount. Offer ends April 16th.
SAVE 17.4% AT HOTEL JULIAN, CHICAGO FOR TAX DAY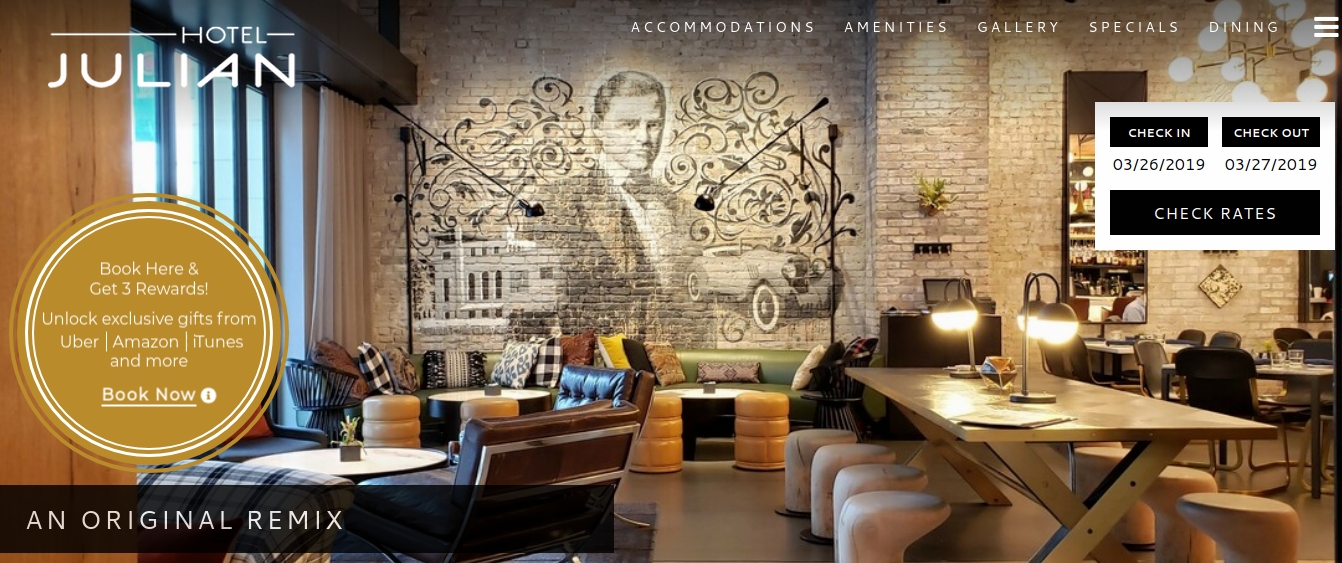 Hotel Julian in Chicago is offering a tax-free stay to, ahem, celebrate Tax Day in America. They'll cut 17.4 percent off their room rates for stays around April 15th this year. If you're planning in using your tax return for a little travel, Chicago is always a good option.
APRÈS + STAY WITH TOPNOTCH RESORT, VERMONT
Topnotch Resort in Stowe, Vermont is offering a late season Apres Ski package for anyone looking for a great time after hitting the slopes. When booking a room, you'll also receive free transfers to-and-from the slopes, a personal ski valet and boot warming service, and a $50 food and beverage credit at the resort.
That's 50 bucks in free craft beer next to a roaring fire. The package starts at $279 per night.
BEST WILD SPLURGE OF THE WEEK:
TAKE A PRIVATE CAR AROUND GAME OF THRONES LOCATIONS WITH BRENAND'S ROAD TO WINTERFELL
Game of Thrones is dominating the travel conversation right now. Brendan Vacations in Ireland is offering a crazy-luxe trip where you can get shuttled around to all the Irish locations from the show in your very own chauffeured town car. There are no buses, trains, schedules, or rush on this trip. It's just you and the best Ireland has to offer with your own driver letting you set the pace.
You'll get to visit over 15 film locations and rates start at $4,200 per person. That includes all accommodations and most meals.