A great venue can help define its neighborhood or city. It becomes an integral part of the cultural fabric of a community. Of course, while music venues may come and go — or in the case of New York City's iconic CBGB, see its name wind up on an airport cafe while its hollowed out remains serve as a clothing store — there are still plenty of stellar places committed to providing the best experience to fans and bands alike. To celebrate some of these culturally-defining havens, here are ten great live music venues, from dive bars to amphitheaters, that you should check out next time you want to take a trip in pursuit of musical inspiration:
9:30 Club – Washington, D.C.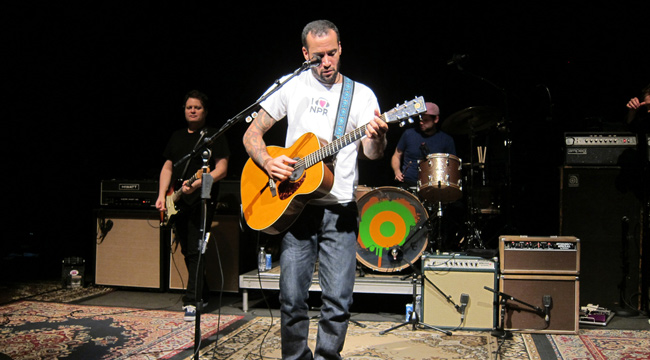 The 9:30 Club took its name from both its original opening time of 9:30 pm, and its original address, 930 F St, Washington. First opening back in 1980, Nightclub 9:30 (as it's now formally known) catered to bands at the dawn of the alternative movement before becoming synonymous with the D.C. hardcore scene of the mid-1980s. Foo Fighters' leader Dave Grohl grew up worshipping at the altar of the club during those punk days, sneaking in for the first time at the age of 15.
After outgrowing its old location, it closed its doors on January 1st 1995, re-opening at its new location four days later. In the years since the move, the all-ages venue has hosted headliners from Bob Dylan to Adele, as well as secret shows from the likes of Radiohead and the Red Hot Chili Peppers. Moreover, acts ranging from Bad Brains to Josh Ritter and Psychic TV have all released respective 'Live at the 9:30 Club' albums over the years, helping earn it praise as one of the best and most musically diverse clubs in America.
The Hole In The Wall – Austin, TX
Opening in 1974, The Hole In The Wall has remained a staple of live music in a city that's famous for it. The venue houses two stages, a smaller one tucked in the front window, and a more conventional setup in the rear of the building. It's become known as both a stepping stone for new bands and a hotspot for Austin's musical elite. Eclectic musical offerings aside, THITW also offers some of the best 'you won't believe this happened here' stories imaginable, including (but certainly not limited to) Don Henley surprising Mojo Nixon on stage for a spirited rendition of Nixon's "Don Henley Must Die."
News that the venue was facing a possible relocation from it's iconic location prompted fans and patrons to circulate a petition in an attempt to save it. Later, it was announced that the venue had worked out a deal, and will continue to amass great rock and roll stories for at least a few more years.
Related: Which Mega-Music Festival Is Worth Traveling To This Year?
Knuckleheads Saloon – Kansas City, MO
Boasting a whopping four stages, Knuckleheads Saloon has become a hotbed of musical activity since first opening in 2001. Located in Kansas City's East Bottoms neighborhood, the building was originally a railroad boardinghouse dating back to the late 19th century. A semi-isolated and industrial area, co-owners Frank and Mary Hicks made Knuckleheads one of the definitive 'off the beaten path' venues, hosting hundreds of acts a year, ranging from superstars to open stages. Surrounded by several active rail lines, performers on the outdoor stage have become accustomed to the sound of trains bustling by during their sets. One of the most well-known examples was when Joe Ely, performing the song "Boxcar," had a train ride past that happened to blow its whistle at the exact right moment.
Red Rocks Amphitheatre – Morrison, CO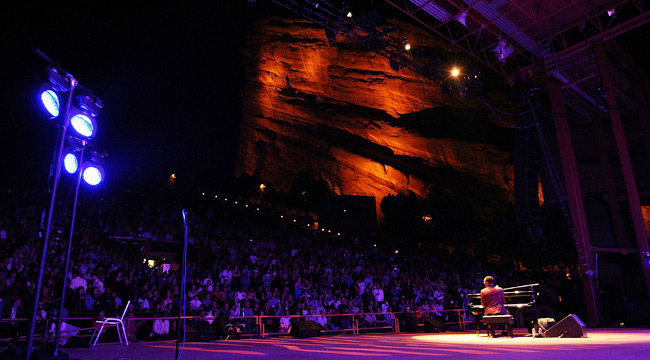 While located in Morrison, CO, Red Rocks Amphitheatre is a Denver venue through-and-through. Owned and operated by the city as part of its Mountain Parks Program, its use as a venue dates back more than a century, when magazine publisher John Brisben Walker put on a series of concerts from 1906-1910, known then as The Garden of Angels. Brisben took advantage on the natural acoustics provided by the two enormous rock formations on either side of the stage, known as Ship Rock and Creation Rock. After decades of shows, it was formally opened as Red Rocks in 1941, boasting a capacity of just over 9,500. It first became known as a rock and roll venue when The Beatles played there in 1964 and has been hosting acts ever since — minus the five year ban following a Jethro Tull performance in 1971.
Due to its stunning appearance and pristine sound, several artists have used the location to record and release their Red Rocks appearances, from John Denver's series of televised concerts, to acts like Mumford and Sons and Joe Bonamassa releasing "live from Red Rocks" CDs and DVDs. It's status as a Denver Mountain Park also means it's free to roam around in when there's not a concert going on.

Beachland Ballroom – Cleveland, OH
Just down the way from the Rock and Roll Hall of Fame, Cleveland's Beachland Ballroom is credited with not only saving the city's music scene but the North Collinwood neighborhood that it resides in as well. The building, built in 1950, first served as headquarters to the Croatian Liberty Home, which itself was a Cleveland landmark. Since opening in 2000, the 500-person ballroom has seen more than 20,000 bands pass through its doors, while the smaller, more intimate tavern stage caters to local up-and-coming acts. A host of bands have gotten their start at Beachland, including Ohio natives The Black Keys, who played their first show at the venue in 2002 to roughly a dozen people.

The Fillmore – San Francisco, CA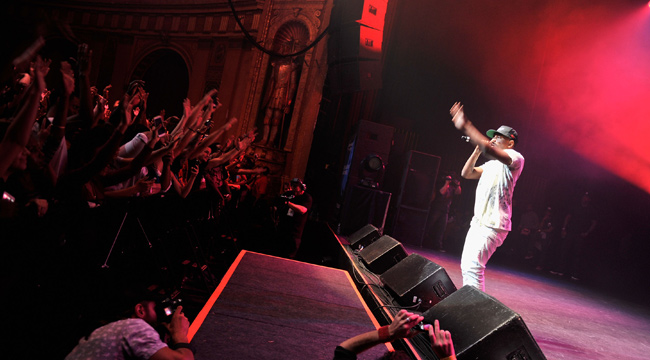 First opening as Majestic Hall in 1911 and known for hosting various socials and masquerade balls, it was reborn as The Fillmore in 1952 when new management started to book prominent R&B bands of the era. As San Francisco started to build its reputation as a mecca for bohemians, notorious club promoter Bill Graham spent two-and-a-half years booking some of the most renowned acts to come out of that era. Jefferson Airplane, The Grateful Dead, and the Velvet Underground all performed regularly, helping establish it as the hub of San Francisco's counterculture movement.
After a brief period as a private club in the 70s, it re-opened in the '80s as Elite Club, with the focus on booking hardcore and post-punk bands. It would close its doors in 1989 after being damaged by the Loma Prieta earthquake and return five years later to host a who's-who of 90s alternative bands, staying true to Graham's vision of a place to foster creativity. In the club's mezzanine, framed concert posters chronologically tell the story of the venue's rich history — the same posters that are given away to its crowd after a sold-out show.
Zoo Bar – Lincoln, NE
A long and narrow room styled after Chicago blues clubs, the Zoo Bar was once known as a morning bar that catered to workers who'd just gotten off the graveyard shift. Then-college student Larry Boehmer noticed it felt like a blues venue, and after filling the jukebox with 45s, he started booking local and national acts. By 1977 he was the sole owner. Over the years the 'alley with a roof' had redefined itself as a premiere hotspot for live music. After Boehmer retired in 1999, the small, 180-person venue remains a favorite stop for bands on the national touring circuit.

Schubas – Chicago, IL
The ornate, eye-catching building that houses Schubas was first erected in 1903 by the Schlitz brewery, and was bought by brothers Chris and Michael Schuba in 1988. Dedicated to restoring the interior and the exterior to its original glory, Schubas would open the following year, first as a bar that had live music only on the weekends. Before long, the small, adjacent venue, which fits 200 people, had bands playing every night, establishing itself as a showcase for Chicago's musical up-and-comers.
Over the years, performers like Macklemore, Jason Mraz, and Vampire Weekend would hone their craft on the small stage at Schubas. It's regarded as one of Chicago's finest (and cleanest) marquee rooms. In 2009, the brothers also opened a sister venue, Lincoln Hall, with a larger space that provides a place for bands to 'graduate' when their crowds become too large for Schubas.
Bowery Ballroom – New York City, NY
This three-story, three-bar, one-stage venue is widely considered to be one of the best in New York City. Located in the Bowery neighborhood, the building was built just prior to the stock market crash in 1929, where it would remain unoccupied until after WWII. The building housed a number of different businesses over the years, including some time as a high-end department store. It wouldn't become the Bowery Ballroom until 1997, when it quickly emerged as the city's premiere college rock venue. With a wraparound balcony overlooking the main floor, the Bowery offers a great view of the stage from almost anywhere. It's also the kind of place where David Byrne have been known to pop up unexpectedly.

Do you have favorite venues we missed? Share in the comments!