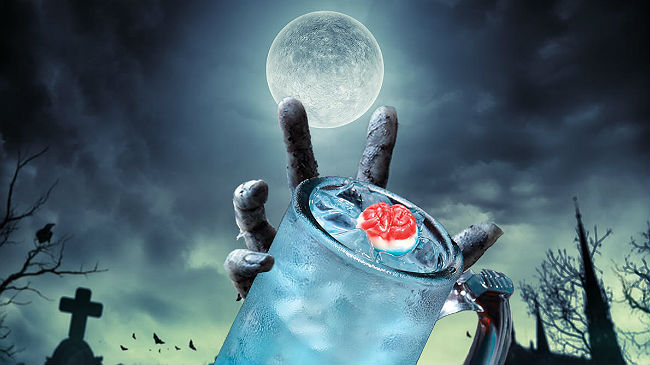 Applebee's is celebrating the month Halloween resides in by attempting to give you the cheapest sugar-soaked hangover of your life. The casual restaurant chain famous for boneless wings and a burger that's also a quesadilla has made a new habit of giving customers dollar drinks as a way of luring them into the place.
Each month is something different, and Applebee's teased something that would go bump in the night on the eve of October with a brief Twitter video that showed the ground of what looks like a graveyard, uh, pulsing.
When the calendar flipped over to October, Applebee's announced the "zombie" drink, with a sugary tongue clearly in cheek about the rum drink.
Any drink with a gummy brain in it has to be good. That's the law, as established by our forefathers long ago. But a sugary blue drink with more sugar on top could be dangerous, and unlike the Long Island Iced Teas there doesn't appear to be a chain-wide limit on the number of drinks a patron can get. Whether that leads to counting gummy brains will depend on the location, as some "legality" issues may prevent some chains from carrying the special.
According to the San Diego Union-Tribune, the drink was actually a group effort between the 'Bee's and its legions of drunken fans.
The cocktail is made with rum, pineapple, passion fruit, cherry and lime and served in a 10-ounce mug. In the true spirit of Halloween, it's garnished with a gummy brain. The electric-blue beverage will be available at select Applebee's restaurants for the entire month of October, and it's so cheap your wallet can officially rise from the grave.

Although the chain has long offered its Neighborhood Drink of the Month, this marks the first time one has been crowdsourced. Apparently people wanted tropical, yet apocalyptic blue booze and brains.
The whole thing is a little silly, and I'm sure the drinks will get more absurd as the time goes on. The advertising works, folks. And hopefully so will the aspirin the next day.