The cold winter air filled my nostrils, almost seeming to singe them, as I sat 12,000 feet above sea-level taking in the view. It had been snowing for 24 hours and the clouds were finally starting to break to reveal a brilliant blue sky. I was sitting ankle-deep in fresh Colorado powder, looking down at the tiny, distant, snowy village of Snowmass and the neverending mountain range that hemmed me in.
It's cliché to call moments like this "breathtaking." Unless the cold air and lack of oxygen combined with the natural beauty actually do leave you short of breath. In that case, it's just being honest.
I got up and slowly prepared for my decent. I hadn't snowboarded in almost a decade and wasn't sure if I still had the muscle memory to glide through the powder as gracefully as I used to. As a teenager, I loved winter and welcomed weekends with friends snowboarding at ski resorts near my home. But those trips felt like a distant memory and as I stood perched at the top of the slope, anticipating the first drop down the run. I was on edge. Nervous.
The anxiety lifted as I set off and started to carve down the hill. Fear gave way to adrenaline and, gradually, joy. It was like I'd never stopped boarding. I felt light, I felt fast, and I was in control. By the time I reached the bottom of the run, I was panting, invigorated, and deeply in love with Aspen, Colorado.
***
Just about every winter lover in the country has pictured the snow-dusted villages and fantasized over the epic après-ski parties of Aspen. The iconic Colorado mountain town is widely idealized as a winter wonderland, offering some of the best skiing in the United States. But while the ski area's four mountains — Aspen Mountain, Aspen Highlands, Snowmass, and Buttermilk — cater to all skill levels, the town isn't always so good at fitting all budgets.
To help you navigate the ins-and-outs of Aspen and know where to save a few dollars, we offer this guide to ensure you get the most out of your Rocky Mountain adventure.
APRES SKI WITHOUT GOING BROKE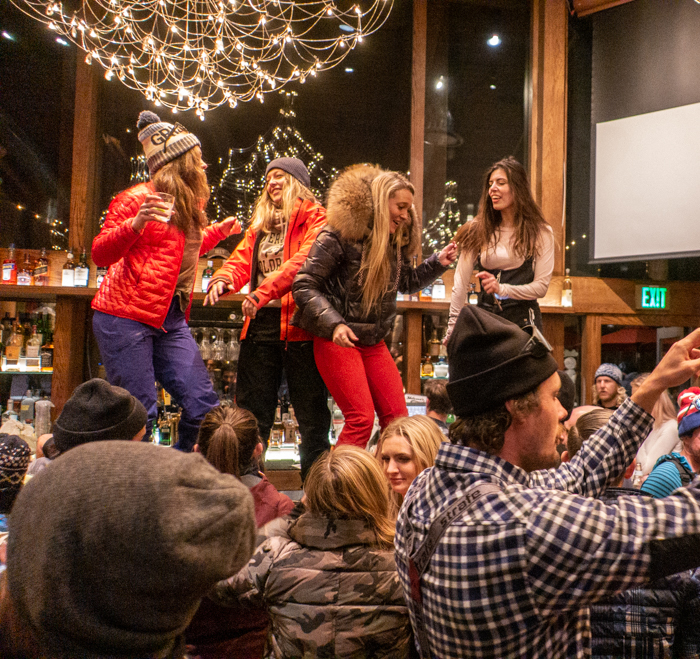 If you are looking for a rowdy crowd to après-ski with, you can find them at the base of Aspen Mountain. Shlomo's Deli and Grill is a sardine can of a bar full of 20-somethings drinking and dancing to old school hip-hop and house music. The more the DJ spun the more wild the crowd got – girls on the bar, boys taking a knee to chug – it was debauchery at its best.
When to go? Between 4:00 and 7:00 p.m. on Saturdays when it the bar offers a prelude to the night ahead.
Trade in your skis for some delicious sangria at this mountainside restaurant and bar because it's all about the Mexicana fare, outdoor fire pits and patio drinking at Venga Venga Cantina and Tequila Bar. Located at the Snowmass Mall, 100 meters up from the base of Snowmass Mountain Village, the panoramic patio is a great place to chill out after an afternoon of skiing. I made sure to make it there in time to still take advantage of their Happy Hour drinks and bites menu (starts at 3:00 pm daily) just as the DJ was setting up (there is live music on the patio from Thursday to Saturday) and spent the rest of the day drinking, eating tacos and making friends by the fire pits.
The crowd here definitely skewed a little older than Shlomo's, with patrons mostly between 20 and 30. Don't worry, it was still hyped enough for you to fully get down.
If you're a beer lover looking for some refreshing brews, Highlands Alehouse is your spot. Located at the base village of Aspen Highlands the brewery has a wide selection of offerings on tap as well as non-beer options to help quench your thirst. I made it to Highland Alehouse after an afternoon of snowmobiling and managed to score a seat at the bar — a huge victory given how packed the place was. The majority of the crowd was in their 30s, outgoing, chatty and eager for any opportunity to celebrate and cheers.
PICK THE RIGHT SPLURGES
Speaking of snowmobiling, I definitely recommend heading up to T Lazy 7 Ranch for a two-hour snowmobile ride when in Aspen. I'd never snowmobile before and could not have been more delighted by the experience. The tour took us through the Maroon Creek Valley to Maroon Lake, where we were offered our choice of delicious hot apple cider or cocoa and took in the picturesque view of the Maroon Bells — North America's most photographed peaks. At the end of the tour our guide took us to a track where we got to really open it up on the snowmobiles.
Riding that line between "I feel out of control!" and "I'm having the time of my life!" is clearly my sweet spot.
If you're looking for a restaurant for a special night out while in Aspen you have to check out Crêperie du Village. This French alpine bistro ended up being my personal favorite and I fell in love with their European ski lodge vibe. Located in Aspen Village, a stone's throw away from our hotel, my boyfriend and I walked over to the restaurant after a long day of skiing. It was one of our last nights in Aspen and we wanted to go all out. The restaurants was packed with people sitting at candlelit tables, red faced from all the wine.
Eager to join in on the action (people in ski towns go big) we ordered a beautiful bottle of red while we waited for our meal to begin. That night we dined on escargot, steak tartar, and foie gras with toasted brioche.
Seem a little posh? Sure. But posh can be damn good after a day on the mountain. If you don't splurge a few times on vacation, what's the point?
WHERE TO SAVE BIG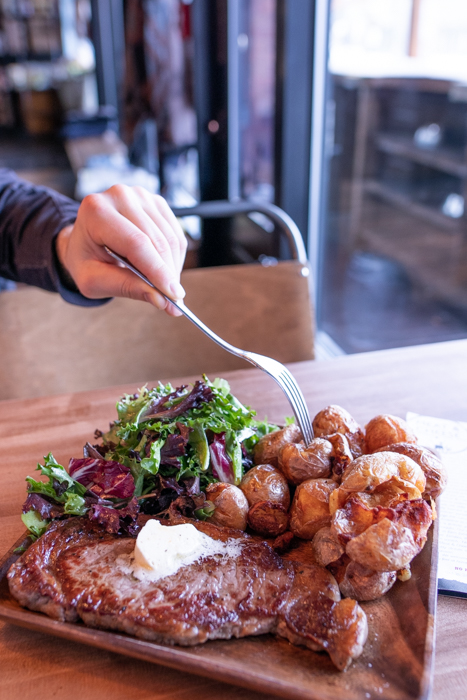 Obviously accommodations are a huge expense when visiting Aspen, but there are ways to get around not having to pay an arm and a leg for a place to stay. Enter Limelight Hotel — a midsize contemporary hotel located in Aspen Village, just a short walk from the bus terminal and base of Aspen Mountain. (Side Note: Aspen has a great transit system with pickup locations at the base of each mountain village that is available to travelers at no cost. That's right, FREE. Booyah!)
With its prime location in Aspen Village, complimentary breakfast every morning in the lobby and accommodations starting as low as $165 a night during low season*, choosing to stay at the Limelight Aspen was a no brainer for us. Upon our arrival at the Aspen airport, my boyfriend and I were promptly greeted by the hotel's complimentary airport car service and ushered into one of the hotel's Audi Q7 fleet (two-hour car loans are also available for guests and completely complimentary with your stay). Within 15 minutes of getting our luggage, we were walking into the lobby of the Limelight where the sweet smell of baking pizza dough hit us like a brick wall. I immediately dropped my belongings and went to investigate. Après in the lobby bar was in full swing and I was delighted to find out that their drink and food specials include the most delicious hand tossed wood fired pizzas I'd find anywhere in town, paired with beer flights. Pizzas were $12 – a steal when it comes to food prices in Aspen.
The icing on the cake was definitely finding out that the Limelight also offers complimentary ski shuttle service for guests. This meant that the only obstacle between me and the slopes each day was mustering the spirit to get out of the bed. This wasn't as easy as it sounds, because it was that comfy of a bed.
Food in Aspen can be expensive but there are ways to get around it. Meat & Cheese Restaurant, a favorite amongst locals is located in Aspen Village and is a short walk from the Limelight Hotel. The space is split into two parts, a meat and cheese deli, perfect for a quick grab and go meal, and small restaurants with a dozen or so tables and a small open concept kitchen. Meat & Cheese featured a great lunch special and we ended up dipping in three different times for their charcuterie boards.
For a high-value restaurant right in Aspen Village, check out L'Hostaria — an authentic Italian restaurant that has been around for over 20 years (that's a long time for Aspen). Initially recommended to us by some young locals who said it was their go-to date night spot because their bar menu was delicious and affordable, we were intrigued to check it out. Walking in, the bar area was packed with people chattering. We saw that, as promised, many of the same items that were featured on the dining menu could be found on the bar menu, but Adam and I were too hungry to wait so we opted in for dinner in the dining room.
This is how to do Aspen right, as best I know it: skiing, beers, a hotel with a hot tub, a few splurges, a few places to save, shuttles to take you everywhere, and locals who have literally nothing to complain about if the snow is falling. It may not be a far-flung destination or a new region people are suddenly hyped on, but it's absolutely a place to go if you want to marvel at the wonders of nature by day and eat, drink, and dance by night.
And what fool wouldn't want a little of that this winter?
Uproxx was hosted for this story by Aspen Skiing Company. However, they did not review or approve this story. You can learn more about the Uproxx Press Trip policy here.