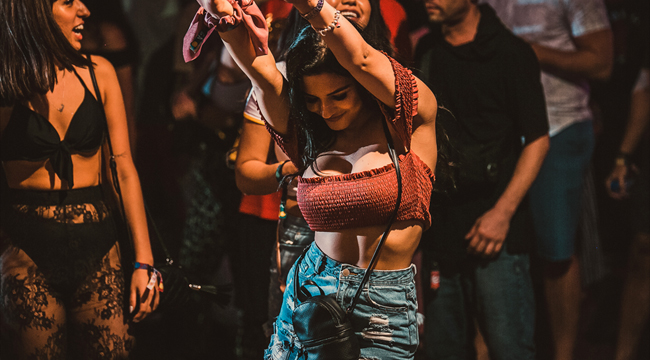 It's just before sunset and the beach at La Cabane in Barbados is packed. The DJ, Soul Clap, is spinning a mix of funk, house, and disco while three beautiful women and one guy dance on top of a makeshift stage. My friends and I were all invited to dance up there, but I don't think any of us would dare. We're so awestruck by the dancers — their moves, their curves, their outfits (sequined one-piece sarongs over tiny panties and overstated gold jewelry) — that it's far too intimidating. I'd felt underdressed earlier in the day, but now I think maybe I'm simply wearing too many clothes.
The energy of the dancers and the crowd inspire me. There's no sitting around and people watching at the Vujaday Music Festival. The event demands active participation in every sense of the word, which is maybe why only a few hours later, my body is covered in lighter fluid and I've become a part of a fire dancer's performance piece. By the time the music dies down, I wash off with a swim under the moonlight — a perfect introduction to Vujaday Music Festival.
***
Destination music festivals are playing a huge role in the Caribbean these days. In the last year alone, I was invited to go to St. Martin, Jamaica, Tulum, and Barbados for highly curated, inclusive, and culturally immersive music experiences. Still, Vujaday is unique. Apart from being set on Barbados, one of my favorite islands in the Caribbean, they take music curation very seriously. Forget about mainstream electronic stuff, the lineup, which is spread across five venues, is aimed at a specific type of attendee – one madly in love with deep house and techno. And with its small number of attendees, personal touches, and a more balanced mix of travelers and locals than most fests I've been to, Vujaday feels way more like one big house party than another sprawling destination festival.
Just like at any good house party, truly anything goes. If you're thinking of freeing your own inhibitions and joining in on the fun, here's my guide to getting the most out of this high-energy festival.
Barbados, The Welcoming Host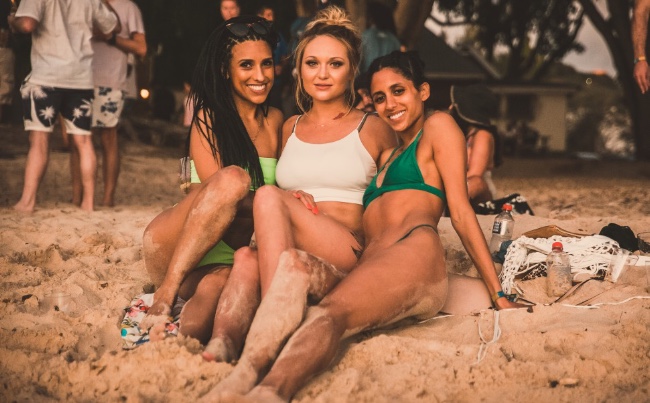 Barbados is an easy flight from most major U.S. and Canadian cities (as well as many mainland European hubs). Los Angeles is probably one of the longer travel days to the Caribbean from the United States, but if you take an overnight flight, as I did, it's not too rough. I not only got there on time, but I was early. Upon your arrival, Vujaday takes over and makes the whole process incredibly smooth — it's the anti-Fyre Fest. Upon landing, I was out of the airport in less than 15 minutes, wristband on, and in a car headed to my lodging.
One thing I loved about this festival is how every local Bajan (or Barbadian) I met was also pumped about Vujaday being there and excited about the chance to party. That's not always the case with festivals. Many are less respectful of local culture. I once witnessed a protest mid-festival in St. Martin because people were so upset about the way venues were managed and rented out. From what I saw, Vujaday seemed to inspire respectful visitors and travel practices. It doesn't hurt that it's capped at 2000 attendees to minimize any negative impact on local life.
The festival also felt inclusive, like this was an event we were all sharing together — watching some of the best DJs in the world in an intimate setting, rather than forcing the festival and hordes of partiers onto an island that did want to play host.

The DJs Who Keep The Party Going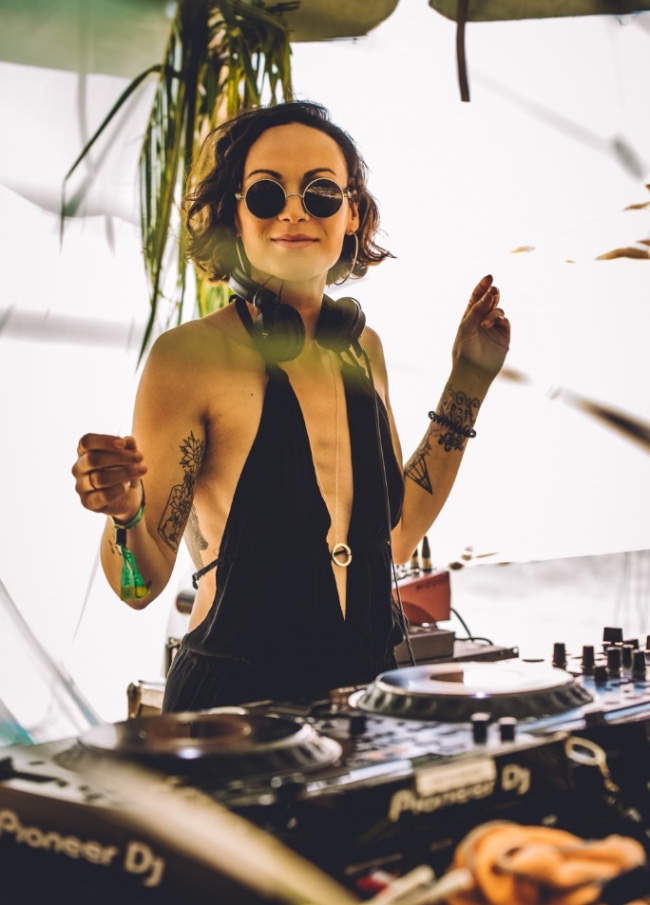 There's a mixture of old school and new school artists at Vujaday, which makes it a great place to both see your favorites and discover new sounds. This year, pioneers of the electronic music scene like Sasha, the Welsh DJ who defined underground dance music in the 90's, and Moodymann, a Detroit staple and legend, were playing on the beach. You don't see those two heading to places like this very often anymore, so it was a treat for anyone who loves techno.
My favorite set was played by Swedish DJ and producer Jeremy Olander who graced us with melodic house and techno that felt perfectly tailored to the environment — no forcefully fast bpm's, no rush to reach a pinnacle, just a slow release of depth in melody. I had never heard of him before but felt like I was magnetically drawn to the speaker everytime he was on. And I'd be remiss if I didn't mention seeing Damian Lazarus, who never disappoints. He's from another world, and I always get lost in his sets. So lost that, one minute I was dancing in a packed crowd and the next minute I looked up to find the venue is empty.
Lazarus actually drove me back to my hotel. That's how late I stayed.
Planning For The Parties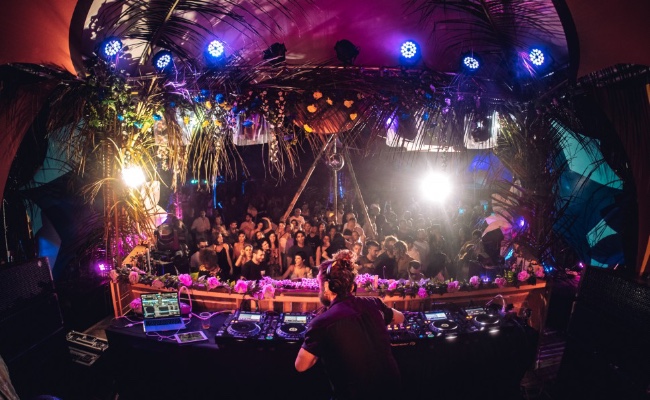 It can be tempting to stay up all night and sleep all day at a music festival, but at Vujaday, the day parties were as enticing as the night. All festival venues were outdoors — surrounded by nature and facing the ocean. From experience, I know it's impossible to go hard 24-hours a day for four days straight.
Make sure you have at least one (semi) early night so you can enjoy the scenery in the daylight. It's worth it and will be a nice reminder that you're in a tropical paradise.
Why You Should Leave The Festival At Least Once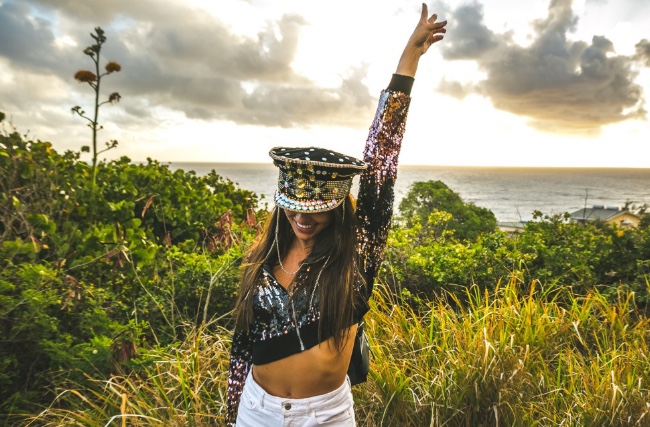 I ended up liking Barbados so much that I skipped some of the festival parties for dinner and a chance to dance reggae at the local bar on Saturday night. I headed to the St Lawrence Gap, a street filled with bars, restaurants, and people mingling. There, I discovered Cocktail Kitchen, a high-end cocktail bar and cuisine by the only Michelin star chef on the island. I had my first non-rum drink, a Tequila Thyme, followed by some exceptional ceviche.
After, I headed to Oistin's Fish Fry. It's a local institution where hundreds of people gather around 80 or so food stalls to taste the freshly caught fish and local cuisine. The legendary Bajan fish cakes are a staple there, but you can find anything from jerk chicken to swordfish and "dolphin" (dolphin is actually mahi-mahi according to local slang, which took some conversation to figure out on my part).
Next, I scoped out some bars where I danced with women in sparkly tights and platform shoes and chatted while drinking beers. As much as I love Vujaday, I loved experiencing part of the island that wasn't curated for a festival. Tourists and locals were on the same page here, everyone was just vibing on the music.

When You Need A Break From The Non-Stop Action
As one of the people too exhausted to go on a party boat the morning after raging all night, I decided to check out Bridgetown one morning while I chugged water and tried to wake up a little. Though Yokoo was playing the party boat to celebrate his record release, I felt that seeing the capital city might do my liver some good. During my "day-off" I visited Swan and Broad Streets. They're traditionally local corners of the city, both home to thriving markets.
I saw a few Vujaday bracelets here and there while I shopped, but I loved that mostly it was just islanders going about their day. My biggest fear with destination festivals is getting stuck inside a party or hotel for your whole trip and never actually venturing into the amazing country you're visiting. It's a true gift to be able to experience a culture while also watching them host a large event.
That said, there's not much "watching" at this festival. Even if you don't join in with the fire dancers, you can bet on having all your senses fully engaged.
More Photos From Vujaday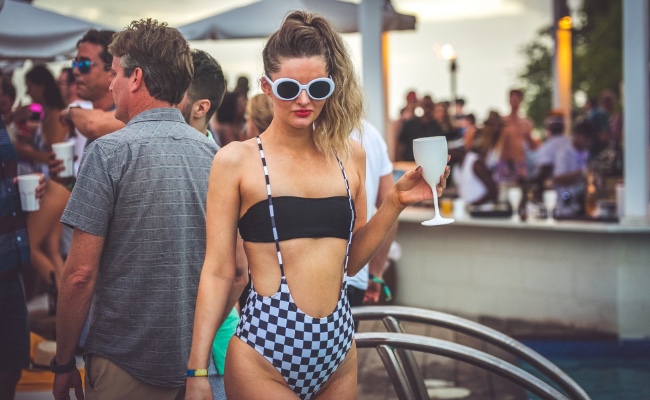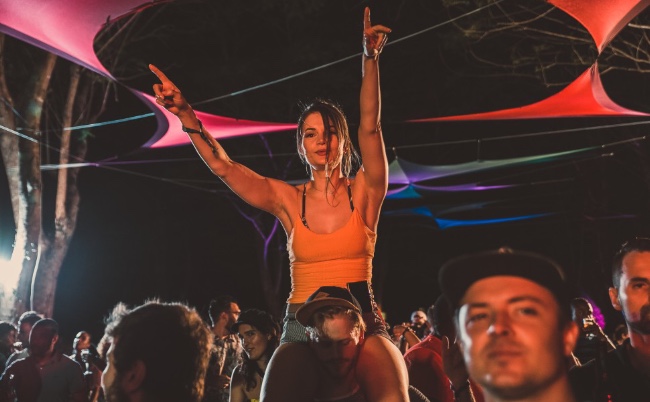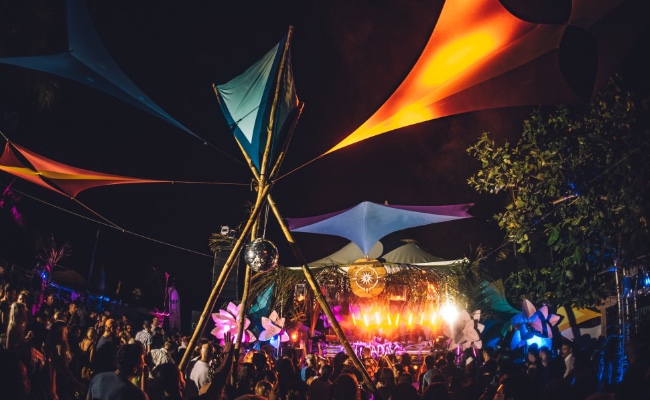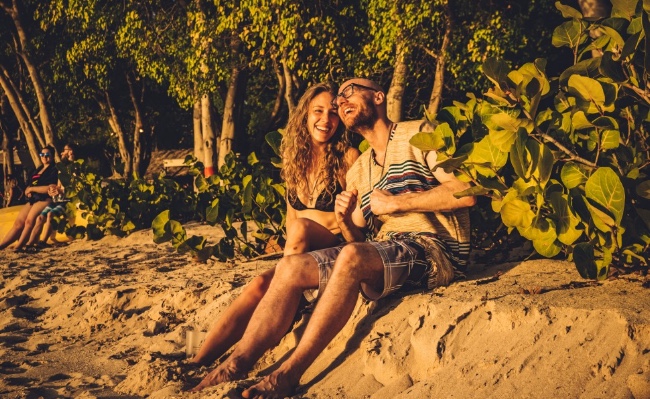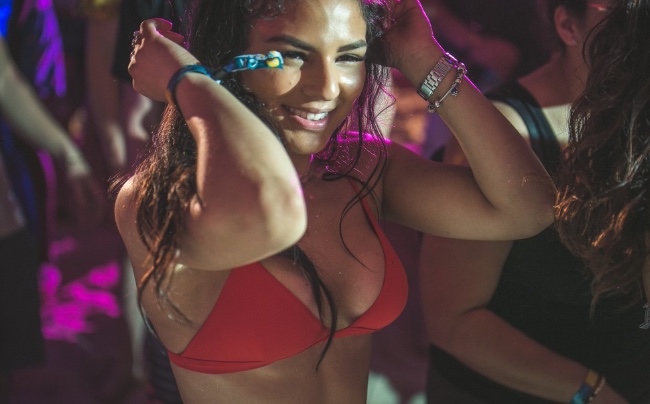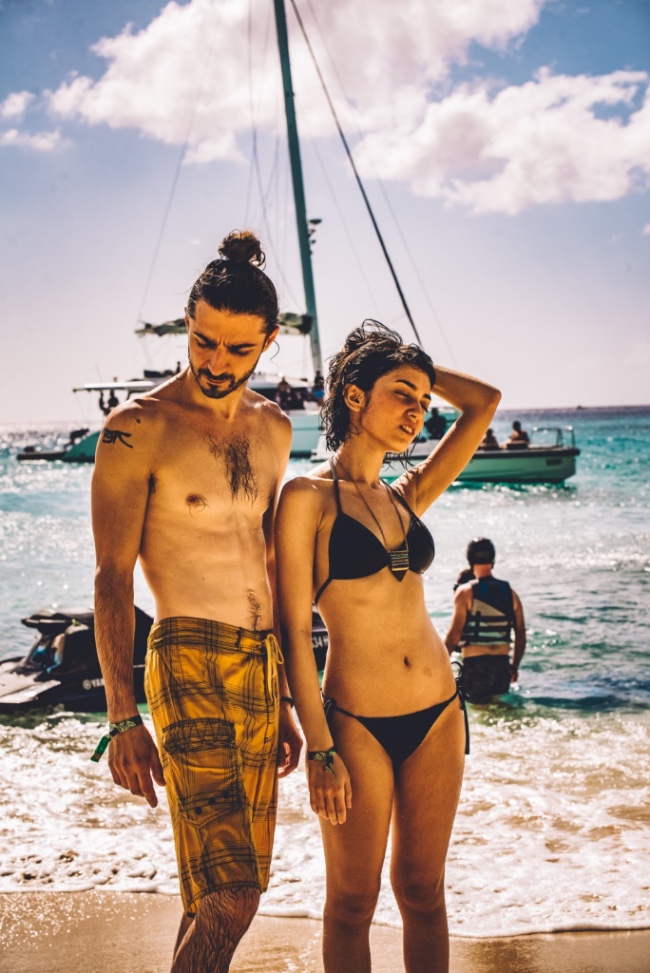 Uproxx was hosted for this story by the Vujaday Festival. You can learn more about the Uproxx Press Trip policy here.