Rye whiskey is often pigeon-holed into one flavor note: Spicy! That's both kind of silly and sort of annoying. No whiskey, or whiskey style, is a monolith, even if it is from the same category, region, or mash bill. Rye whiskey is as wide and varied as any whiskey style. The fundamentals of rye are also being tampered with and pushed beyond old-school ideas of the style towards new horizons all the time, adding even more variation.
In fact, Barrell Seagrass is a great example of exactly that sort of experimentation.
Barrell Craft Spirits is an independent blender and bottler. They're world-renowned for finding amazing barrels of whiskey, bringing them back to their blendery in Louisville, and releasing something amazing after plenty of tinkering (and a few years in the rickhouse). Their 2021 release, the aforementioned Barrell Seagrass reveals their skill at barrel sourcing and unparalleled prowess when it comes to marrying those barrels.
Let's stop pontificating and get into what's in the bottle!
Also Read: The Top 5 UPROXX Bourbon Posts Of 2021
Barrell Seagrass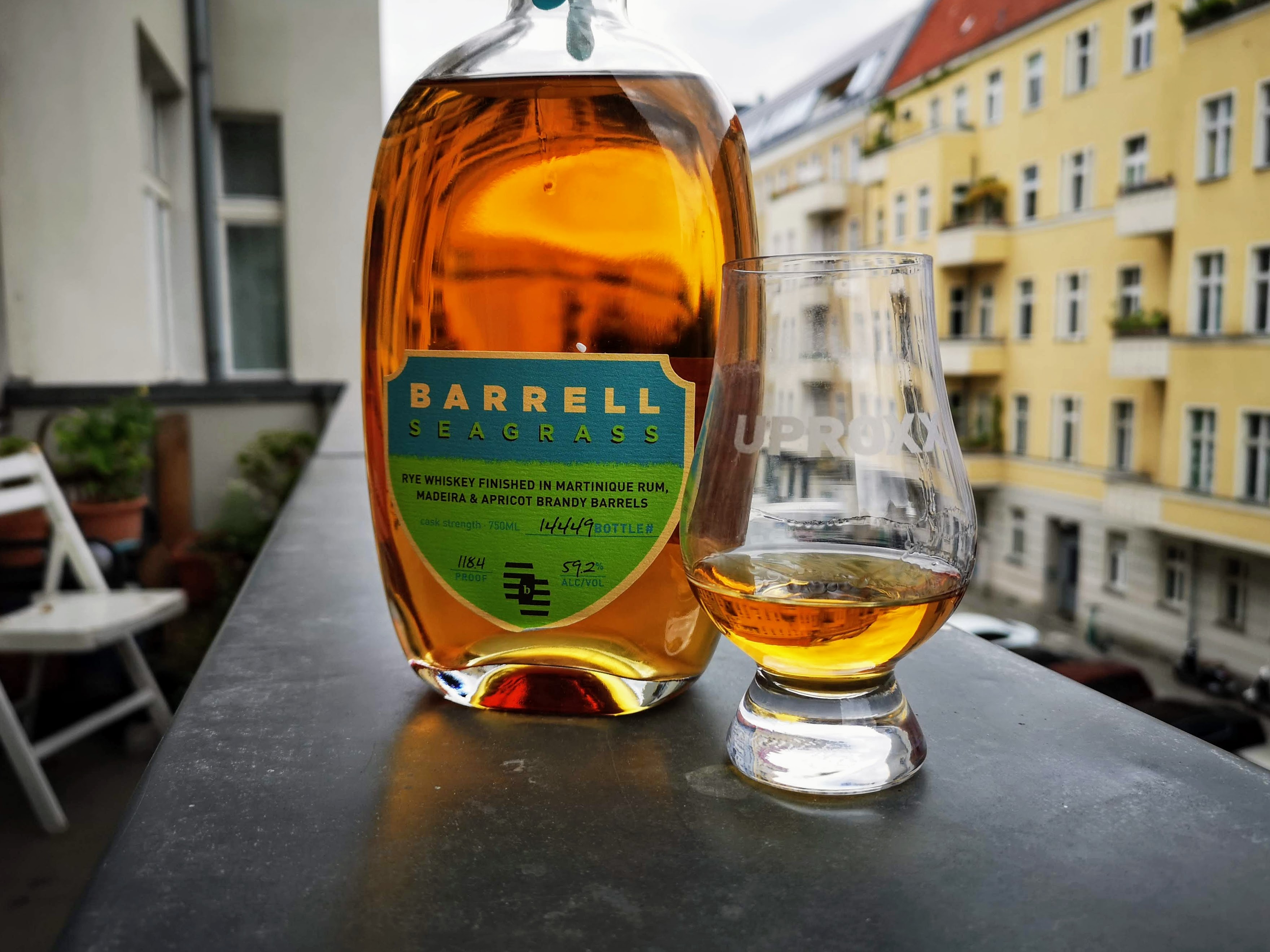 ABV: 59.2%
Average Price: $84
The Whiskey:
The juice in this limited edition bottle is a combination of rye whiskeys from Indiana, Tennessee, and Canada. Those whiskeys were aged in Martinique rhum, rhum agricole, apricot brandy, and Madeira casks before vatting at Barrell in Kentucky. The idea was to harness the flavors of wood that aged juice next to the sea to bring that coastal x-factor into the blending process for this rye whiskey.
If that's not new for rye, we don't know what is!
Tasting Notes:
The nose presents a balance of sweetness and warmth that leads towards apple and cherry candies, Werther's, bruised peaches, and a light dried rose potpourri in a soft leather pouch. The taste opens with a slight touch of that peach followed by pears and savory melon while a hint of bitter grapefruit arrives on the mid-palate with a note of cinnamon, fennel, and green (almost oily) thyme.
There's a return of the pear sweetness on the very backend of the taste but you have to hack through a very warm, dry, and almost chewy woody spice nature. The very end of the slow finish has this almost white grape soda vibe with a hint of cream soda (and maybe a touch of root beer), apple cores with the stem and seeds, and … overused sandpaper dryness.
The Bottle:
Barrell's egg-shaped bottles are almost centerpiece-worthy (they're not decanters but they are very cool). The real highlight here is the label, which pops with light blue and bright green and just the right amount of information to be useful without being too busy.
Bottom Line:
This just works! There's a lot going on, yes. But it all makes sense, is accessible to sip, and really pushes some boundaries. It's also very soft and easy to sip on the front of the palate while taking you on a bit of a rollercoaster to that fruity, woody, and dry finish.
Ranking:
92/100 — This is a great, unique rye whiskey. It is, however, not the best one I've had this year. Still, it's unique and will take your rye knowledge (and palate) somewhere new.
---
As a Drizly affiliate, Uproxx may receive a commission pursuant to certain items on this list.