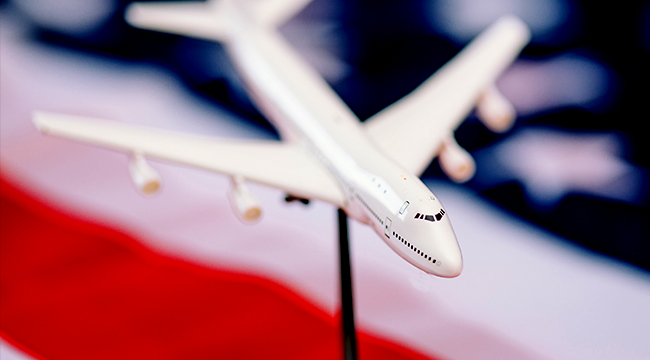 Summer travel can be expensive. Flights, hotels, car rentals, and packages all tend to be at their highest prices. That doesn't mean you can't find great deals during the summer but it does mean you can't always get where you want when you want for cheap. Still, sales will always run during the holidays and we have a big holiday with big sales this week — the 4th of July.
Hotels, airlines, and tour groups are going to be putting everything on sale over the next couple of days. That means it's time to set some alerts, do a little sleuthing, and pull the trigger on a great trip somewhere cool. The sweet spot is going to be July third and fourth with deals extending out about week around those dates. So, crack open a beer, fire up the grill, and get ready to score a great travel deal.
We've compiled some of the best deals right now below. These are the cheapest flights, sweetest hotel rates, and steepest travel package discounts online this week.
TOP DEAL OF THE WEEK:
SAVE UP TO 60% PLUS 10% MORE WITH HOTWIRE'S 4TH OF JULY APP SALES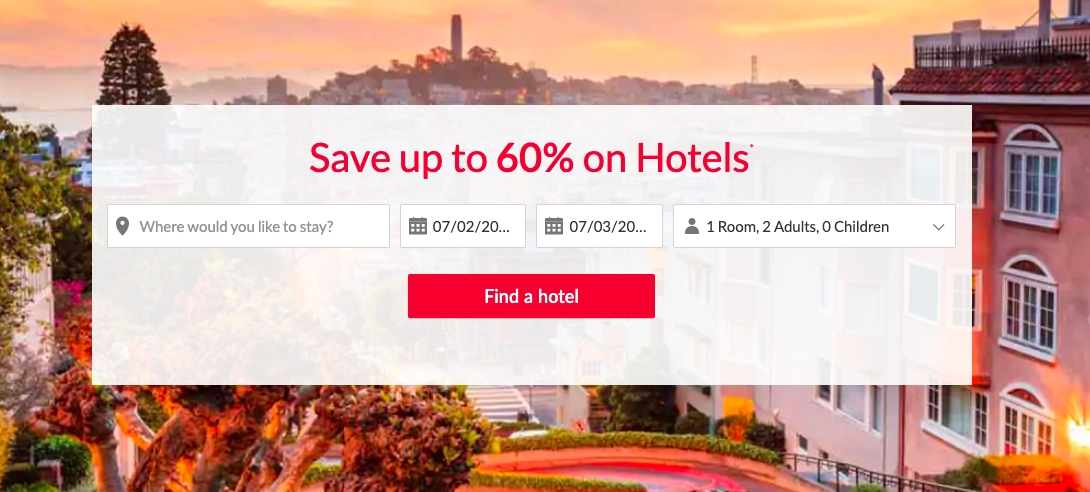 Right now, you can save up to 60 percent off hotels with Hotwire's summer sales. That's already pretty amazing savings. To make this sale even sweeter, Hotwire is offering an additional 10 percent off hotel rates between July 3rd and 4th. 70 percent off a hotel room is unbeatable if you ask us.
You'll need to download the Hotwire App and book there. Use the code HWFIREWORKS10 to apply the discount.
BEST FLIGHTS OF THE WEEK:
FLIGHTS TO EUROPE STARTING AT $110 EACH WAY THIS FALL WITH NORWEGIAN
If a trip to Europe is in the cards this year, the best prices on tickets are going to be with budget carrier Norwegian. The budget airline is offering one-way tickets to Europe starting at $110 to Dublin from the East Coast. Flights a little further afield range in the $130-$160 one-way price range. Flying from the West Coast, expect to pay another $50-$100 each way.
Also, remember that that fare only covers your seat and two carry-ons (regular bag and a small personal item). If you need to check a bag or eat on the flight, expect to pay close to $100 more each way.
20% OFF ALL FLIGHTS WITH AIRASIA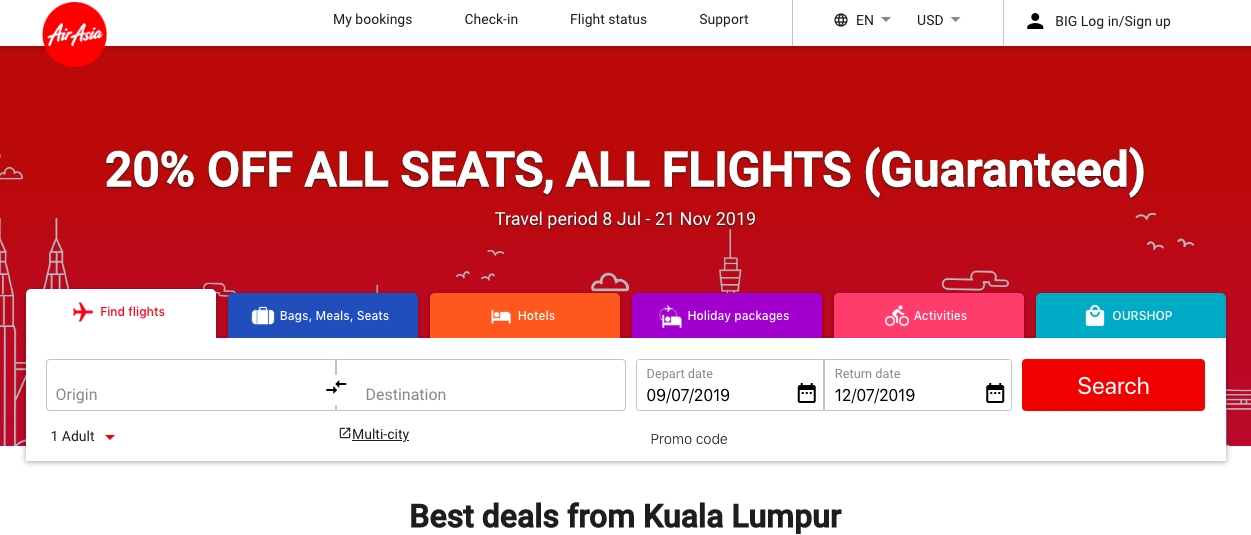 Thinking of heading further east than Europe? AirAsia is going to be the play to get there and also to get around very inexpensively while there. Flights from Honolulu to Japan run around $160 each way. Flights around the region are as low as $10 one-way.
The kicker is that right now they're running a sale which will shave an additional 20 percent off those already low prices. One-fifth off $160 may not seem like a lot — it's only a $32 savings — but that saving is enough to cover a couple of flights while you're in the region. That's a win.
FLY AROUND AMERICA FOR $25 EACH WAY WITH FRONTIER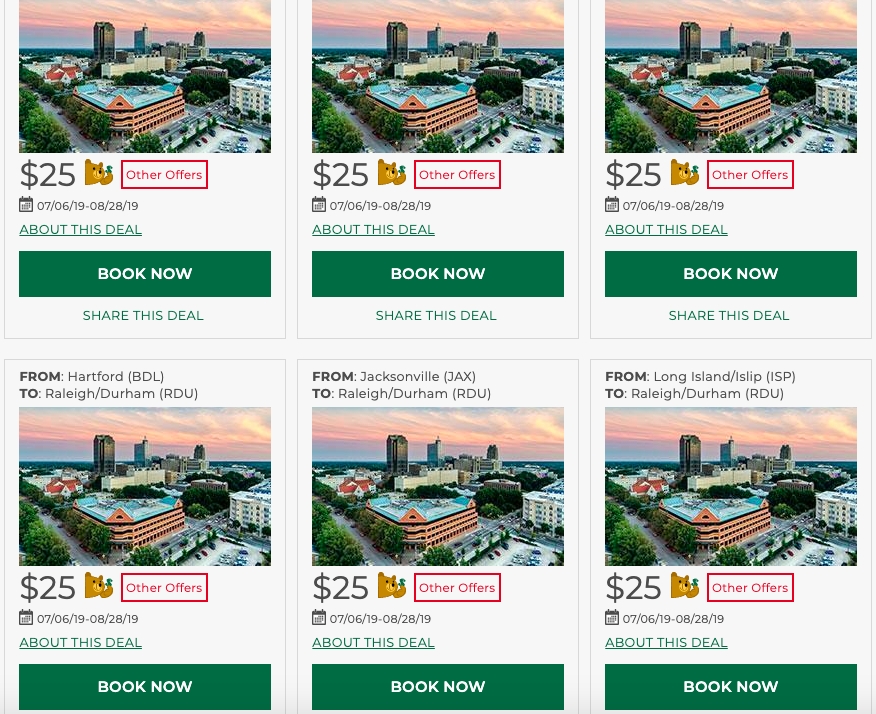 With the 4th of July here, maybe it's time to see a little more of America. Right now, Frontier is offering one-way flights around these United States for as little as $25 each way.
Disclaimer: That does not include a carry-on or checked bag. If you do need to carry on a bag, expect to pay another $35 each way. Still, that's $60 for a one-way flight across the country — still a great deal.
BEST TRAVEL PACKAGES OF THE WEEK:
SAVE UP TO $500 WITH EXPEDIA'S 4TH OF JULY WEEKEND SALES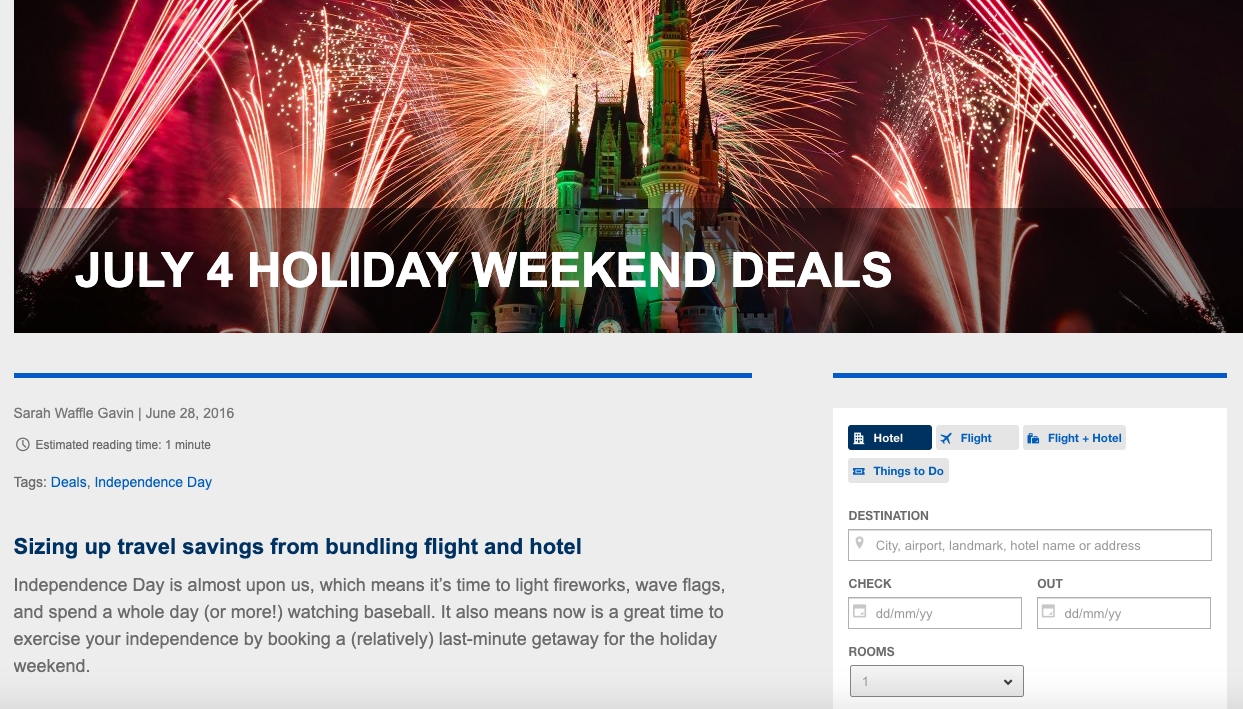 Expedia is bundling packages for 4th of July deals. They've found that if you book hotels and flights to places like Palm Springs this coming weekend, you can save 25 percent or up to $500 off your bookings with Expedia. Our advice, do a little shopping on Expedia's Flights + Hotels booking site to save some serious cash over the long weekend.
SAVE $500 ON U RIVER CRUISES THIS SUMMER

Summer is full swing which means it's going to be over before you know it. Sailings on Europe's best boutique small-vessel river cruises, U River Cruises, are selling out fast. Right now is your last chance to score a steep $500 discount on summer sailings across Europe. That $500 savings could be enough to cover flights to and from Europe on a budget carrier.
SAVE 15% ON LAST MINUTE TRAVEL WITH INTREPID TRAVEL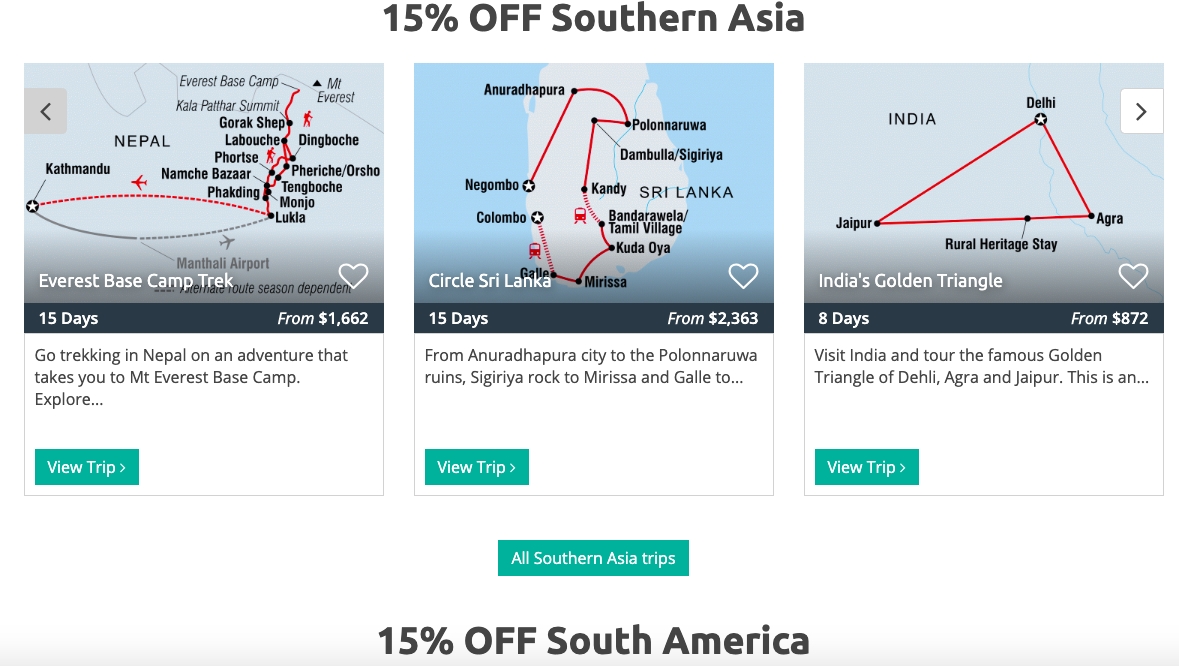 Adventure outfit Intrepid Travel is offering big discounts on trips around the world this week. Their last minute deals will net you a 15-percent discount on amazing adventures to every corner of the planet. The world really is your oyster with this one.
BEST HOTEL DEALS OF THE WEEK:
SAVE 40% + 8% WITH HOTELS.COM THIS 4TH OF JULY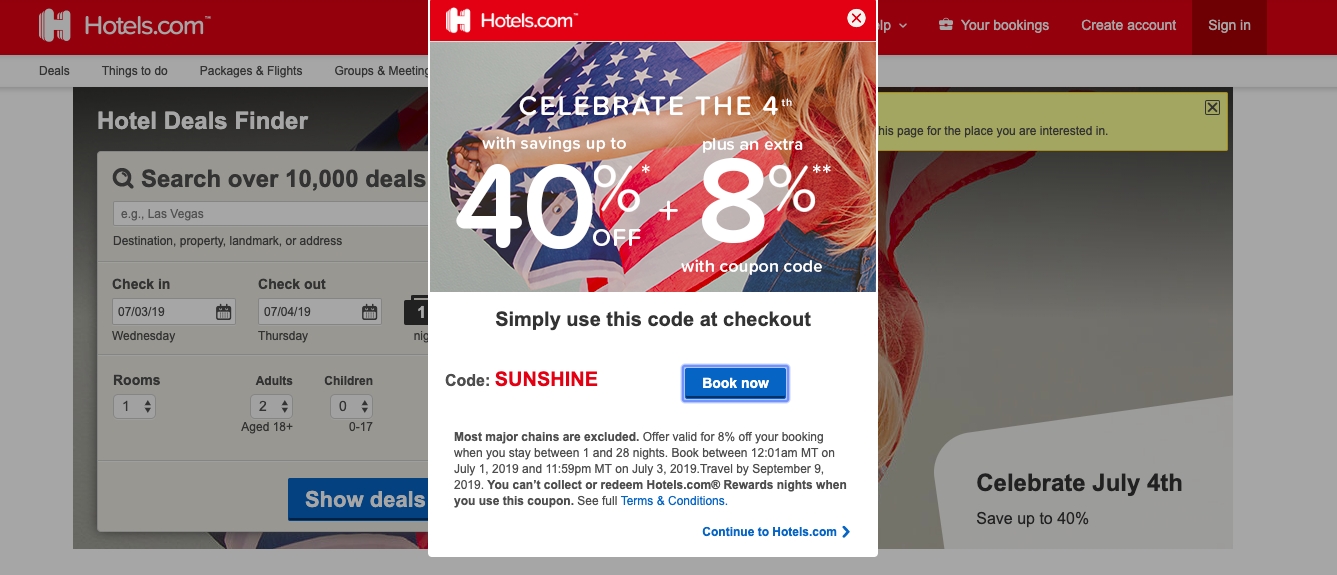 Hotels.com is offering a great summer and 4th of July sale over the next couple of days. You can already score 40 percent off room rates. Then, all day during the 4th, you'll be able to shave another eight percent off. Use code SUNSHINE at check out to save up to 48 percent on the 4th of July.
SAVE 30% ON SUITES WITH PREFERRED HOTELS & RESORTS ALL YEAR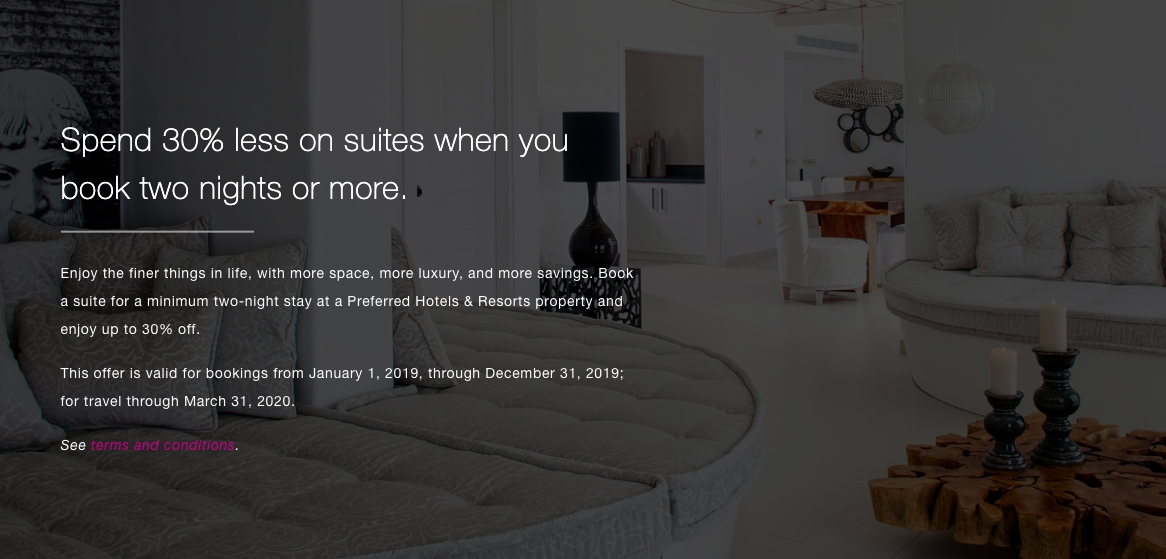 Preferred Hotels & Resorts is offering a steep discount on all of their suites across their vast, worldwide network. If you book a suite at any of their properties (with suites) for two nights or more, you'll receive a 30 percent discount off your stay. One-third off is always a great play when traveling. This sale lasts all year, so you can really take your time and find the best place that suits you and your price range.
SAVE 20% DURING IHG'S GLOBAL SALE THIS SUMMER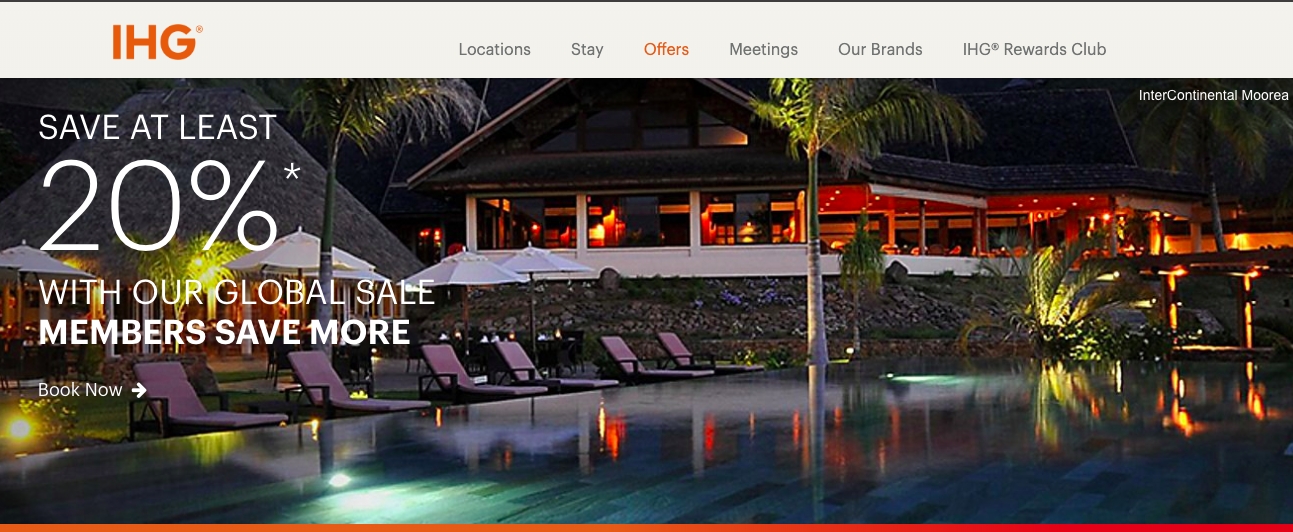 IHG is running a massive Global Sale on their rooms worldwide. They're taking 20 percent off room rates across the board. Do a little research and find the best place to stay that suits you and then take advantage of the discount.
BEST WILD SPLURGE OF THE WEEK:
SAVE 50% ON SOLO TRIPS WITH ABERCROMBIE & KENT LUXURY TOURS
Abercrombie & Kent run some of the highest-end luxury tours in the world to some of the most remote corners of the planet. This is adventure meets luxury and it doesn't come cheap. Solo travelers are in luck though. Right now, the travel group is offering a 50 percent discount on single-supplement fees. That means you won't be penalized for booking single rooms and solo travel this coming year and into 2020.
Still, prices for eligible Abercrombie & Kent trips range from $4,995 to $39,995. So, plan your luxe trip accordingly.