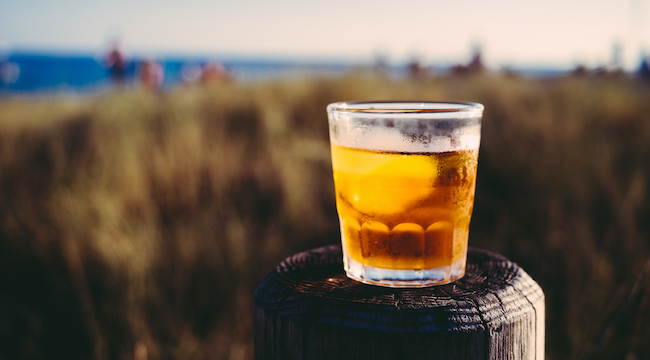 As long as the whiskey you're drinking isn't a white whiskey (a.k.a "white dog" or "moonshine"), it'll have been "aged" to some extent. The golden, caramel hues you see in your favorite bottles come from the casks the whiskey is aged in, after all, not the distillation process. But most of the whiskey we buy off the rack is aged for two to four years at the most; today we're talking about the older stuff.
The thing with whiskey aged beyond that four-year mark is that it has to be dialed in. That means better barrel selection, prime resting environments, and high level of skill from the master distillers. It's both an art and a science.
Flavor-wise, picking a great long-aged whiskey is tons of fun… with one major caveat. Price. As whiskey spends more time resting in unique barrels, it begins to cost serious money. Space in rickhouses isn't free; neither are premium barrels. As the years tick past, the expenses go up and those costs get passed on the consumer. Some bottles can end up costing thousands if not tens-of-thousands of dollars after spending decades in the cask.
That's a price barrier few us can overcome, obviously, but not all aged whiskeys are for the 1%. There are higher-aged whiskeys on the market that manage to hit a little more accessible price point. We're talking about expertly aged bottles of whiskey that fall in the $100 to $250 range. Sure, that's still hard on the old bank account, but if you're buying a special gift or really want to invest in a collection, these are good bottles to start with.
Whatever your reason for dropping cash on whiskey at this level, you always know you'll be getting something special.
Belle Meade Sherry Finish Bourbon 9-Year
Let's start off with a very accessible bottle of bourbon from Tennessee. Belle Meade's bourbon is made under the Nelson's Green Brier shingle with great care and exacting quality. The bourbon spends nine years aging according to bourbon requirements. Then the liquid is transferred to carefully selected Oloroso sherry casks to finish and add serious depth.
Tasting notes:
This is where the full-bodied, vinous world of sweetened fortified wine meets the spicy warmth of bourbon. There's a real sense of the vineyard on the nose followed by a velvet caramel leading towards that classic bourbon oaky vanilla. Finally, a mix of dried plums arrives alongside a spice matrix of cloves and allspice that's tempered by a silky note of molasses sweetness.
The Yamazaki Single Malt Japanese Whisky 12-Year
Japanese whisky has been making a huge splash on the local market. The whiskies coming out of Japan are some of the most refined and accessible around. The Yamakazi 12 is a single malt blending of whiskies aged in ex-American bourbon barrels, ex-Spanish Oloroso sherry, and Japanese Mizunara oak barrels.
Tasting notes:
The single malt aspect of this one gives it a clear toasted cereal grain feel, cut by honey, vanilla, and dried berries. It's like high-end muesli in the best possible sense of that word. Hints of orange zest, cranberry tartness, and rich vanilla are also in play. On the end, there's a whisper of smoke that feels like a breath of fresh air on a cold day.
Peerless Kentucky Straight Rye Whiskey
Outlier alert! Sometimes you don't need aging in the double digits to achieve those long-aged flavors. Case in point, Peerless Kentucky Straight Rye Whiskey. This marvel sits in oak for a short two years before its ready (perhaps precluding it from this list… if it weren't so damn special). The grain-to-glass distillery has figured out a way to draw out deep notes in an impressively short amount of time.
Tasting notes:
This is a big whiskey. There are notes of fresh mint right away with cedar, peppery rye spice, cinnamon, vanilla, and burnt sugar. Next, hints of licorice make way for earthy nutmeg and cloves on buttery toast. Then the rye spiciness comes back with a crème brûlée essence and warming spicy burn.
Michter's Bourbon 10-Year
Michter's 10-year-old bourbon is a single barrel masterclass in bourbon. This whiskey is dialed in so well that it comes from a single barrel from a single distillation. That's high-level confidence by the Michter's team, right there.
Tasting notes:
This bourbon really has a balance to it that's hard to argue with. There are notes of candied apple next to umami olive brine paired with oaky vanilla and sharp butterscotch. Fatty roasted almonds, slight spice, mild florals come into play. Then hints of a smoky library full of old books echo at the end. It's all there and balanced into a single masterful glass of whiskey.
Lagavulin Islay Single Malt Scotch Whisky The Distiller's Edition, Double Matured
This is a very limited release that hits a lot of special scotch whisky notes. Released in 2012, this 12-year-old whisky blends the best of the best from the Diageo scotch whisky world according to what their master distillers loved in 2012.
In short, this is the whisky the experts made for us.
Tasting notes:
This one starts off with mildly herbal notes next to buttered popcorn and caramel apples. Then the peat smoke arrives and gives you a sense of smoked caramel kettle corn. Finally, the herbal notes come back with a slight bitterness that dries out the sip and all that peaty smoke fades away into a refreshingly tight dram.
Crown Royal XR
Canada's Crown Royal XR (extra rare) is a unique bottling with whiskies you may never taste again. This bottle includes whisky distilled at a now-closed Montreal distillery. Basically, the barrels are still aging and as they peak, Crown Royal blends them. Then you get to sip on the fruits of all that labor.
Tasting notes:
Rye spice is front-and-center. There's a nice peppery edge with a balance from the barrel oak, vanilla, and buttery caramel. Next, you get a sense of the cereal and grains with a warming edge that leads to a spicy finish with a nice dryness that settles well.
WhistlePig Straight Rye Whiskey 15-Year
While this is still rye from Alberta, this is one of WhistlePig's most terroir-driven expressions. The whiskey is aged for 15 years in new American oak, ex-bourbon casks, and, finally, Vermont white oak that's grown and harvested on WhistlePig's own farmland. That last step adds a new layer to the rye that helps it shine brightly.
Tasting notes:
The oak and vanilla are very present up front with hints of ancient library leather. Blooming wildflowers and hefty rye spice arrive alongside a lingering note of overly buttered caramel. Finally, it all fades into a peppery rye warmth next to wisps of rich pipe tobacco smoke.
Redbreast Irish Whiskey 21-Year
This Irish expression is a blend of malted and unmalted barley, making it a "single pot stilled" whiskey (as opposed to a "single malt"). The mash is then fermented and triple distilled before being aged in ex-bourbon barrels and first-fill sherry casks. Then it rests for 21 freaking years. The spirit is checked on and loved while it rests.
Finally, the two barrels come together to make this single bottle of excellence.
Tasting notes:
This one transports you to a farm on a hot summer day. Apple and pear orchards, bales of hay, wildflowers, and rich grains are all in play. Wood sits next to juicy, overripe peaches. The warming spices come back to cut through the sweet fruitiness towards a rich finish.