You know how to EAT THIS CITY. With top chefs as tour guides, you've learned how to scout out hot spots for breakfast and brunch, where to go for a delicious date night, and how to feast like a local liege in the cities you love. But where do you wash it all down? Do you know how to find the best brewpub? Uncover who makes the meanest bloody marys and the most sparkling mimosas?
This week we're in Asheville, North Carolina, famed for its national parks, thriving art scene, incredible architecture, and its vibrant cocktail culture. Our guide is award-winning bartender and bar consultant Joe Nicol, whose cocktail pedigree speaks for itself!
In 2018, Joe won NCRLA's Mixologist of the Year award, no small feat. He's also conquered an impressive number of state and national cocktail competition; including Fernet, Ketel One, Old Forester, and Jameson. The man knows his way around a bar.
This success is exactly why Nicol is in hot demand around the nation, consulting, training, and inspiring, then off to the next destination, like a young, gin-appreciating, bartending Gandalf. (He's also a brand ambassador for Sutler's Gin.). If Nicol's at the helm, your drink is going to be something special.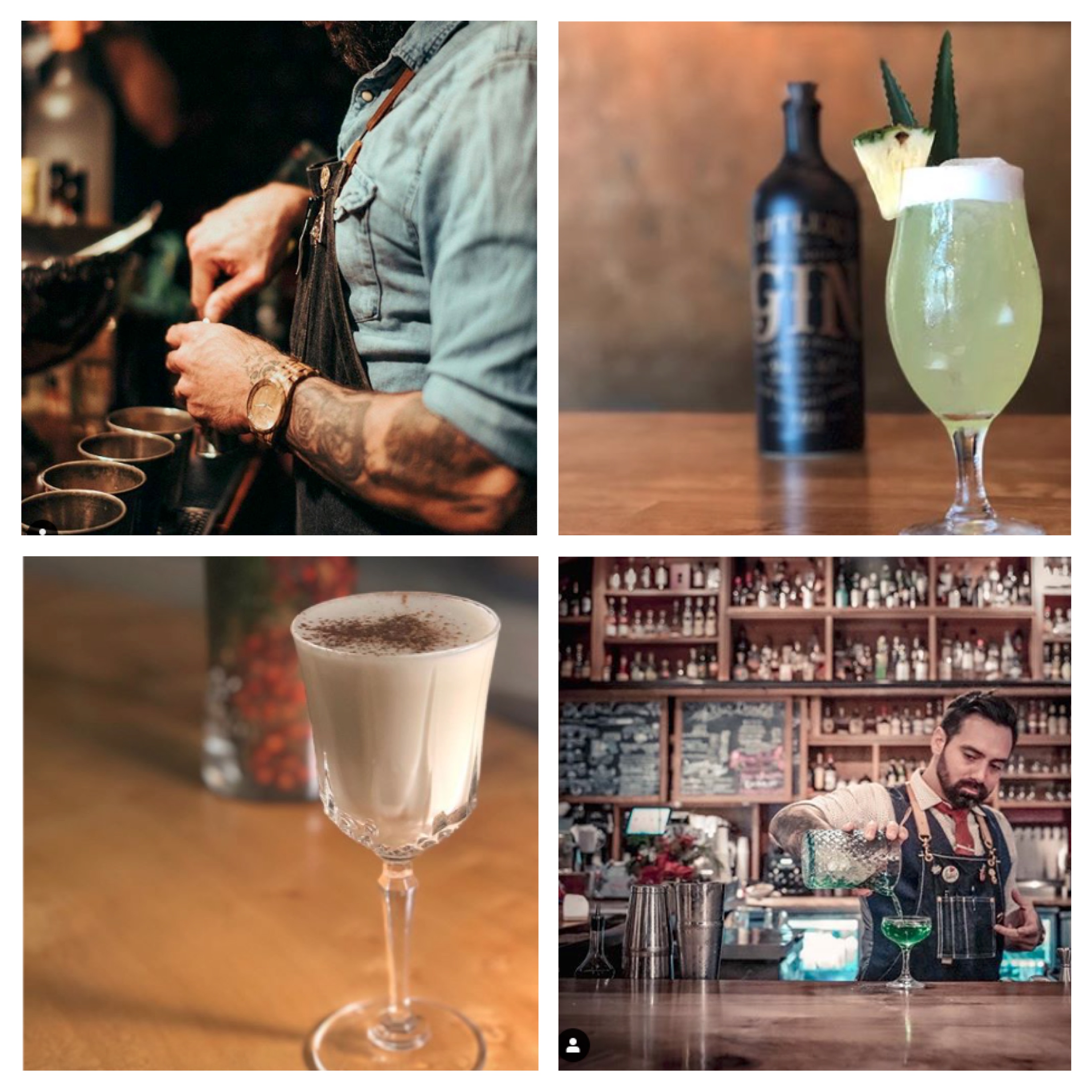 Ready to clink some glasses with Joe Nicol in Asheville? Let's go Drink This City!
BRUNCH COCKTAIL OR HAIR OF THE DOG
For me nothing "beets" Over Easy downtown on Broadway. Pun intended. It's a great locally sourced breakfast joint that does a variety of fresh pressed juices and I always get the fresh pressed beet, apple and ginger juice with tequila. Their Bloody Mary is fantastic too, but I really enjoy the freshly pressed options!
MARGARITA
Best margarita hands down is En La Calle! Great local Spanish tapas place I recommend to all my visiting friends.
CLASSIC COCKTAIL
Quite a few bars are recreating the classics in this town. In fact, most bars these days have a "classics" section on their lists. I would say it would come down to the bartender. Quinton Soemardi AKA "Q" runs a cocktail bar called Imperial Life and I would let him work his magic for you. His product knowledge is vast and he hosts a great conversation!
CRAFT COCKTAIL
Most creative craft cocktail would be Post 70. It's a quaint spot off the beaten path in the east side of town. Off the grid from the bustling tourism path, it's a nice escape to feel like a local and receive a homey sense of hospitality. They are using interesting ingredients and using some neat culinary techniques in their thought process. Fat washing, infusions, sous vide, tinctures etc.
PUNCH
Unfortunately, it's illegal to put more than 3oz of alcohol into a vessel in NC so a punch does not exist here. So instead I'm going to recommend a favorite dive karaoke bar: The Double Crown!
DIVE BAR
Have to go with my friends over at Crucible. They have a dive bar look and feel and price point yet have an inventory to craft you up classics and signature cocktails! One of my favorite additions to town in the last few years. They change their cocktail menu fairly often so if I told you my favorite it may not be there anymore. I really enjoy the Negroni on draft aka FRIZZANTE!
PUB, TAVERN, OR BREWERY
We are the brewery capital of the world so any corner has a place for you to enjoy a beer but my favorite is The Westville Pub. Great beer and spirit selection, quite a few games to play, a large patio and great pub food. The secret thing to order there is Knob Creek! It's only $5, but that's an insider secret from me to you. Shhhh. Don't tell them I told you.
HOTEL BAR
Sunset at Grove Park Inn. Even if you don't drink the view there is gorgeous. The architecture is beautiful and it's probably the main attraction second to the Biltmore in Asheville. Mrs. Tammy Hood runs a great bar program and any of her cocktails are a true delight. Get there early to grab a seat because it is a destination sunset view!
HOT DRINK
Asheville has its chilly fall and snowy winters so it's common to see everyone have some pretty delicious hot drinks. With that said the Mulled Wine at The Times Bar is pretty amazing. They do a blend of Greek and French brandies and wines in their house blend.
THEMED COCKTAIL at IMMERSIVE EXPERIENCE BAR
MG Road. They were selected by MACE NYC to do the ever-growing globally popular themed "Miracle Bar" where they get to go completely insane with Christmas decorations. Everything and everywhere is Christmas inside the building. The bathrooms, the cocktails, and even the bartenders' attire!
SPARKLING COCKTAIL
"The Hornet" at NY Times best-seller, Katie Button's restaurant Nightbell. It's a delicious Prosecco cocktail with an apple shrub and earl grey tea! *Note: get on it while you can! Nightbell just announced it will be closing this Sunday.
APERITIVO
Cucina 24 is an amazing Italian restaurant in town down on Wall St. The cuisine alone is a must-try, but their aperitivo selection is delicious. Donnie Pratt, also the leader of the bartender alliance in Asheville, does a great job getting the hard-to-find spirits to work them into his bar program.
LOW-PROOF COCKTAIL
The Watermelon Mint soda at Rhubarb is delicious! They tend to rotate their menu very frequently so it may not be available by the time you make it in, but don't worry because they always have another delicious replacement right behind it.
UNUSUAL COCKTAIL or COCKTAIL WITH SURPRISING INGREDIENTS
Sovereign Remedies I would say is the most consistent with their unusual ingredients. They have a cool approach to their cocktail program, being that the chefs actually help to direct the cocktails. They use ingredients that they use too. It helps them to be efficient with their programs, both bar and kitchen. Chef Graham House recently cooked for the James Beard Foundation, just to lend a little extra credential to this lovely place. He uses locally foraged flowers and different fresh vegetables and fruits. He has a cool mindset that every part of the flower and fruit can be used and it's always an education to see and hear his passion and knowledge in his work.
COCKTAIL MADE BY A FRIEND
Drew Hendrickson over at Storm Rhum Bar. You have to try his Fernet and absinthe swizzle that won him best Fernet cocktail in North Carolina!
Thank you, Joe, for taking us on a tour of Asheville's Best Bars!
Like what you read? Check out Drink This City: Hollywood , Drink This City: We Love Chicago, Drink This City: Seattle, Drink This City: Return To Downtown LA, Drink This City: Boston, Drink This City: Return to Chicago Downtown LA, Drink This City: Return To ManhattanDrink This City: San Francisco, Drink This City: New Orleans Drink This City: Miami, Drink This City: Honolulu, Drink This City: Detroit, Drink This City: Chicago, Drink This City: New York, Drink This City: Nashville and more!
Join us next week for more DRINK THIS CITY! Meanwhile, hit us in the comments — where should we travel next?