Barbecue season is upon us. Summer is here and it's time to rally your crew and add fire to meat. Of course, you're going to need something tasty to wash down all those smoky, charred morsels this summer. Enter beer — the perfect bedfellow for your summer barbecuing needs.
The great thing about pairing beer with meat is that the options are literally endless. There are so, so many varieties of beer readily available these days. You've got all the classics to choose from, plus you can take a deep dive into niche styles — pairing them with different proteins, textures, and flavor profiles. It's a wonderland of sudsy opportunity.
The ten meats and beers below are recommendations based on extensive experience. This isn't a science. It's more of a feel. These are beers that just fit when we're talking about certain foods hot off the flame. It's a conversation, a starting point, and, hopefully, a little bit of help for those looking to get better at pairing beer with food.
Salmon
Salmon and fire go hand-in-hand. The fatty fish takes to direct heat and indirect smoke very well. The fish also tends to hold up with a wide window for doneness. The flaky pink flesh is done when it flakes — that's all you really need to know to cook the stuff. Add some salt and something sweet like honey or maple syrup and you're set.
Pair with: Saison Dupont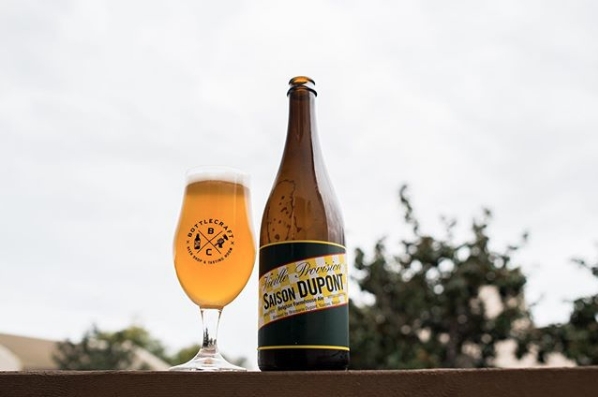 Belgium's Saison Dupont has a dryness to it that mimics a sharp sparkling white wine in very broad ways. There's a rustic herbal nature to the beer with a grassy edge that feels like a sunny backyard after the lawn is freshly mowed.
Touches of sweet malts lurk under a slight funk with distant echoes of spice. This beer works wonders with anything cooked outside, especially fatty fish.

Shellfish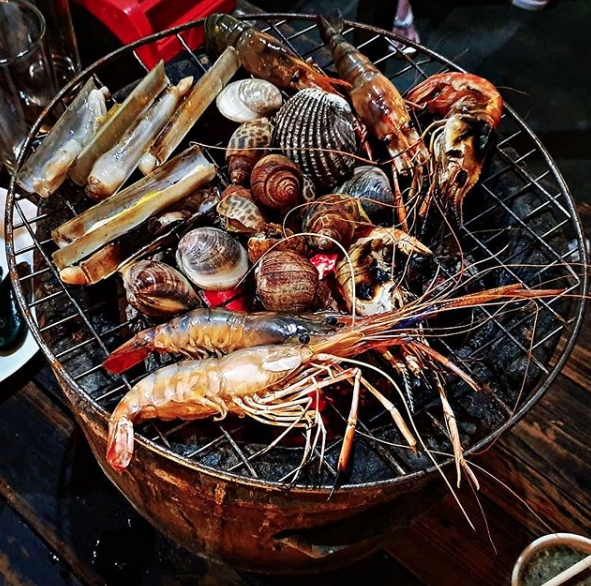 Grilling off a pile of shellfish is a crowdpleaser. One of the biggest advantages is the relative ease of grilling shellfish. Clams, oysters, and mussels simply open up when they're cooked. Prawns and shrimp turn pink. The timer is built into the delivery system. As long as you have plenty of citruses and garlic butter ready, this type of cook will always be a win.
Pair with: Rainier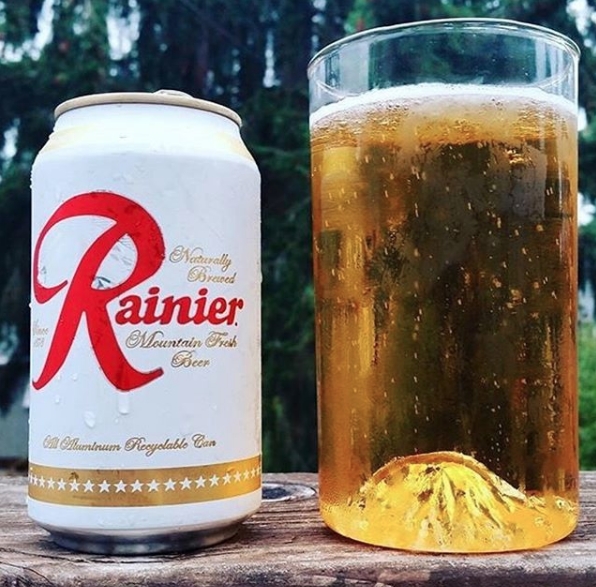 With people digging into clams and peeling shrimp with their bare hands, you want an easy-drinking beer. Rainier tall boys come to mind. Look at it this way, this is a Seattle beer and Seattle is a seafood-centric city.
The easy lager has a lush malt base with a sweet biscuit caramel sweetness. There are still distant whispers of hop bitterness which brings a light dryness to the beer.
Steak
Steak is an easy go-to for backyard grilling. There's a lot of space here for interpretation. What steak you're grilling does make a pretty big difference. Searing off a thick nob of fillet is going to yield different results than rendering a giant bone-in ribeye. Still, there's a throughline of red meat umami, char, fat, salt, and spice. That's enough to work with for a pairing.
Pair with: Alaskan Smoked Porter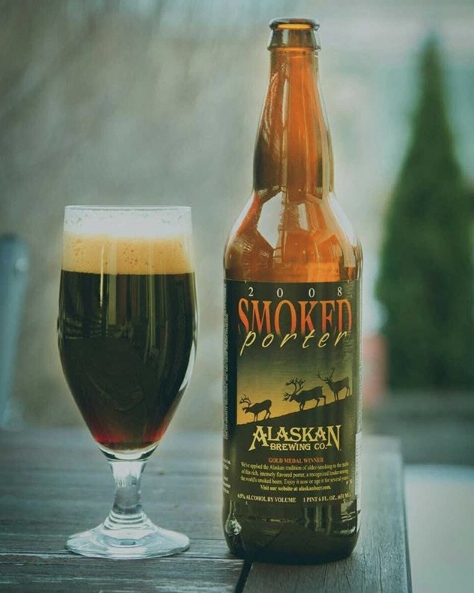 Big meat needs big beers. Alaskan Brewing's Smoked Porter is the perfect beer to drink after grilling and smoking a pile o' cow.
The beer has a deep nuance of layered malt caramel sweetness followed by aged hop bitterness, and, finally, a line of smoked meat essence. That smoky note feels like you're sitting around a firepit, chilling with a plate of steak in your lap, and chatting with friends.
Burgers
A great burger is a hard thing to turn down. Off the grill, a burger patty reaches new heights. The addition of fire-roasted char on the fatty meat alongside a good dose of smoke adds much-needed depth to the hamburger sandwich. Buttery grill-toasted buns, a little special burger sauce, maybe a slice or two of cheese, and you're set for a simple yet delicious meal.
Pair with: Stone Tropic Of Thunder Lager
To offset the relative simplicity of a great burger, you need a beer that's doing something a little unexpected. Stone's summer sipper, Tropic of Thunder Lager, is just that beer.
The American lager starts off like any ol' lager with a clear and crisp malty base. Then the hops take hold, with a big rush of tropical juicy dankness. Coconut and pineapple dominate and melt back into the velvet malts on the plush backend.
Sausages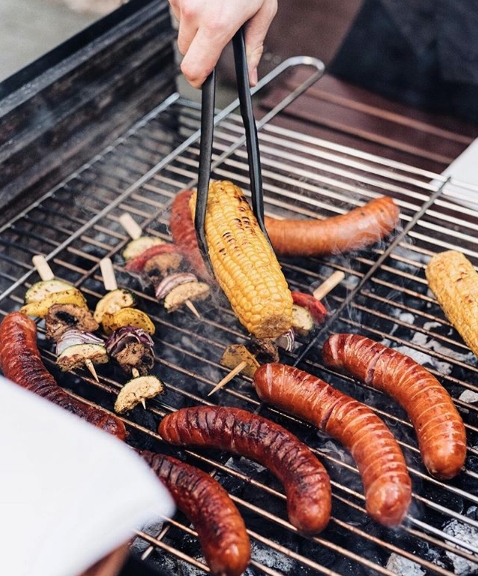 Fresh sausages from a quality, local butcher are a must at any barbecue. Sausages are the perfect interstitial snack between an appetizer and the plat et résistance everyone is waiting for. Just make sure you get fresh and unique sausages. Spice is your friend here. So is a broader spectrum of meats. Think salmon or venison sausages, if sourceable in your area.
Pair with: Augustiner Helles
If you're eating sausage off the flame, you should really go full Bavarian and crack open one of the best lagers out there: Augustiner Helles. This is one of the easiest-drinking beers in the world.
The sweet buttered-bread malt foundation gives way to a grassy and floral hoppiness that's so well balanced it's almost hard to believe. This is a refreshing beer that'll cut through the spiciest (and fattiest) of sausages with a sweet and earthy amber counterpoint.

Chicken
Chicken is often overcooked off the grill. That's a shame. Chicken is versatile and offers a little something for everyone. Breasts, when done well, are juicy delivery systems for a great spice matrix. Legs and thighs smothered in BBQ sauce and charred are fatty delights. Fast grilled wings slathered in a hot sauce as they come off the flame will always be crowdpleasers.
Pair with: Hill Farmstead Civil Disobedience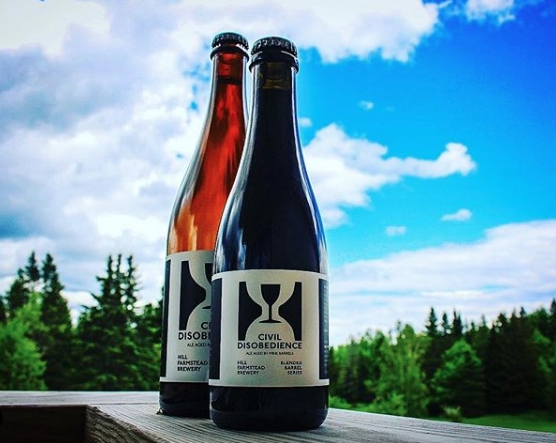 Chicken takes on whatever notes you send its way. So, you kind of need to go big or go home when pairing anything with chicken. Hill Farmstead's wild Belgian Saison, Civil Disobedience, is about as big a swing you can take.
The beer bursts forth with earthy, grassy funk that gives way to floral and citrus notes. There's a definite dryness here that leans towards high-end champers. Then hints of smoke, caramel, and spice come into play. It's a diverse sip of beer that'll elevate whatever you're eating.
Lamb Kebabs
Lamb packs a lot of flavor into every bite. Lamb kebabs offer a nice build of crunchy veg and meaty goodness in stick form. Lamb, though, is a bit of an acquired taste. You have to get used to the grassy barnyard nature of it. Sharp spices (chili, allspice, turmeric) are always welcome to help accent that farm-forward feel to the meat.
Pair with: Ommegang For The Throne
Big meat flavors like lamb need a big counterpoint. For The Throne is a unique beer that will accent the fire-roasted nature of any meat, but especially lamb, and then reset your palate for the next course.
There's a very clear dryness to this beer that makes it super crisp. Honey sweetness plays in the background of a sour funkiness. There's a fresh hop floral nature that balances out the bready yeast and malts. Think of this like wrapping your lamb kebab in a lovely piece of sourdough flatbread.
Ribs
Ribs take a while to cook. That just builds anticipation amongst your party guests. The fatty spiced and sauced meat on the bone is what everyone will be clamoring for more of this summer. The combination of fat, savory, sweet, char, and spice is always a win.
Pair with: New Belgium/Primus Cerveceria Mural Agua Fresca
This is a pure refresher beer. It blends the ideas of Mexico's agua fresca — a street food staple of mixed seasonal fruits in drink form — and a light beer. The beer is spiked with a mix of hibiscus, agave, watermelon, and lime. It's sweet, tart, smooth, and endlessly quaffable. The lightness and fruitiness of this beer make it the perfect accessory to the heavy nature of sweet, spicy, and fatty ribs.
Pork Chops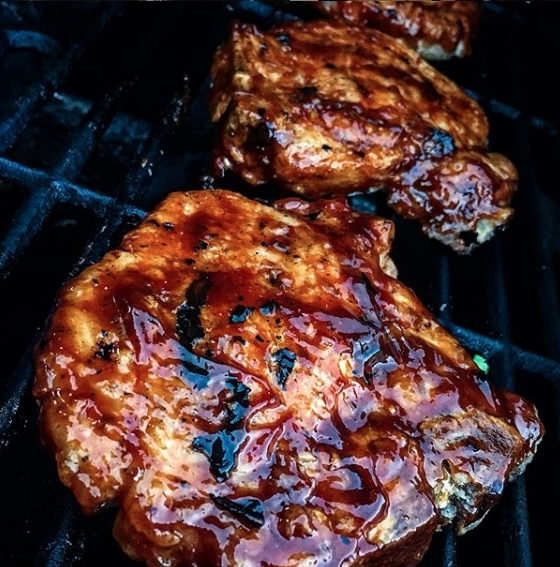 Pork chops, like chicken breasts, need to be dialed in. There's not a lot of room for error here. Too much heat for too long and you're left with dry, leathery meat. No one wants that. The first step, keep pork chops on the bone. Next, keep the seasoning simple but add olive oil to help bring up a nice sear. Lastly, use a meat thermometer. Once it hits 130F, take it off and let it rest. The temp will rise to 140F, which is safe to eat.
Dial it in, folks. Your tastebuds will be grateful.
Pair with: Pliny The Elder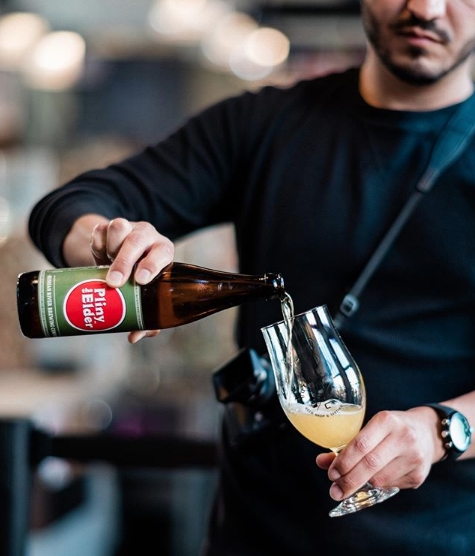 Okay, it's IPA time. A simple dish like a pork chop needs a big wow factor somewhere. Pliny The Elder is often cited as one of the best beers in America and maybe even the best IPA in the world.
The West Coast IPA is all about balance. Nothing overpowers here. The four hops add a pine-forward, dank bitterness that accents the lush sweet biscuit malt base. Rushes of wildflower orchards and lemon trees whisper throughout the sip. This beer is a what every other IPA wants to live up to.

Hot Dogs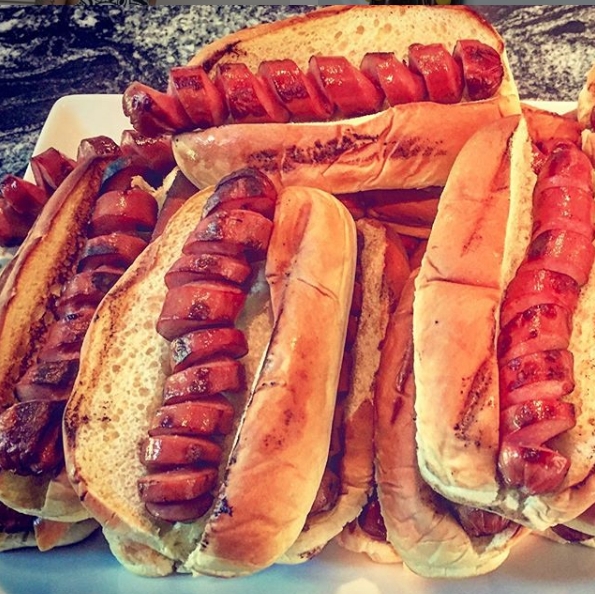 If you're grilling in your backyard and hot dogs aren't served at some point, you're doing it wrong. The humble hot dog is the perfect appetizer or midnight snack at any grill out. The umami tube in a soft bun (hopefully butter toasted on the grill) with a dab of ketchup, mayo, mustard, or whatever sauce you have on hand will always put a smile on your guest's faces.
Pair with: Upslope Belgian Style Pale Ale
For something as simple as a hot dog, you need something special and hard to source. It's the ying and yang of food pairing.
Upslope's pale ale has a yeasty fruit nature up front. Bananas come to mind first. Then the subtle bready malts come into play alongside a flourish of fresh coriander. Finally, there's a dry alcohol kick on the end thanks to the 7.5 percent ABV.