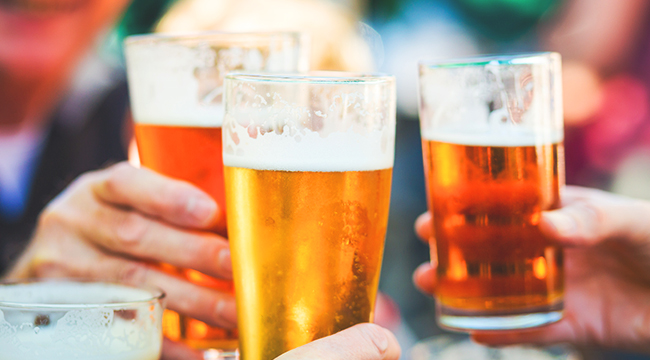 One of the things we love most about summer is the yard games. From cornhole to ladder ball and bocce to croquet, we can't get enough of throwing or bashing things across our lawns. We'll also join in on a game of flip cup or beer pong if it's being played outside on a warm, summery day. Duck, duck goose? Sure, as long as we get to be outside with a gose in hand. How about a rousing game of spud? Perfect for a pilsner or Kolsch.
When they're not brewing our favorite beers, brewers like to kick back and play Kan Jam and toss around a frisbee or two, too. And like us, they need something to sip on while they're doing it. That's why we asked some of our favorite brewers to tell us their go-to beers to pair with summer yard games.
Pabst Blue Ribbon
Jason Santamaria, co-founder and brewmaster at Second Self Brewing Co.
I'll be honest, a good ol' PBR is what I use for rounds of flip cup and other games in the summer. It's cheap and abundant. I normally have a craft beer on the side while playing to keep it classy.

Founders All Day IPA
Matt McCall, brewmaster at Coney Island Brewing
Any time the word "summer" and "yard" are put together I'm drinking Founders' All Day IPA. It's by far my favorite session beer in the market and has been for years.
10 Barrel Pub Beer
Rhett Dougherty, head brewer at Veza Sur Brewing Co.
Please stock the cooler with 10 Barrel Brewing Co.'s Pub Beer. This light, slammable, refreshing lager is perfect in a 24-ounce can to keep your thirst quenched while dominating the corn hole boards.
Victory Summer Love
Mike Stoneburg, brewmaster at The Blue Point Brewing Company
Victory Summer Love. They do a great job at brewing this refreshing ale. Nicely balanced with a crisp malt flavor and plenty of hop character without being over the top.
Georgetown Bodhizafa
Josh Waldman, brewmaster at Elysian Brewing
Georgetown Brewing — Bodhizafa. It's in cans, which means less spillage when I'm gesticulating wildly. And Georgetown keeps very close control of their supply chain, so it's always fresh and good.

Half Acre Daisy Cutter
Cody Reif, research & development brewer at New Belgium Brewing
Daisy Cutter from Half Acre. Super dry but with some real hop aroma. The biggest challenge is keeping it from distracting me from my game of kubb.
Lagunitas Pils
Scott Ungermann, brewmaster at Anchor Brewing
Any crisp well-made pilsener will do, but if I have to pick one I will pick the Lagunitas Pils. I had one recently and it was delicious.
Sixpoint Crisp
Tim Matthews, head of brewing operations at Oskar Blues Brewing
If I could bring in a pallet of The Crisp by Sixpoint, it would be demolished within just a few games of corn hole.
Firestone Walker Easy Jack
Dan Weber, head innovation brewer at Dogfish Head
Beers you would see in my hand while playing some backyard games would be Firestone Walker Easy Jack or Russian River STS Pilsner. Both of those beers are hugely refreshing and keep you wanting more.
Lawson's Super Session
Chris Rockwood, head Brewer at Magic Hat Brewing
Lawson's Finest Liquids Super Session: This beer presents hop forward but does not overpower its softer palate and low ABV. It is a great go-to for any yard game, especially if you plan on winning a few rounds and playing for a while.

Brooklyn Summer Ale
Joe Connolly, director of Springdale Beer
Brooklyn Summer. Love the idea of a British Summer Ale as a style — something with just enough malt sweetness to be balanced by a citrusy, floral zing of a hop character.