Dark rum is an essential drink to have around. After years spent resting in a barrel, the brown elixir takes on complexities on the level of any whiskey. There's a delicious interplay of molasses sweetness, leathery age, and warming spice. Pour that over a couple of ice cubes and you've got a great drink in your hand.
A good, barrel-aged rum can get a little spendy — years in a warehouse costs a lot for distillers. So picking the best bottle can be tricky business. You don't want to waste money or time here, especially if you have a crew dropping by to act like pirates and swill the good stuff.
The five bottles below offer a journey through the style. They'll allow you to find some new depths in dark rum. They'll also give you that nice, warm rum buzz. Everybody wins.
Diplomatico Exclusiva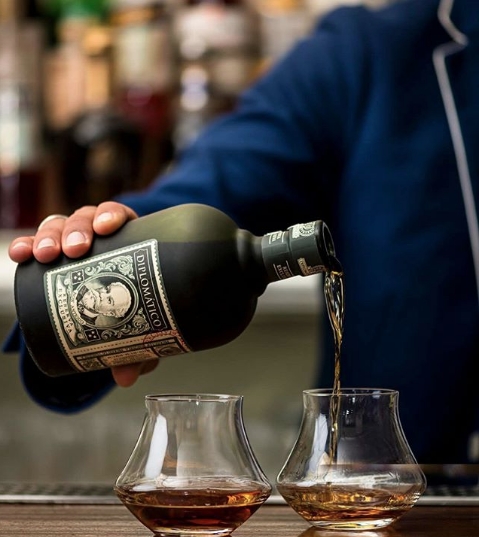 What to talk about: This Venezuelan rum is a masterpiece of blended spirits. It's the perfect drink to offer your guests as they arrive. Each bottle is a blend of rums made from both molasses and sugar cane honey. The rums are then aged for 12 years in old bourbon barrels. The final result is some of the best dark rum on the market — perfect for welcoming your guests with style.
Tasting Notes: This is a bold sip of rum. There's a clear butterscotch edge there with a nice herbal spiciness that skews towards fresh sage and thyme. Hints of honey and orange peel shine through around the edges. Finally, there's a hot, spicy alcohol burn on the end that leaves you yearning for another sip.
Bacardi Reserva Ocho
What to talk about: Bacardi Reserva Ocho is a stellar bottle to have on hand to mix up some serious cocktails. The rum is aged for eight years in American whiskey barrels in Puerto Rico, giving it a nice brown hue. Overall, Bacardi Ocho is a truly top-shelf rum from a big brand and will change your opinion about how good Bacardi can be. For a second drink, this pick makes a great talking point about huge distilleries using their largesse to create more refined products.
Tasting Notes: There's a nice subtly to the sweetness here. It's a mix of maple syrup earthiness and cotton candy smoothness. There is an apple and pear side that gives way to an earthen leather and tobacco nature. A slight spice bitterness, close to allspice, comes in late — paired with a nice alcohol burn. Swap this in for bourbon in your next old fashioned or Manhattan.
Ron Zacapa 23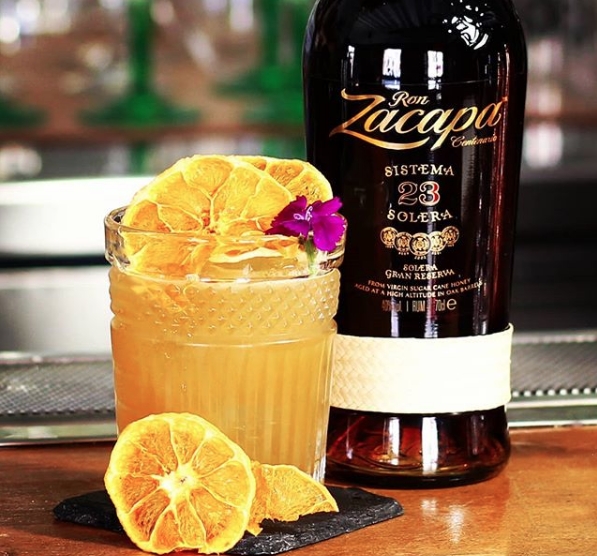 What to talk about: Guatemala's Ron Zacapa 23 is a blend that mixes rums made from sugar cane honey and aged between six and 23 years in old bourbon and sherry casks. This is the good stuff that'll show any rum-loving party guests just how complex rum can be — creating a great chance for you to actually explore tasting notes with your guests. A masterclass blend in a bottle.
Tasting Notes: Subtly is the game here. Sweet butterscotch tempers bitter roasted coffee and cocoa. Smooth vanilla, fresh herbs, spicy fresh ginger, roasted almonds, and hints of smoky cedar and pipe tobacco linger on the tongue after each sip. It's delicious.
Mount Gay Black Barrel
What to talk about: Mount Gay is heralded as the world's oldest rum distillery. The Barbados shingle has been making great rum since the early 1700s. Their Black Barrel is a great party rum to have around. The price point isn't too steep and it works as both an on-the-rocks drink and a cocktail base. By this point in the night, everyone is hooked on your impromptu Rum TedX — now it's time to get them conversing about this renowned distillery.
Tasting Notes: There's a lot of nice spice up front. Allspice, anise, cinnamon, and mace are present. Then a sweetness comes in that's got hints of almond — giving this one a marzipan nature. Next, a nice rush of fresh fruits and citrus zest cut through the sip, brightening everything up. Finally, there's a nice finish of smoky wood, thanks to the heavily-charred oak barrels used to finish the aging process.
Pusser's Rum
What to talk about: Pusser's Rum is a throwback to the days when the British Navy still rationed out daily allotments of rum to sailors. The recipe is a blend of Trinidadian and Guyanan rums aged in Barbados. The distinctly "English" style is unique with a funky nature a heavy punch of alcohol. This is a great way to say goodnight to your guests, with a little throwback to the age of sail.
Tasting Notes: There's a lot going on here. The sweetness is lush like a meringue. Citrus peels are present alongside warming spices like cardamom, black pepper, and allspice. Finally, there's a funky nature that blends butter richness and worn boot leather with smoky tobacco. There's nothing quite like it.