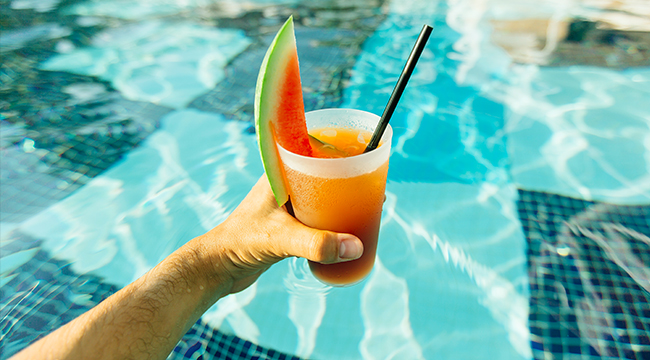 Picking the best bourbon cocktail to serve at a backyard brouhaha for the 4th of July is a tough task. Bourbon is a very versatile whiskey that ebbs and flows between corn-sugar sweet, rye grain spicy, and woody, aged subtlety. There can be big notes of florals and orchard fruits or whispers of smoke and old leather. There's a lot to work with, is what we're saying.
The best bourbon cocktail is one that'll please a crowd flavor-wise while getting them buzzed in the process. With that goal, bourbon can stand in for well-aged rum, fruity brandy, or hang on its own. To help you decide which bourbon cocktail you should consider highlighting this 4th of July, we thought we'd cobble together a list of our eight favorites. This rundown includes a few classics, a few ragers, and a few remixes — they're all ready for a day of reveling from BBQ time until the last firework sputters in the night sky.
Bluegrass Mai Tai
A Mai Tai is a classic Tiki drink with a dark rum base. But if something uses dark rum, it can certainly use dark bourbon. Mai Tais are a blend of citrus-forward fruits, fatty almond, orange essence, and spicy booze. Find a high rye bourbon that also has a high ABV (think Wild Turkey 101) to help amp up the spiciness. Otherwise, you can build a Mai Tai with bourbon exactly as you would build one with rum.
Recipe:
Build in a cocktail shaker and pour into a pint glass as follows.
2 oz. high-proof bourbon
.75 oz. Grand Marnier (or orange curaçao)
.75 oz. fresh lime juice
.75 oz. Orgeat
Directions:
Fill with ice and shake for ten seconds
Pour into a chilled pint glass and top up with more ice
Float a 0.5 oz. bourbon over the top
Garnish with an orange wheel, cherry, and dusting of nutmeg
Serve
Bourbon Old Fashioned
The bourbon old fashioned is a classic. Spicy bourbon, herbal bitters, orange, and subtle sweetness blend into one of the most satisfying cocktails out there. Our advice, ditch the simple syrup and use raw cane sugar and blend it with a touch of soda water and the bitters first to create a base for your drink.
Once you master that step, you'll never go back to the overly saccharine simple syrup bases.
Recipe:
Build in an old fashioned (or rocks glass) as follows
4 dashes Angostura Bitters
One barspoon granulated raw sugar
One barspoon high-quality sparkling water
Directions:
Stir until fully blended
Add 4 oz. bourbon (use your favorite expression)
Stir until fully blended
Top glass up with ice
Stir until glass is chilled to touch
Spritz orange oils over the top and drop in orange peel
Add luxardo cherry
Serve
Maple Mint Julep
There are few drinks more refreshing on a hot summer day (or night) than a mint julep. The mix of crushed ice (a crucial component), sweet syrup, fresh mint, and bourbon shines together. Add a dash of herbal bitters at the end to brighten up the palate and you've got one of the best summer sippers there is.
Recipe:
Build in a rocks glass or julep mug as follows
One barspoon maple syrup
Eight fresh mint leaves, lightly muddled
3 oz. bourbon (use your favorite expression)
Directions:
Fill with crushed ice
Stir until the glass or mug is cold to touch/frosted
Top with more crushed ice
Garnish with a fresh sprig of mint and two dashes of Angostura Bitters
Serve
Bourbon Smash
The smash — as a cocktail — is due for a comeback. The mix of smashed fruit and citrus shook together with booze and aromatics brings about a wonderfully deep elixir that leans super refreshing every time. In this case, a bourbon smash bridges the world of mint juleps with an egg white-less whiskey sour. It's the best of both of those flavor profiles in one delicious cocktail.
Recipe:
Build in a shaker and double strain into a rocks glass as follows
Three lemon wedges, muddled well
One barspoon simple syrup
Four fresh mint leaves
3 oz. bourbon (use your favorite expression)
Directions:
Top with ice
Shake vigorously for 20 to 30 seconds
Double strain into a chilled rocks glass with a large ice cube
Garnish with a mint sprig
Serve
Kentucky Mule
This is an easy win for any party bartender. A Kentucky mule is built in a mug like a highball and easily repeatable with little effort all night. Can you pour fluids into a cup? If so, you can easily make this gingery, boozy refresher.
Recipe:
Build in a Moscow mule mug as follows
3 oz. bourbon (use your favorite expression)
1 oz. fresh lime juice
Directions:
Fill the mug with ice
Top with ginger beer (the spicier the better)
Stir
Garnish with lime wedge and mint sprig
Serve
Seelbach
This is a big cocktail that'll make a big splash at any party. The champagne-forward cocktail has a lot going on and makes for one of the tastiest options on our list. The combination of two bitters with orange liqueur and bourbon creates a bold, herbal base that's cut by the yeasty brilliance of dry champagne. This is one of those drinks that's almost too easy to drink.
Pro Tip: Find a good local sparkling white wine so you don't break the bank on champagne with this one.
Recipe:
Build in a cocktail jug and strain into a Champagne flute as follows
1.5 oz. bourbon (use your favorite expression)
.5 oz. Cointreau
4 dashes Angostura bitters
4 dashes Peychaud's bitters
Directions:
Add ice
Stir until the jug is cold to touch
Strain into a chilled champagne flute or coupe
Top with dry champagne or sparkling white wine
Garnish with orange oils and drop orange peel into glass
Serve
Bourbon Sour
You can't go wrong with a well-made whiskey sour. The mix of tart lemon, sugars, and ultra-smooth egg white with a slightly spicy bourbon is alchemy in a glass. Add on a few drops of Angostura bitters into the egg white at the end and you bring a beautiful counterpoint of herbaceous notes to the whole affair. These drinks are quaffable AF.
Recipe:
Build in a shaker and strain into a coupe (or rocks glass) as follows
2 oz. bourbon (use your favorite expression)
1 oz. fresh lemon juice
.5 oz. simple syrup
1 egg white
Directions:
Shake vigorously without ice for 30 seconds
Add ice and shake again until shaker is ice-cold to touch
Strain into a chilled coupe
Garnish with four dashes of Angostura bitters
Serve
Bourbon Highball
Okay, we've been laying down some hard-to-master recipes on here. The best parties let the rabble take over after a while and a great way to do that is by letting the highball become the default drink. Anyone can make a highball. It's ice, booze, and sparkling water in a glass. Great mineral water with a heavy sparkle factor will open up any whiskey and bring about new notes to enjoy.
Simple, delicious, and repeatable all night.
Recipe:
Build in a highball glass as follows
Fill glass with ice
3 oz. bourbon (use your favorite expression)
Top with high-quality sparkling water
Directions:
Garnish with a twist of lemon
Serve