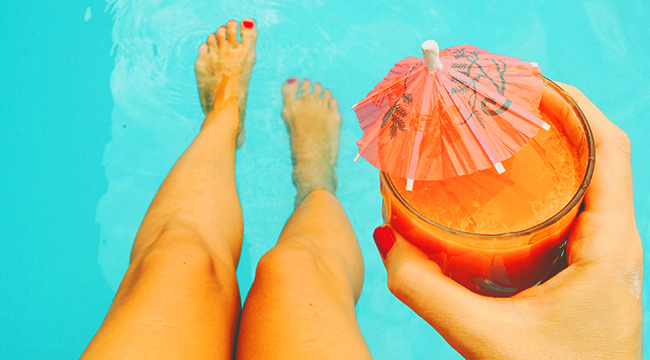 By now you're probably well aware that summer awaits, in all of its sunburned magic. It's so close you can almost smell the briny scent of days spent lounging on sandy beaches and the heavy, rich smoke of ribs on the grill. Get hyped, friends — summer '19 is going to be a banger.
If you really want to get the most out of these precious few months, you're going to need some quality cocktails in your repertoire. The type to induce long nights and short memories. That's why we asked some of our favorite bartenders to tell us their go-to summer cocktails for 2019. From daiquiris to Negronis to our 2019 summer cocktail, the Paloma, these picks are perfect for when the sun is shining and the weather is hot.
Army & Navy
Ryan Andrews, lead bartender at Prohibition in San Diego
My go-to summer cocktail is a classic Army & Navy – gin, sour mix, lemon, house-made almond orgeat and R&D sarsaparilla bitters in lieu of the classic Angostura.
It's light, refreshing and damn delicious.

Negroni
Phil Testa, beverage manager at Dream Midtown in New York City
Negroni's are my go-to summer cocktail because they're nice and light when prepared correctly. The citrusy notes, along with the floral gin, really remind me of summer. Sometimes I'll add a variation to it and substitute out the Campari for Cappelletti to achieve an even brighter profile.
Daiquiri
Amanda Britton, bar manager at Bardo in Charlotte
What's my go-to summer classic cocktail and why? I can't think of a more refreshing cocktail in the summer than a daiquiri. It's a classic and versatile cocktail. No matter how you tweak, it remains a thirst quencher.
Paloma
Pamela Wiznitzer, mixologist at The Lookup in New York City
Summertime to me screams citrus, and while margaritas are really popular, I'm a sucker for a great Paloma with mezcal, grapefruit soda, a squeeze of lime and a pinch of salt. It's the perfect long drink and quenches your thirst easily on a hot day. At The Lookup, the #2 is a variation of my favorite drink – it's a mix between a margarita and a Paloma which gives you the best of both worlds.
Margarita
Nicholas Bennett, beverage director at Cedric's at The Shed in New York City
Is it too easy to say a daiquiri or a margarita? A cocktail shaken with lime juice is an indicator of summer and if there are cocktails that use lime juice better than a daiquiri or a margarita I haven't tried them yet. While I while I generally only ask for the classic version of these cocktails, on a hot summer day under the right circumstances, I wouldn't refuse a blended daiquiri or frozen margarita either.

Clover Club
Rico Velasquez, Bartender at Jaleo by José Andrés in Washington, DC
I'd have to go with a Clover Club. Summer is perfect for enjoying berries and blending them with herbaceous gin, and the addition of frothy egg whites creates a light and refreshing cocktail.
Caipirinha
Chase Voight, head bartender at Saint Stephen in Nashville
My favorite summer cocktail: A Caipirinha. It is crisp and refreshing. A beverage that makes you feel like you're on the beach no matter where you're at.
Gin gimlet
Lamarr Hawkins, Taproom Manager at Brooklyn Cider House
A classic gin gimlet is on the top of my list year-round but for a hot summer day you can't beat the refreshing sweet citrus flavor. I always use botanical-heavy gin when making this cocktail to really brighten it up.
Aperol Spitz
Lucas Swallows, bar director at Momofuku in Las Vegas
I'm a massive fan of a good Spritz. This is a category of cocktail that mixes liqueur(s) (typically sweet/bitter and low ABV) with sparkling wine and a touch of seltzer. The flavor combinations are endless! It's easy to make at home and is a great vehicle for showcasing fresh summer produce. I like strawberries and fresh tarragon or basil in my spritz.

Mojito
https://www.instagram.com/p/ByGGQWloY1W/
Zorieshka Pubill, bartender at Caribe Hilton in Puerto Rico
What's my go-to summer classic cocktail and why? I'd have to pick the classic Mojito. It's refreshing, light and minty. It's also a perfect cocktail for a day at the beach.