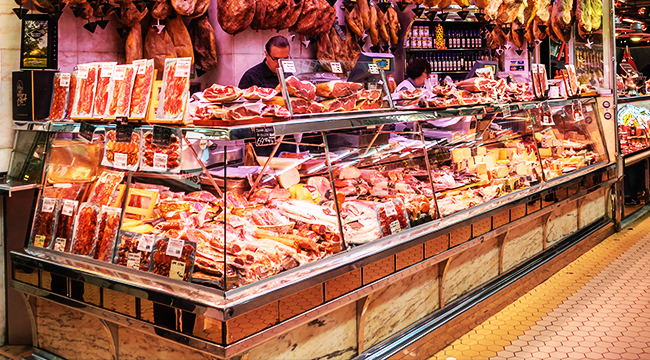 Anyone who's watched a cooking show or eaten in a high-end restaurant knows that plating counts. As someone is always bound to say in these situations, "We eat with our eyes first." But that doesn't mean that pizza slices shiny with oil, barbecue piled high on a plate and doused in sauce, and hoagies overflowing with fillings don't also delight the eyes.
They most certainly do. Not everything requires tweezers and microgreens.
The universal appeal of meat and cheese stuffed in large quantities into some soft bread will always trigger joy, which is why we asked chefs from around the country to tell us their favorite delis. We got a variety of options for you to try out when you need a big sub filled with slabs of meat, cheese, and veggies. Fingers crossed in hopes that they all come with a delicious pickle.
Snarf's Sandwiches (Denver, Colorado)
Duncan Holmes, Executive Chef of Beckon| Call in Denver, Colorado
"I think Snarf's is most everything a deli should be and more. The sandwiches are simple and in line with what a deli sandwich should be by not being too fussy. The best part is the level of acidity the sandwiches have, as a result of the house giardiniera."

Bagel Cove (Aventura, Florida)
Jean Delgado, Chef of Toro Toro Miami in Miami, Florida
"Here in Miami, my favorite is Bagel Cove in Aventura. It's the best place to go in the morning for a bagel, egg, and cheese."
Russ & Daughters (New York, New York)
Brian Nasajon, Chef of Beaker & Gray and Mason Eatery in Miami, Florida
"I am big on delis; it is a type of food that is comforting and familiar. My absolute favorite deli has to be Russ & Daughters in NYC. I could go there every day. I like pretty much everything on their menu."
Publican Quality Meats (Chicago, Illinois) and Cochon Butcher (New Orleans, Louisiana)
Michael Beltran, Owner and Chef of Ariete in Miami, Florida
"Publican Quality Meats by Paul Kahn is a great deli/butcher shop. Another great spot is Cochon Butcher by Donald Link in New Orleans. This place is pretty amazing. The sandwiches are out of this world good, and they're all made with quality house-made meats and sausages."
Monica's Mercato (Boston, Massachusetts)
Ian Maschal, Chef de Cuisine of Eventide Fenway in Boston, Massachusetts
"Wawa – everything is made to order. They make the bread in-house every four hours, and it is wildly consistent. You can't ask for much more than that. For a high-end Sub/Hoagie in Boston, Monica's in the North End is worth the half hour minimum wait."

Stein's Deli (New Orleans, Louisiana)
Courtney Hellenschmidt, Chef de Cuisine at Toups Meatery in New Orleans, Louisiana
"My all-time favorite deli is Stein's Deli on Magazine Street. When I first moved to New Orleans, it was my go-to for a smoked salmon bagel, but eventually, I started going in for more than the bagels, and I realized how wonderful this deli really is. Their Italian hoagie reminds me of home, and nothing compares to their pastrami sandwich. "
2nd Avenue Deli (New York, New York)
Travis Sparks, Chef of Tánsuŏ in Nashville, Tennessee
"2nd Avenue Deli in Manhattan is my favorite deli. It's a classic stomping ground in the neighborhood, and they have an amazing pastrami sandwich that they serve with the most delicious house-made pickles."
Bay Cities Italian Deli (Santa Monica, CA)
Fernando Valladares, Executive Chef of Ground House at TRADE and 4th Street Market and Portside Fish Co at TRADE in Irvine, California
"Hands down my favorite deli would have to be Bay Cities Italian Deli in Santa Monica. You can't go wrong with any of their subs, but the God Mother is a godsend. Plus, they have they have the most awesome selection of wines, imported cheese, and deli meats from Italy."
Buena Vista Deli (Miami, Florida)
Santiago Gomez, Chef of Cantina La Veinte and Tacology in Miami, Florida
"Buena Vista Deli. It's very close to my house and has great croissants and coffee. It's a classic in Miami! Definitely a go-to in the mornings."
EDITOR'S PICK: Barney Greengrass (Manhattan, New York)
Steve Bramucci, Editorial Director of Uproxx Life
"This is one of those places that feels like a discovery, even though literally every famous actor in old Manhattan used to hang there and it gets shouted out in virtually every episode of The Marvelous Mrs. Masiel. "The Sturgeon King" has a smoked sturgeon bagel that will cost you $21 and will be worth every single penny. You can also buy all the smoked-fish classics in bulk — lox, sable, kippered salmon… this is the spot in NYC for all of them. The smoked sturgeon itself is just such a spectacular product, it's worth the trip after just a single bite."