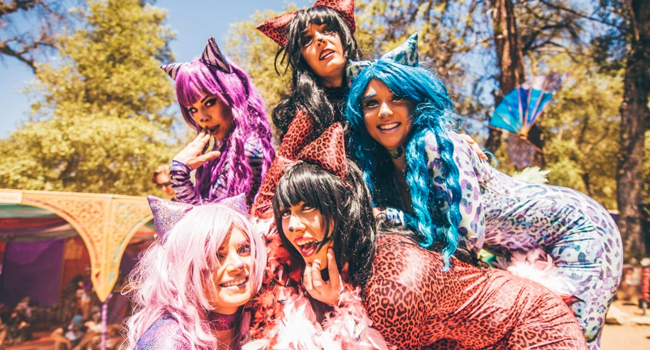 We've written about Desert Hearts before and we're hitting the fest up again later in the week — because the bizarre desert party that was spawned by a love of hedonism and camaraderie in 2012 has become one of the most respected events on the house and techno festival circuit. Their vibe is strong and people love them for it.
According to founder Mikey Lion, he and his crew were frequenting Coachella for years before finding Lightning in a Bottle and Burning Man and having an epiphany. They realized there were weirdos and freaks out there waiting to connect with each other and party. They founded a more-than-a-little-illegal campout in the Mojave with a couple hundred strangers and a single stage. It was the start of something amazing. Now, the transformative event is a must attend festival that feels like a small solo stage slice of Black Rock City's Burning Man.
Desert Hearts, didn't get to be the baby on the scene for long though. Recently, Lion, Lee Reynolds and company did a stage takeover at the Oregon Eclipse Festival and launched a party series in Los Angeles, called City Hearts. So far, these new endeavors have also been a smash. Who can't get behind an immersive experience designed by artists and musicians who are looking to birth and sustain a society that values acceptance, creativity, and passion? Newsflash: Joy rocks.
The experience of attending can't fully be captured in images, but we think these shots show you the spiritual nature of the collective hedonist consciousness of the attendees. And, we can't give them a look without wanting to hit the dance floor to spread and receive love.