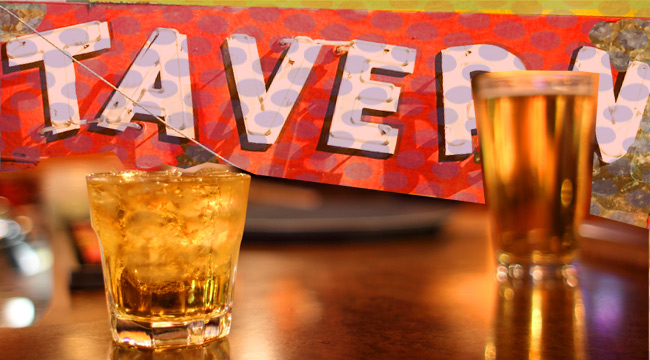 What is a dive bar? Put simply, a great dive is a place where decor doesn't matter. Scruffy edges are celebrated, regulars have the run of the house, and drinks are straightforward. The best dives in the country won't show up on a quick Google search or rundown of Yelp reviews. Chances are, they won't have websites or Zagat ratings either. Instead, they're unassuming, off-the-beaten-track hangouts where bartenders remember you by your drink. Take the time to become a local at a good dive bar and you'll tap in to the special brand camaraderie that few places can really pull it off.
To celebrate these no-frills havens, we tracked down 10 of the best dive bars in America that are light on prices and heavy on personality. Be warned, if you're looking for an apple-tini you won't find it on this list:
Sligo Pub – Somerville, MA
The kind of bar where customers are known to leave their mark, Sligo Pub has graffiti scrawled across the walls, tables, and just about every other available space. Located in the cultural epicenter of Davis Square in downtown Somerville, Sligo Pub has been serving drinks for the past 75 years, with the current owner speculating that it operated as a speakeasy during Prohibition.
The cash-only operation is famous for $2 pints and a jukebox that churns out oldies and heavy metal. Like all good dive bars, it's known to treat its regulars well, particularly those who look like they've been coming in since the Eisenhower administration.
Pete's Out In The Cold – New Orleans, LA
Outside of the bright red sign, which seems to come and go, Pete's Out In The Cold is about as nondescript as a bar can get. The plain white building dates to 1931, when the bar was a local speakeasy, frequented by rumrunners and outlaws. These days, the bar — in New Orleans' Irish Channel — keeps operating under its own variable hours. The jukebox is still the main attraction and the aesthetic has remained unchanged for the better part of 85 years.
Pete's is such a well-kept secret that just being mentioned on Yelp was considered out of the ordinary.
The Tattle Tale Room – Culver City, CA
This bar is known for its mantra of "enter as strangers, leave as friends." Boasting strong drinks and a friendly atmosphere — particularly if you're a Packers fan — it's home to one of the city's most active karaoke scenes, with events held every night of the week. It's also got a bit of a seedier side, with its devoted daytime regulars and a kind of 'strip club smell' (which is really just the dive bar equivalent to 'new car smell').
Back in '97, the Tattle Tale Room gained a pinch of fame after a brief appearance in Quentin Tarantino's Jackie Brown.
The El Bar – Philadelphia, PA
Nestled directly underneath the Market-Frankford elevated rail line (hence the name), El Bar goes one better than just offering cheap drinks. The cash-only joint is best known for the The Kensington Happy Meal, which consists of a PBR, two hot dogs, a bag of chips, and a toy.
The Fishtown neighborhood classic — which has been around since 1970 —  has gained renown for the occasional Bill Murray spotting and the live-in cats.
Champagnes – Las Vegas, NV
Opening way back in 1956, this one-time mobster/Rat Pack hangout has maintained its off-the-beaten-path aesthetic for six decades. Located just east of the famed Las Vegas strip, walking inside Champagnes Cafe is like time-traveling to a different era, with velvet, smoke-stained wallpaper and bright red leather booths (which you can rent out for special occasions).
What really sets it all apart are Vegas' unique liquor laws, allowing Champagnes to operate 24 hours a day.
Windmill Lounge – Dallas, TX
Claiming itself as 'Dallas' first cocktail bar,' despite opening in 2005, the Windmill Lounge prides itself on having an old soul, replicating the look and feel of a prohibition-era speakeasy both in decor and old-fashioned cocktails (such as an old-fashioned). Even though it offers considerably more mixology than most dive bars would allow, it's the kind of shot-and-a-beer place where the Dallas bartenders are known to congregate when their own shifts end.
Despite national recognition from the likes of Esquire and Playboy, the Windmill Lounge is still known for its cheap drinks and friendly, welcoming regulars.
The B-Side Tavern – Portland, OR
Opening as a conscious pushback against the upscale East Burnside neighborhood, The B-Side Tavern is all about the 'thrift store ambiance,' a heavy metal-laden jukebox, and cheap drinks. Tall-boy cans cost $1 during happy hour.
What The B-Side lacks in history, it makes up for with an experienced staff and a knack for cultivating its own unique scene comprising dedicated regulars and those who work in Portland's service industry.
Santa's Pub – Nashville, TN
"Even Santa likes a break from the North Pole," declares Santa's Pub, a cash-only, beer-only dive where the prices start at $2. The bar itself is a converted double-wide trailer where Christmas is celebrated year round and nightly karaoke cranks through fuzzy-sounding speakers. If you're in the military or you're celebrating a birthday, you'll get your first drink free.
The perpetual-holiday decor comes from the proprietor, who shares a nickname and resemblance to the North Pole's most famous resident. When asked why Santa's — which was called 'The Caboose' from '63 to 2011 — only serves beer and not liquor, Santa himself explained that "whiskey makes people stupid."
Joe's Place – Albuquerque, NM
Inside a nondescript building — save for the sign painted on one of the exterior walls — the dimly lit but welcoming bar is shared with Carraro's Pizza, creating a unique two-in-one dive bar and local's restaurant combo. The order of the day is cheap drinks, pool, air hockey, and video games; along with pizza that's greasy enough to soak a paper plate.
A longtime hangout in Albuquerque's University district, this place blurs the line between pizza place and dive bar in the best possible way.
Johnny's Bar – New York City
If you scroll all the way to the bottom of the Joe's Bar website, you can read up on its pros and cons, with the pros being "It's like Cheers," and the cons being simply "None." The tiny bar in the West Village has been a longtime favorite of film industry-types, and it has a collection of film truck permit-parking stickers to prove it. A mix of vinyl floors, brick walls, and wood paneling, happy hour starts at noon (!), and prices start at $3. While the prices may be slightly higher than most bars on this list, (this is NYC, after all) the Johnny's crew is quick to remind you that "you can afford to buy a total stranger a beer and see to what absurd heights the conversation leads."
Which just might be the most quintessential dive bar sentiment ever stated.
Honorable Mention: Trophy's – Austin, TX
A few blocks south of Austin's bustling South Congress district, this former sports bar was the kind of place where you might get yelled at for trying to play the jukebox if the regulars were busy watching a movie. It was a cash-only, beer-only haven. If you wanted liquor you had to bring your own.
The bar closed down in the fall 2012, re-opening on New Year's Eve 2013 after several major renovations. The old Trophy's is still fondly remembered as one of the last true dive bars in the old south Austin neighborhood.