There are a lot of fast food cheeseburgers out there and plenty of them are extremely solid. But let's be real: there are some stinkers, too. That's why you have us. In order to save you time and money, we've been eating at every fast food joint we can find and ranking everything from their dry patties to their absorbent napkins.
But one chain has evaded us and missed out on all of our rankings: Culver's. Over and over you've told us we need to remedy that fact. Well, today is the day.
As a national chain, Culver's isn't small by any means. It's got 800 restaurants across half of the states. Restaurant Business lists it as the 38th biggest food chain in the US (8th among burger joints) — bigger than Carl's Jr., In-N-Out, Shake Shack, Five Guys, and White Castle. But its mostly midwest locations don't align with the home bases of the core writers on our staff. And while ranking food is fun, we can't really ask a writer to relocate for that task.
Still, we always want to be complete in our picks. So on a recent trip to South Dakota, I made a Culver's run. In fact, it was a full menu feast. And it featured a revelation — the Culver's ButterBurger.
For those of you not from the Midwest, Culver's ButterBurger is a "pressed and seared" burger. Basically, a smash burger that's been around far longer than the buzzword itself. The patty is a mix of sirloin, chuck, and plate beef that's always fresh and never frozen. The burgers are made-to-order and 100 percent customizable with Culver's vast array of toppings and condiments. Finally, there's the soft potato bun that's slathered with Wisconsin butter and lightly toasted on the flat top griddle.
It's simplicity defined.
So how does it stand up? As a gourmand, chef, and traveler, I've eaten a lot of fast food burgers — from 2 am McDonald's double cheeseburgers to countless Shake Shack airport burgers to monthly cheat meals at In-N-Out when I was living in L.A. Alas, it had been a long while since a ButterBurger from Culver's had been part of that mix. But I always remembered it being really good, so I was excited to tuck in at a Sioux Falls location just a few days back.
I ordered a double ButterBurger with American cheese (this felt like the safe cheese get to compare and contrast with the competition) with onions and pickles and kechup, mayo, and mustard (making a defacto burger sauce on the bun). I'm not really a fan of lettuce and tomato on a burger. I also got a small basket that came with crinkle-cut fries in one of those old-school plastic baskets and a small drink. I took my number, got some signature Culver's root beer, filled some little paper cups with ketchup, and found a table to call home.
Here are my thoughts:
The Burger Construction:
This isn't rocket science but so many places get this wrong. It went a little something like this: Heel bun, condiments, pickle, cheese slice, patty, cheese slice, onions, patty, buttered crown bun, and an extra pickle chip on top.
The condiments and pickle on the bottom melded into a perfectly suitable burger sauce. It was tangy with a seriously salty deli pickle vibe. The cheese was put on when the burger was built, so it was just starting to melt as I tucked in. The onions were grilled (per my request) and added a nice crunchy, sweetness, and bite. The top bun was a soft and buttery delight that held its form.
The Burger Patties: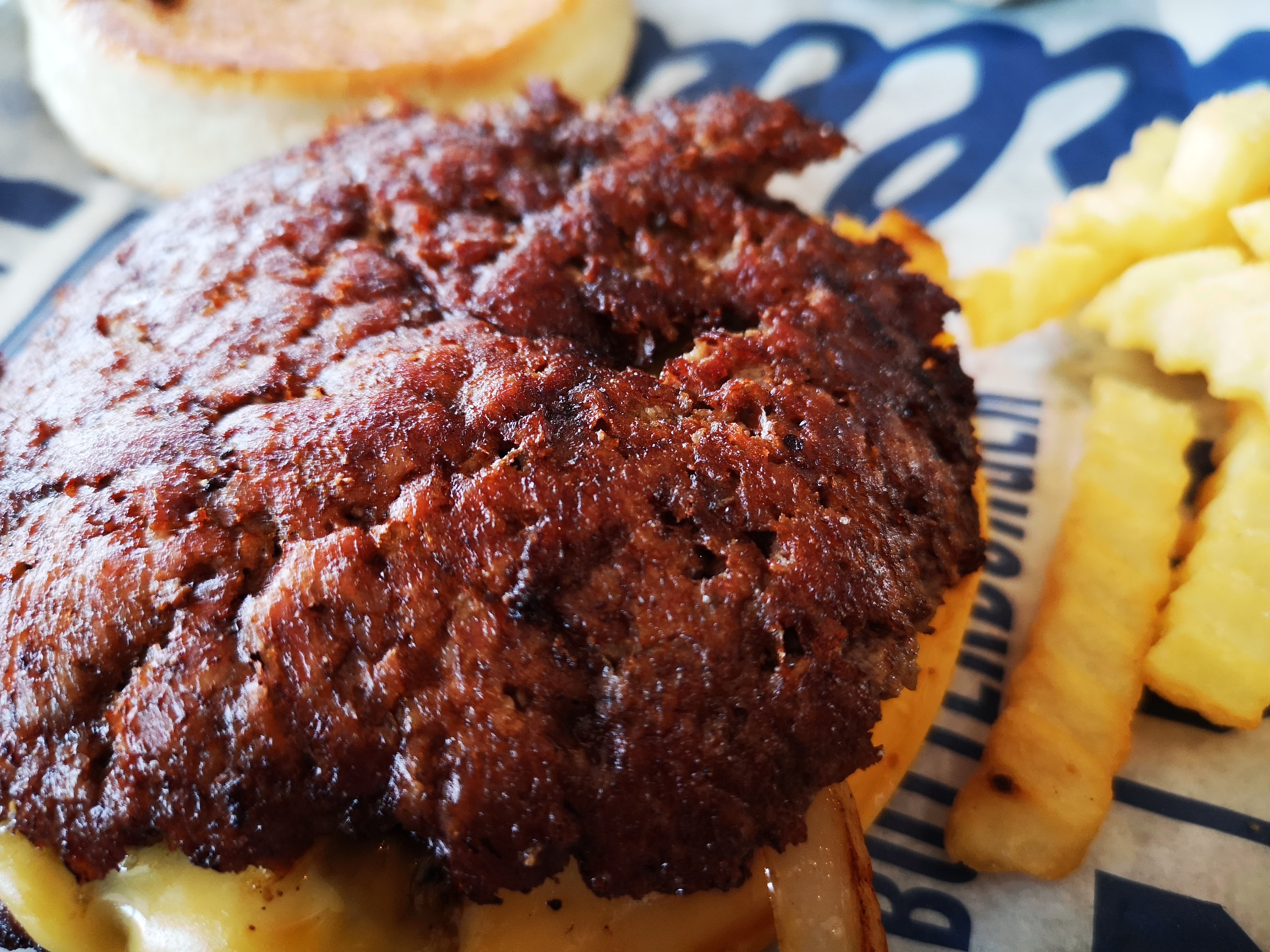 All that stuff mentioned above is fine but what's great about this burger is the beef itself. These are perfectly rendered "smash" burgers. Just look at the sear across the whole patty. There's legitimate lacing on the edges! And, most importantly, it's still juicy on the inside. That's a hell of a feat given how most fast food patties dry out — looking at you McDonalds, In-N-Out, Burger King…
What's paramount to this burger is the heft of the patty. They're light while still having a little weight to them. With a double, you know you're getting a good-sized burger without getting weighed down.
Oh, and they're perfectly seasoned with just the right push of umami complimenting that wonderous sear.
The Verdict: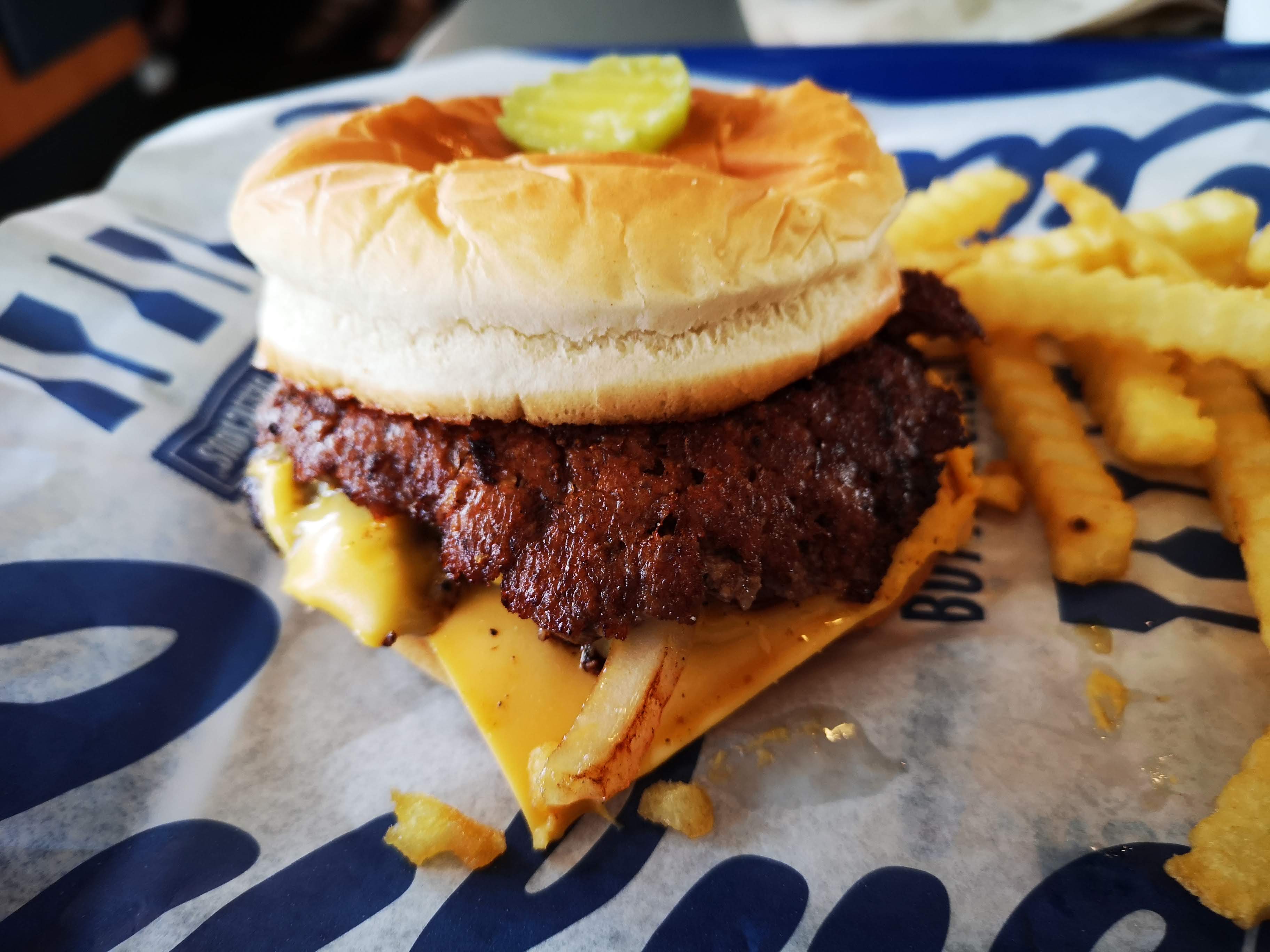 My immediate thought while eating this was, "Oh, this is what Shake Shack has been trying to copy all this time…" Seriously, this is very obviously what Danny Meyer was mimicking when he opened his now international New York burger joint. And you know what? Culver's still takes the trophy. This burger is really, really hard to fault. One, it doesn't have a dumb-ass piece of butter lettuce on it like a ShackBurger, so that's a win. Plus it had that exceptional bun and some nicely caramelized onions.
Not for nothing, but thhe crinkle-cut fries were damn good, too — completely fried and crispy down to the last one. Hell, even the root beer was a solid, albeit sweet, entry in the genre.
Is this the best burger in the fast food game? I'll have to investigate a little deeper (Five Guys, Whataburger, etc.) but it's sure not far off. It was perfectly smashed, buttery, and filling without being overwhelming. More than a regional favorite, this is a great fast-food burger, period.
If you don't have a Culver's in your home state, make it a point to seek one out next time you're in the Midwest. You'll be glad you did — I know I certainly am.