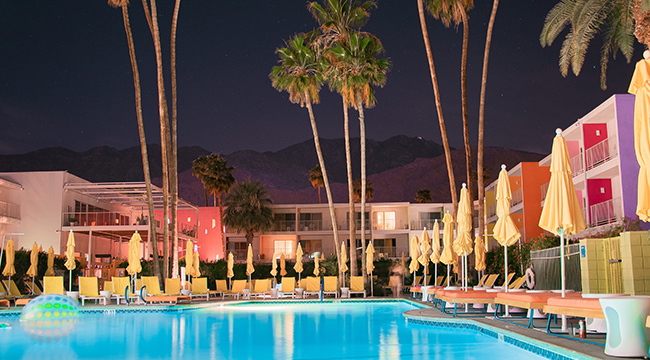 Music is forever tied to travel. There are songs that get us on the road and songs that keep us exploring. Road trip playlists that fill us with sense memory and newly discovered tunes that perfectly capture the moment. Whether it's the band you saw after an 18-hour Greyhound ride or the festival you flew across the world for, music inspires us to have new experiences and offers the soundtrack to our adventures.
It's no wonder that this synergy would infiltrate the hotel scene. From themed honky tonks to cool kid club spots, there's a massive range of stunning music-inspired (even music-themed) hotels out there. We asked our travel team to highlight their absolute favorites. These are the places that feel married to the sound — hosting artists, spinning vinyl, and dripping with rock n' roll vibes. Check out all 15 and add your voice to the conversation below!
-Steve Bramucci, Uproxx Travel Editor
Boogie Woogie Beach House: New South Wales, Australia
If you don't want David Bowie watching you shower or Dave Grohl looking down at your bed, we're living on different planets.
The Boogie Woogie Beach House is more than music-themed, it's music everything. Each shower is done with a different mosaic of a legend's face — from Louis Armstrong to Blondie. The halls are lined with records and there's a player in every room. Speaking of the rooms, they're every bit as comfortable as they are aesthetically on point. The aforementioned showers are massive and sexy as hell. The beds feature astronomical thread counts and pillows stitched with the faces of your favorite rockers.
What really stands out at Boogie Woogie Beach House is the live music scene. It's been carefully curated and the attention to detail shows. Concerts on their massive deck — called the FLOW Bar — draw crowds from throughout the city and their parties last deep into the night. If you have a rock star hangover, brekkie at the downstairs restaurant is epic and restorative.
The town of Old Bar is a must on any New South Wales road trip. It's all Aussie Beach Vibes — from the surf scene to the nightlife. Run across the street from the Beach House for a sunset session, come back for a quick shower with Nick Cave or Ziggy Stardust himself, and head downstairs for a wood-fired pizza before the band comes on. The attention to detail here shows — making it a must visit for any music lover.
https://www.instagram.com/p/Bd1anndFuDG/?taken-at=720228403
Room prices start at $190AUS
Ace Hotel: Los Angeles, California
I've been fortunate to have traveled a lot in my life, and along the way, I've stayed in plenty of hotels. But when asked to write a blurb about a music-y hotel, there was one that immediately leaped to mind above any and all others I've encountered: the Ace Hotel in downtown Los Angeles. Where do I even begin? Let me list the reasons why.
1. Like most of the hotels in the Ace chain, the look and feel of the whole hotel just lends itself to feeling like a music-friendly space. As soon as you step inside you just expect to see Jack White or Childish Gambino or Father John Misty or Chance the Rapper walk out of the elevator. It just feels like that kind of hotel, without feeling at all pretentious.
2. Guests of the Los Angeles Ace can actually borrow musical equipment from an in-house library they call "Studio A." As noted by the hotel's website, Studio A is behind the hotel's front desk, "a closet filled with sound making and recording devices — audio interfaces, synths, mics, effects pedals and tablet computers." How cool is that?
3. The hotel features its own in-house music venue — the Theater at the Ace Hotel — that can hold 1600 people and is one of the city's best venues, to boot. You can find listings for upcoming shows here.
Seriously, what more could you want out of a music hotel?
Room prices start at $215.
The Edgewater: Seattle, WA
There are few hotels in Seattle that feel more Rock 'n Roll than The Edgewater. The hotel achieved rock-legend-fame by hosting The Beatles, The Rolling Stones, Led Zepplin (the less said about their stay, the better), Black Sabbath, Frank Zappa, and Kurt Cobain at the height of the Nirvana years.
The hotel sits over Elliot Bay on a massive pier, making it one of the more unique hotels anywhere. There are two "Rock N' Roll Suites" with unobstructed views of the water and the snow-capped Olympic Mountains to the west. So, you'll get phenomenal sunsets over the mountains on a clear day. The suites are themed around The Beatles and, more recently, Pearl Jam. Each one offers rock-legend amenities in plush digs. Hell, even the bar has rocker-inspired drinks. It's no wonder that plenty of musicians still hang there.
Room prices start at $169.
nhow: Berlin, Germany
Berlin is one of the most important music cities in the world. From the jazz era of the 1920s, all the way to Lou Reed, David Bowie, and Iggy Pop in the 70s to Nick Cave and U2 in the 80s to the EDM mecca of the present day, Berlin dominates.
nhow Berlin is all about honoring and continuing that legacy. The music and lifestyle hotel sits on the banks of the Spree in the creative and musical heart of Berlin. The rooms are for ballers and carry a hip design acumen from world-renowned designer Karim Rashid. That's all amped up by the fact that his hotel has two recording studios and an in-room guitar and instrument service. The hotel musical instrument concierge will deliver a keyboard or turntables or a guitar to your room free of charge. That's just fucking dope. Oh, and it's also a concert venue with a rowdy bar scene. It's hip, chic, and all about musicians.
Honestly, who doesn't want the ability to chill with awesome guitars while you stay in a plush hotel room?
Room prices start at $96.
The Clarence: Dublin, Ireland
The Clarence in Dublin is the brainchild of U2 frontman Bono and lead guitarist The Edge. The hotel was bought in the early 90s and refurbished into one of Dublin's plushest properties. Today, it's the gold standard of great hotels in Dublin.
The hotel sits right in the middle of the Temple Bar neighborhood, so a great pub is never too far away. The amenities, dining, bars, and rooms at The Clarence are all top-notch. U2 famously made the video for Beautiful Day on the rooftop back in the day, adding more rock cred to the property. If you really want to be a baller, stay a night in the penthouse suite. The two-story digs have their own private bar with a goddamn grand piano inside. It's crazy dope.
Room prices start at $201.
Backstage Hotel: Amsterdam, Netherlands
Location, location, location. They say that location is everything, and the Backstage Hotel in Amsterdam delivers. Not only is the low-key lodging a five- to ten-minute walk from several well-known music venues, including Sugar Factory and Paradiso, but it's also convenient if you're going to do the tourist thing and want to hoof it to any of the major museums. Plus, it's not just their location that audiophiles will love; there are guitars for guests to pluck at, and you can also borrow one of their record players or hook your phone up to one of the Bluetooth speakers in your room. You may even get lucky enough to see one of their backyard shows.
The bar isn't too bad either, so we suggest that you play pool, drink a beer, and listen to some live tunes.
Room prices start at $119.
The Sunset Marquis: West Hollywood, CA
If you're going "music hotel" it's hard to find any place more fitting or iconic than The Sunset Marquis tucked into West Hollywood just off the Sunset Strip. This hotel isn't just a place of insane Rock and Roll history — a home away from home since the 70s for acts like the Clash, the Ramones, Cyndi Lauper, Aerosmith (and where people like Neil Diamond and Bette Midler used to perform in exchange for their rooms). It's a living, breathing piece of the music scene now. Their basement recording studio (created late one night when producer Jed Leiber and guitarist Jeff Beck were playing too loudly in their room and the hotel manager told them they could practice in an abandoned garage next to the laundry room) has been the recording spot for an insane number of major artists since the mid-90s. Everyone (from Drake to Elton John to Ke$ha to Eminem to Rihanna) has laid down albums there.
And even though the heydays of mountains of cocaine, open door sex, and banging on the wall to get bands to stop playing (or Whitney Houston to stop singing so loudly) have transitioned slightly to a more upscale and relaxed vibe, it's still a place where you'll see Bruce Springsteen or Steven Tyler grabbing lunch or sitting by the pool.
With two pools, a great bar, live music and a breezy outdoor restaurant set into a dreamy forest, it's like you're in a little village of Rock and Roll. Plus, they have food that I literally sometimes dream about (the brunch! I WOULD KILL TO REGULARLY EAT THEIR BRUNCH).
Room prices start at $350.

–Allison Sanchez
Hotel Max: Seattle, Washington
https://www.instagram.com/p/BkHDV3rH5tv/?taken-at=77756
Hotel Max ends up on a lot of kinky hotel lists because each entryway on the eighth floor features images from a date that begins with drinks and ends with shower sex. And, yeah, that's cool and all, but it's the fifth floor that's where it's at. An homage to Sub Pop Records, the Seattle indie label closely associated with the rise of grunge because they signed bands like Mudhoney, Nirvana, and Soundgarden in the late 80s, the floor is awash with the photos of Charles Peterson, known as a prolific grunge documentarian (and the dude behind some of the label's best album covers).
In the rooms, posters celebrate current acts on the label, like Iron and Wine, Fleet Foxes, Mogwai, and Wolf Parade. And, while you are a guest of the hotel, you can choose from a Sub Pop curated collection of vinyl to spin on Crosley record players. Be sure to get in on the complimentary daily craft beer hour that happens every evening from 5:30 to 6:30 pm. This is your chance to meet awesome fellow travelers and enjoy some local brews.
Room prices start at $131.
Mercer Hotel: New York City, New York
If asked to name a hotel with legit cool cred, chances are most people would name one of hipster hotelier André Balazs' properties, which includes The Mercer (as well as the Standard hotels and Chateau Marmont). They are all favorites among musicians and movie stars.
In the 1970s and 80s, SoHo established the pace of urban loft living, and the rooms at this property reflect that. Six floors of this landmark 1890 Romanesque building built for John Jacob Aster II are filled with the usual loft trappings: tall windows, hardwood floors, high ceilings, and clean lines. It's no wonder that people who can afford it opt to live here for extended periods.
Speaking of taking up residence, Jay Z and Kanye took over the entire second floor in 2001 while they recorded Watch the Throne, so there's your freaking music cred. This isn't a guitars on the walls and music notes on decorative pillows kind of joint. It's just a cool af hotel that attracts creative luminaries (and where Russell Crowe allegedly attacked a concierge with a telephone, so there's that).
Plus, if you are into the idea of sighting celebs or a Kardashian, this is the spot.
Room prices start at $590.
Andaz West Hollywood: Los Angeles, California
Constructed in 1963, Andaz West Hollywood is a classic rock n roll spot positioned on the Sunset Strip near iconic destinations like The Comedy Store, Whisky A Go Go, and The Viper Room. If you roll old school and get excited by bands like The Who, The Rolling Stones, Led Zeppelin, and The Doors, this is a hotel that will make you wish its walls could talk. All of the aforementioned bands were regulars here and they set the hotel room trashing tone for generations to come. We are talking fires in rooms, motorcycles going down the hallways, and televisions pitched out windows. Jim Morrison lived here until he hung off the balcony by his fingertips and management gave him the boot. It came to be known as the "Riot House" for good reason.
Rooms are pretty minimal, featuring a midcentury modern aesthetic. They are large and airy with great views. Think modern and sleek without feeling clinical or pretentious. Sadly, the rooms no longer have balconies (Thanks a lot, Morrison), but they do have huge windows, so be sure to stand in front of one with your arms outstretched and scream "I am a Golden God!" It worked for Robert Plant in 1975 when he was a guest. You might need drugs and groupies to really get in the right mindset.
Room prices start at $249.
Karma Sanctum Soho: London, England
Honestly, a hotel with a few investors from Iron Maiden's management team doesn't scream "ROCK N ROLL HOTEL." However, the Karma Sanctum Soho does have true swagger that makes it more than a little rocking. Plus, Metallica's Kirk Hammett is on record saying that he wrote the signature riff of "Enter Sandman" in a room on the property, and that's cool as shit.
If you're looking to pen an iconic track or just shred a little, you can hire a guitar and amp from reception (they are on the room service menu) and do your best to replicate that magic. We suggest you start the night at the hotel bar (open 24/7), move to the hot tub featuring multi-colored underwater lights, and stumble back to your room in the early hours for songwriting.
The décor should inspire with its cheeky fabrics, faux-animal skin seating, studded leather banquettes, and gem-encrusted door handles. It's pure bohemian opulence that engages all the senses. Totally the perfect setting for a hedonistic romp a la a true rock god.
Room prices start at $266.
Aria Hotel Budapest: Budapest, Hungary
Not only is it one of the top hotel's in Budapest, the Aria is also music-themed (and not in a kitschy way). This is sheer magnificence with massive rooms, an expansive courtyard featuring a state-of-the-art piano, a moody rooftop bar, and a sumptuous underground spa. Brilliant designer Henry Kallan (who also did the Library Hotel in New York, which we think is mad sexy) dedicated each of the four wings of the neoclassical building to a different genre and each bedroom to a different musical luminary. You can hit up an opera, classical, jazz, or contemporary wing then zero in on a specific artist. Want to stay in the Franz Liszt suite? That's all classical. Louis Armstrong can obviously be found in the jazz corner. It's awesome to see sounds translated into unique visuals in each room.
There is a music director (Kornel Magyar) on staff and you can visit his room to grab some CDs (yes, CDs) or you can use your in-room iPad to access an extensive music library. If you want to just gab with Magyar, that's on the table too. He's a composer, performing artist, music critic, and scholar of ethnomusic. And each night there is a wine and cheese reception from 4 to 6 pm.
Room prices start at $285.
Pikes Ibiza: Ibiza, Spain
Don't be fooled into thinking that Ibiza is over or that it was only a music destination in the early 2000s when dance music and foam parties were everywhere. This city has been a no holds barred hedonist's playland for decades, and Pike's is a goddamn institution among big-name musical acts. In the past, it played host to bands like Wham! (who used it as the background for their "Club Tropicana" video), Spandau Ballet, Grace Jones, and Freddie Mercury (who held a legendary 41st birthday party in a room now known as Freddie's, the in-house nightclub). Lately, you are likely to catch Idris Elba, Robyn, or Fatboy Slim DJing.
The rooms are eclectic and lived in, but that doesn't matter because you don't go to Pike's to hole up with a book. It's all about sitting poolside and enjoying the non-stop party, which is more of a late twenties crowd enjoying quality cocktails than the barely legal set pregaming with vodka from a plastic bottle in their rooms (not that there's anything wrong with that).
Room prices start at $146.
Sofitel Brisbane Central: Brisbane, Queensland, Australia
https://www.instagram.com/p/BiD1h1_Anm0/?taken-at=1140970
This five-star luxury hotel is a favorite among guests looking for understated glamour adjacent to Brisbane's shopping and business district. With replica Eiffel Towers and macarons in the coffee shops and a staff trained to use Francophone greetings, this property has French overtones that are kind of odd in Australia. But with a motto like "life is magnifique," it shouldn't be any surprise. And, the laidback French swagger of Sofitel has been catnip to the cool cats of the music scene. Robbie Williams (Rock DJ is a bop and everyone knows it) has been known to take to the keys in the piano lounge and perform for guests. Maroon 5 once handed free tickets to the guests they encountered during their stay. And Ozzy even makes it a point to stay there when he's in town.
There is a club on the 30th floor that is one of the largest on the continent and entrance is limited to those staying on the top five floors. It's worth paying a little more to get in and rub elbows with celebs and power players if that's your thing. If you opt to hole up in your room, the dark and neutral tones will enable maximum chill. Make an effort to surface long enough to scarf down their high tea, which isn't exactly rock n roll, but is flipping delicious.
https://www.instagram.com/p/Bg2Ql7ZjyOU/?taken-at=1140970
Room prices start at $195.