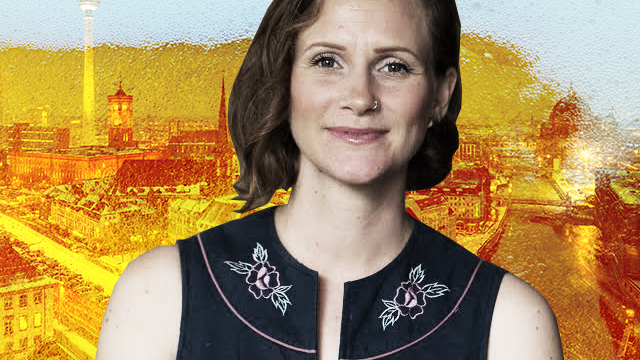 Welcome to Beer This City! If you dig Eat This City and Drink This City but have always wanted more beer-ness, then this column is for you. We're talking to brewers all over the world to get an in-depth look at the best places to drink amazing beer, grab a nosh, and find something truly unique in different cities around the world.
It should come as no surprise that Berlin is a great city for beer. The craft scene has exploded over the last decade, bringing in brewers from all corners of the planet to make, drink, and celebrate all things beer. The ethos of itinerant brewing (brewers visiting different breweries without one single home-base), deep community, and plenty of history have come to define the local scene. With that in mind, we thought we'd reach out to one of our favorite brewers in Berlin right now, Cristal Peck.
Peck arrived in Berlin from Australia with a deep love of beer and biology. Peck brought microbiology and scientific founding to her brewing, which landed her a gig at Berliner Berg — one of the city's young and hip local brewhouses. After making a name for herself in the brewing community, Peck and brewing partner-in-crime Richie Hodges (who helped create the Berliner Berg line), teamed up to start Parasite Produktions.
The new brewing endeavor finds Peck and Hodges brewing with brewers all over the city in classic wandering brewer fashion, mixing and matching, and innovating beer in glorious new directions. These days, you can find Parasite Produktion's elixirs at some of the best beer bars around the city — so who better to guide us around the beer scene in Berlin right now than Cristal Peck?
Classic Brewery/Taproom Experience — HOPS & BARLEY
Hops and Barley is a great little brewpub situated on the bustling Wühlischstraße in the heart of Friedrichshain. This place feels like a legit German taproom with a delicious range of classic beers and proper German beer snacks (think sausages and animal fat).
Although the beer selection is ever rotating, you can expect to always find a fresh and lecker (delicious) pils, as well as a diverse, seasonal rotation which is frequently starting to include ales of a more hop-forward nature. This is all alongside the more classic German seasonals such as Bocks and Märzens.

Experimental Brewery/Taproom — BERGSCHLOSS
As a disclaimer, I should mention that this happens to be the taproom for the brewery in which I work. Nevertheless, well before I was employed by Berliner Berg, the Bergschloss was always one of my favorite places to visit.
Tucked away in the backstreets of Neukölln, the Bergschloss draws the most attention from locals of the area. A decided absence of the usual craft beer hoards means you can enjoy a drink or two completely under the radar. The tap list rotates to span the small batches brewed (yeah, usually by me) onsite and across Bavaria, as well a guest tap (which occasionally features rare and treasured gems that have been stashed away in the basement for a rainy day!)
Neighborhood Brewery/Taproom — PRIVATBRAUEREI AM ROLLBERG
Rollberg Brewery does things right. Their beer is always fresh and only available on tap. Although their potential to grow is vast, they've elected to maintain their current capacity for philosophical reasons.
Situated quite literally under the old copper brew kit of the former Berliner Kindl brewery, the small basement brewery is juxtaposed by the footing of the old Kindl kettles, which ominously protrude through the ceiling. The beers here are classic German-style drinkers (although they have also been experimenting with new styles as of late). If you've got time to pop in upstairs to marvel at the top halves of the Kindl brewery, do so! The defunct brewery venue now houses a small cafe which is literally one of the most stunning locations in Berlin.
Brewpub/Gastropub for Food and Beer — STONE BREWING WORLD BISTRO & GARDENS
The people of Stone don't do things by halves and their Mariendorf Brewery/restaurant location is a solid testament to that. Expect to be overwhelmed by the immensity and beauty of the former historic gasworks facility which has been skillfully transformed into a sensory wonderland of friendly bar staff, unlimited beer taps, and high-quality grub.
With a surprisingly large range of guest beers as well the innumerable options from both their German and American range, opt for the small Mariendorf pilot batches – they have a tendency to be pretty special! A cycle out to Stone (when the weather suits) is the perfect way to spend a Sunday. Their beer garden is the best of its nature in the city, seriously rivaled by nothing else. I love the place!
Beer Bar (that's not a brewery) — TWINPIGS
Another charming Neukölln neighborhood bar is Twinpigs. It's a chill place to hang out for a beer or cocktail. The place gets pretty packed out later in the evening but if you get yourself a sofa or table position, nice local beers and eats have been known to keep me there until the small hours of the morning.

Dive Bar for Beer — KNEIPE ZUR MOLLE
This one's just around the corner for me. I don't tend to spend entire evenings at Zur Molle (nor would I really want to), but in the warmer months, they set up a few tables and chairs out front and you can happily watch the sunset with a fresh Berliner Kindl for a mere €2,20 ($2.50). Not bad at all.
Hotel Bar for Beer — HOTEL AM STEINPLATZ
This is a creative and cutting edge hotel bar. These guys have worked hard to push the boundaries with their drink menu. In doing so, they've been the proud recipient of numerous awards. Their cocktail list is stunning and adventurous (some of which feature beer), and they keep it local with their taps.
Fancy Restaurant for Beer — ORA
ORA is an absolutely beautiful old converted Apotheke (pharmacy) which is now decked out as a glamorous Kreuzberg restaurant. They like to focus on seasonality and regionality with respect to their grub and drinks, and, of course, you can find a few pretty special local drops behind the bar.
Place To Eat Pizza and Drink Beer — SALAMI SOCIAL CLUB
Ben from Salami Social Club doesn't just make pizzas, he adores the complex art behind it. With a sourdough crust and a magical green sauce to die for, eating these pizzas whilst drinking one of their many tap beers — we brewed a pilsner for the team — is the stuff dreams are made of.
Match. Made. In. Heaven!

Brewery/Taproom Run By A Friend — STRAßENBRÄU
My buddy Seba is of the very passionate ilk, and you can figure that out through the beers and the ingenuity behind his many one-off special releases. Seba's Dad has a winery somewhere near the Swiss/French border. So, through his constant supply of fresh wine barrels, Seba has been ramping up his barrel-aging projects. He's doing some really creative stuff in the micro-brew kit at Straßenbräu.