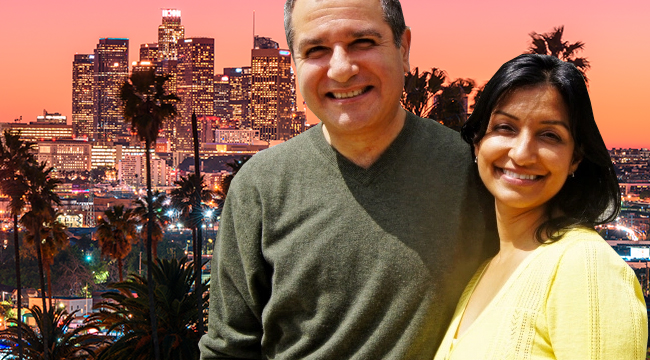 You know how to EAT THIS CITY. With top chefs as tour guides, you've learned how to scout out hot spots for breakfast and brunch, where to go for a delicious date night, and how to feast like a local liege in the cities you love. But where do you wash it all down? Do you know how to find the best brewpub? Uncover who makes the meanest bloody marys and the most sparkling mimosas?
You're about to find out. Welcome to DRINK THIS CITY!
This week we're back in downtown Los Angeles — a city of both angels and incredible bars. Whether you're popping in town for a weekend getaway or further exploring the city you know and love, it pays to have an expert guide at the helm, curating a tour of the city's finest drinking establishments.
And in a city of LA's size? Better make that two.
We're thrilled to welcome Litty Mathew & Melkon Khosrovian, husband-and-wife team and founders of Greenbar Distillery. As LA's first distillery since prohibition, Greenbar produces organic whiskey, gin, vodka, tequila, rum, Amaro, fruit liqueurs, and bitters — a full suite to set up your locally-minded bar. The flavors are clean, real, and rich: TRU Garden Vodka features wheat, celery, dill, fennel, coriander, mint, thyme, pink peppercorn, cumin, vanilla, making it an intriguing and perfect base for a bloody mary. Grand Poppy Amaro utilizes California's iconic flower to great effect, creating a bitter liqueur that stands out in a Negroni. California's citrus shines in Greenbar's Fruitlab Orange Liqueur and makes a welcome addition to a Sunday brunch mimosa.
Cocktails made with Greenbar liquors taste good, but they also do good. Committed to sustainability and ecological responsibility, Greenbar plants a tree for every bottle you buy. The bottles are lightweight and the labels are made of 100% post-consumer waste. As our environment continues to face changes, it's gratifying to see a company rise to the challenge, offering products that consumers can feel good about, both as connoisseurs and as conscientious citizens.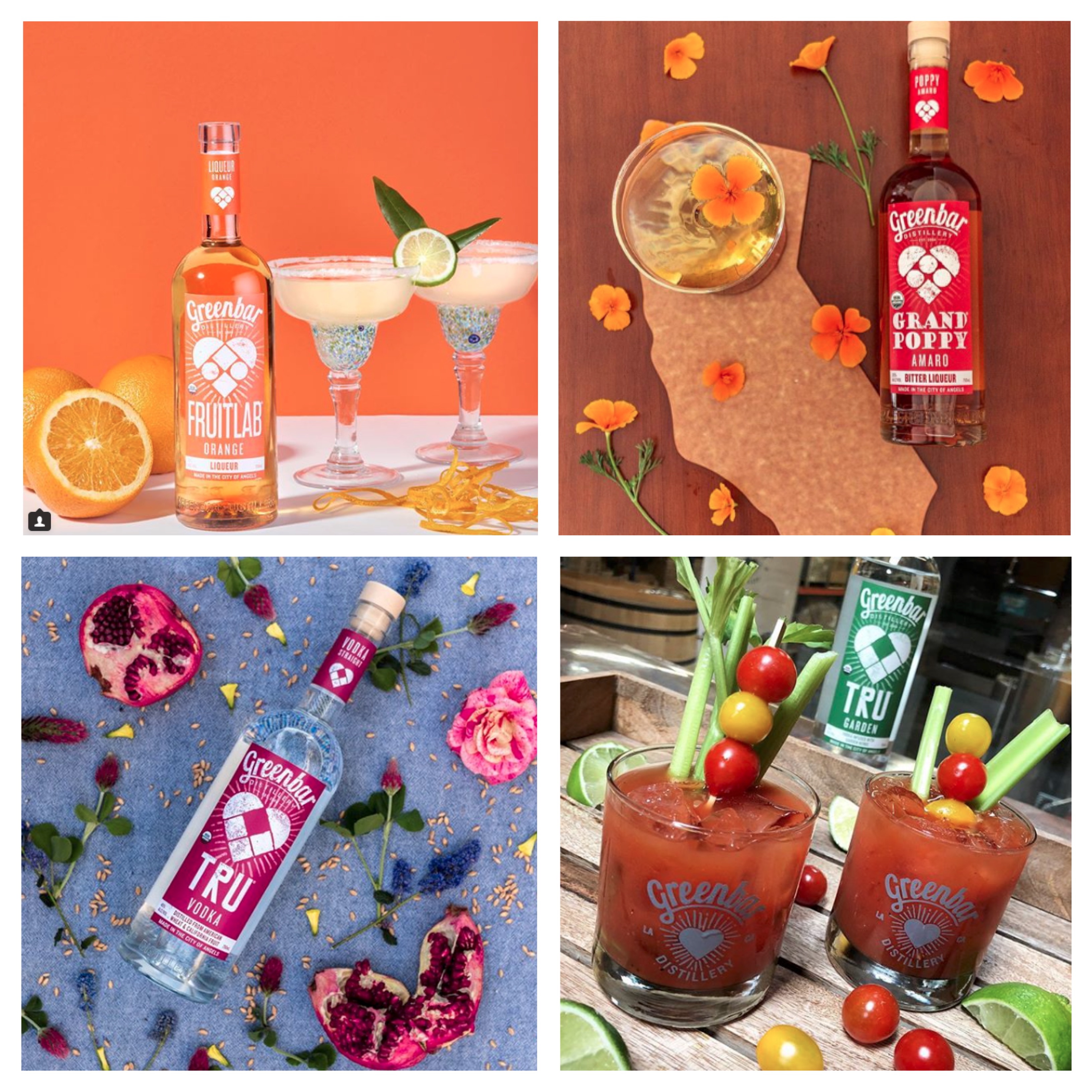 You feeling thirsty? Let's let Greebar's dynamic founders show us how to drink this city!

BRUNCH COCKTAIL OR HAIR OF THE DOG
Does Thai coffee with condensed milk count? There is no better place for breakfast and a coffee drink, after a long night of cocktailing, than Siam Sunset. It's essentially a motel coffee shop that serves some of the best Thai food in Los Angeles. Best part? It opens at the crack of dawn (aka 6 a.m.) with fresh Chinese crullers that you dip in said condensed milk.
Follow that up with roast duck bathed in a hot noodle soup. It sounds weird but it works!
MARGARITA
The citrus skinny margarita (don't judge) with cucumbers and mint at True Food Kitchen in Pasadena keeps us coming back. It smells so fresh, it might as well be a drinkable spa. The restaurant space is light and airy with a huge patio which makes you want to hang out and order a second round.
CLASSIC COCKTAIL
It's almost cliché to suggest the best classic cocktails in Los Angeles come from The Varnish but… it's also true! Each drink is so carefully prepared without any pretensions or fussiness, and they're always well worth the wait.
We're convinced you can't find a better Penicillin in California outside an emergency room. It's the perfect balance of ginger, lemon, and scotch in the sturdy but beautiful presentation. A classic done right.

CRAFT COCKTAIL
We love Mohawk Bend in Echo Park for their unique, California take on the craft cocktail. The bar and kitchen only use California ingredients. Order a Garden Salad, which is actually a vodka cocktail with fennel, cilantro, and cucumber.
PUNCH
Punch is one of those drinks that brings people together. We always end up making gin or rum punches at home around the holidays, and the closest thing we can find to a family punchbowl is at Accomplice in Mar Vista. Split one with five or six friends and you'll be getting looks all night long! It's a bit of a showstopper in that crystal serving dish. The flavors of their cocktail menu skew East Asian, which is perfect if you want to order some Taiwanese bar food from Little Fatty next door (which you'll probably need to do after all that punch!)
If it's off the menu, ask if they'll make you one anyway.
DIVE BAR
Besides having a great name, Roger's Exciting Tattle Tale Room in Culver City is the ultimate dive bar. Gruff, genuine, and full of uncomfortable karaoke, this strange, out-of-time place is definitely divey — not divey as compared to LA — divey compared to anywhere.
And there's nothing better than sitting back and listening to surly strangers sing TLC's "Waterfalls" while sipping on a surprisingly good Moscow Mule.
PUB, TAVERN, OR BREWERY
Our new year's resolution is to get more exercise so we like to fast-walk right over to our favorite neighborhood brewery, Iron Triangle, for a pint of their Battle of Puebla brewed with jalapenos. It's complex and exciting but not the least bit angry. Fantastic accompaniment for the fried chicken we bring in our bag.

HOTEL BAR
Library Bar at The Hollywood Roosevelt
https://www.instagram.com/p/BW51r8cnGYs/?taken-at=767891
The Library Bar at The Roosevelt Hotel was one of the first places we saw fresh produce celebrated in cocktails. Imagine drinks at an indoor farmers' market. Ingredients we'd never tasted (or sometimes even heard of!) like surinam cherries and lovage pose photogenically where you order drinks. The menu is very seasonal and ever-changing but one of our favorites was a gin-based cocktail with cucumber, lime, lavender and egg whites. Spring in a coupe glass.
HOT DRINK
Irish coffee at Tom Bergin's Public House.

[Editor's Note: Unfortunately, Los Angeles has bid farewell to this iconic location. Raise an Irish Coffee in the memory of Tom Bergin's.]
THEMED COCKTAIL at IMMERSIVE EXPERIENCE BAR
We "heart" tiki, too. When we were in graduate school, we used to go to the Tiki Ti in Hollywood with our classmates. Darkly lit, size of a postage stamp, it was the perfect place for our budding romance.
Twenty-six years later, the tropical hut/bar is still there along with the same bartender. Long live the Zombie!
SPARKLING COCKTAIL
Gusto on West 3rd has a drink called Molto Facile with mezcal, blood orange, lemon, and san Pellegrino (served in the can). The presentation is cute and the drink is quite refreshing!

APERITIVO
White Negroni at Bestia — gin, bianco aperitivo, gentian aperitif, grapefruit oil.
LOW-PROOF COCKTAIL
Grace's Cup from Redbird — house madePimm'ss, lemon, cucumber, strawberry, tonic.
UNUSUAL COCKTAIL or COCKTAIL WITH SURPRISING INGREDIENTS
https://www.instagram.com/p/BkMDc8hhqZ8/?taken-by=huntercahalan
If you visit Côte Est in the Highland Park neighborhood, you may be able to convince bartender Hunter Cahalan to make a gin cocktail with pickled ume (Japanese plum). He calls it the Drunken Umeboshi. The salinity is surprising and quite food-friendly.

COCKTAIL MADE BY A FRIEND
Not to toot our own horn but …toot toot!
Greenbar Distillery members can enjoy the Manager's Special when they attend one of our cocktail classes. California distilleries like ours are not allowed to operate a bar (yet) but membership has its privileges including freshly made organic cocktails.
Thank you, Litty and Melkon for taking us on a tour of Downtown LA's best bars!
Like what you read? Check out Drink This City: Boston, Drink This City: Return to Chicago Downtown LA, Drink This City: Return To ManhattanDrink This City: San Francisco, Drink This City: New Orleans Drink This City: Miami, Drink This City: Honolulu, Drink This City: Detroit, Drink This City: Chicago, Drink This City: New York, Drink This City: Nashville and more!
Join us next week for more DRINK THIS CITY! Meanwhile, hit us in the comments — where should we travel next?