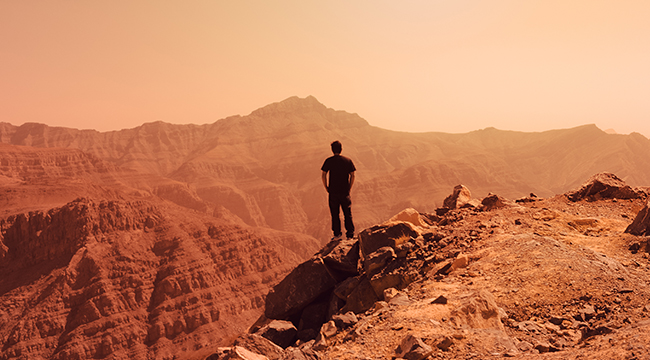 With Memorial Day just around the corner, a good weekend hike should definitely be on everyone's minds. Getting out into nature, getting some exercise, and seeing a bit of natural beauty is a great way to spend a little time, three-day weekend or not.
There are so many great options around America to enjoy nature and a hike that it's hard to know where to start. Where is that iconic hike that'll change your view of the outdoors? Is it in your backyard? Or maybe a little further afield?
To try to come up with some definitive answer for where the best hikes in America are found, we thought we'd poll the masses. Over at Ranker, the people had their say and a top ten list of states with amazing hikes shook out. We decided to add our favorite spots in each of the top ten states to help dial in your options.
Tell us your favorite hikes in the comments!
10. Maine
It's hard not to think of Maine and think "outdoors." The coastal state is a lush land of great national parks, seemingly endless miles of rocky beaches, and dense forests.
Where to Hike: Cadillac Mountain, Acadia National Park

Acadia National Park is the natural choice in Maine. The Cadillac Mountain Summit is a 0.3-mile loop up the mountain. It's paved the whole way up, so you won't need any special equipment besides sturdy shoes. Once at the top, you'll be treated to stunning views of Bar Harbor, Frenchman Bay, and several islands. From there, miles and miles of trails stretch out into the park and along the beaches.

9. California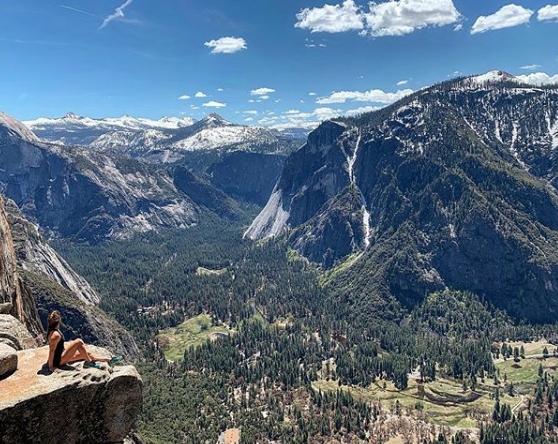 California is a massive place with a diverse mix of nature. You can indulge your inner outdoors-lover with coastal strolls, jaunts through ancient Redwoods, or hardcore treks over glacial peaks. All of that is before you even get to the deserts. California kind of has it all is what we're saying, and we're shocked it ranked this low.
Where to Hike: Yosemite Falls Trail, Yosemite National Park

The two-mile hike up to Columbia Rock on the Yosemite Falls Trail is one of the most iconic walks in America. You'll be greeted with a wondrous view of the towering Half Dome, the falls, river, and valley leading into the Sierras. The hike is fairly moderate with no real equipment needed besides good shoes and plenty of water, especially on a hot day.
If you really want to go for it when you're there, you can tack on the extra seven miles up to the top of the falls.
8. New Hampshire
New Hampshire is a pretty big contrast to the vastness of California. The small, New England state is a well forested and very sparsely populated, allowing for great access to nature. The low altitude mountains also make for a chain of peaks that are easily completed on day trips or over a long weekend, like, say, Memorial Day Weekend.
Where to Hike: Appalachian Trail, Presidential Range

The Appalachian Trail is best taken in small, manageable segments. The 23 miles of the A.T. along the Presidential Range is the perfect place to take on this piecemeal approach. The hike is all about walking up and down gently sloping mountains, wandering through dense forests, and being rewarded with wonderful mountain-top views over and over again. You'll definitely need good boots, walking sticks, and day kits with food and camping gear for this one.
Alternately… just do as much as you want to in a single day.
7. Wyoming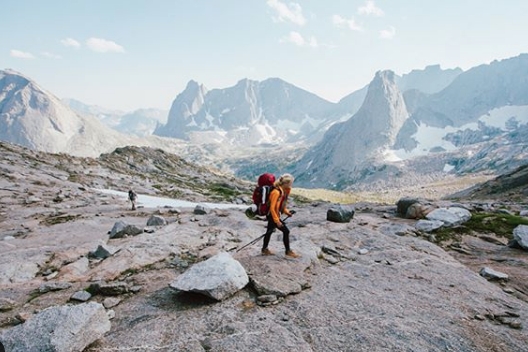 Wyoming is a strong contender for one of the best places to really get into the great outdoors. The state has some of the highest Rocky Mountain peaks in the lower 48, Yellowstone, and vast prairies. There are so many mountains and lakes that you can forgive the state for not having a coastline to add to the mix.
Where to Hike: Wind River Range

The Wind River Range is a massive set of mountains with over 600 miles of trails, leading to 40 peaks and seven of the ten largest glaciers in the Rockies. There are 2,300 plus lakes in the 2.23 million acres that make up the Wind River Range. This place is American Alpine beauty turned up to eleven. Head into the Bridger-Teton National Forest and put in a few miles along the Continental Divide National Scenic Trail. Pack well with plenty of layers and don't forget the bear repellent.
6. Montana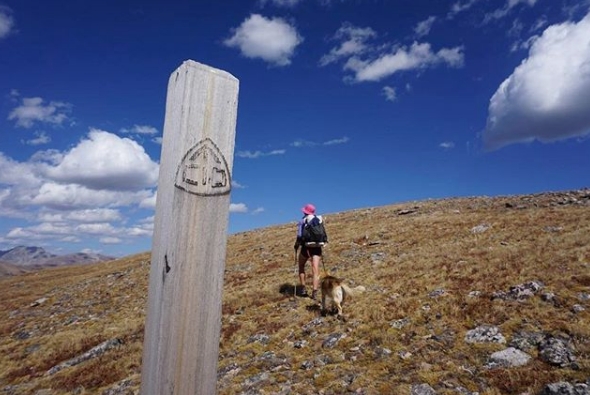 Everything feels bigger in Montana. The state is about the size of Germany with just over a million people, compared to Germany's 80 plus million population. It's vast and barely populated, making this a prime spot of any outdoor enthusiast.
Where to Hike: Continental Divide National Scenic Trail

Sticking with the Continental Divide Trail, Montana offers 180 miles of trails similar to Wyoming's. This is where Alpine peaks separate the West from the East in dramatic fashion with mountain after mountain, lake after lake, and an abundance of wildlife. This is the sort of hike where you can choose your own adventure. Either go all in and camp out in the wilderness for the weekend or just bite off small chunks along the way as you see fit.

5. Alaska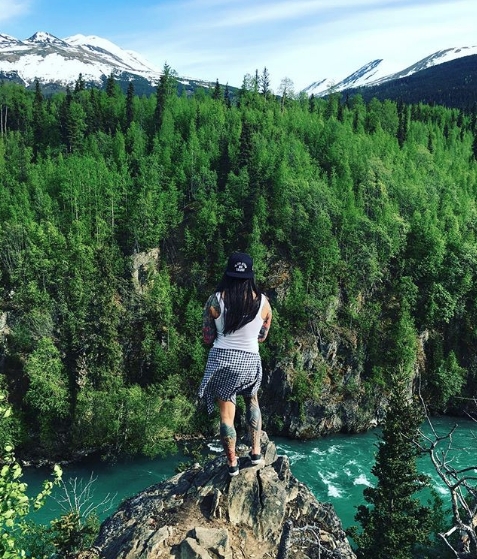 Alaska adds a new dimension into the hiking world: The Arctic. The state covers pretty much every terrain from misty sea coasts to the continents largest peaks to the arid tundras leading to the polar sea. There's even a desert — with massive sand dunes stretching towards the horizon, called the Great Kobuk Sand Dunes. It's wild.
Where to Hike: Kenai River Trail

Just south of Anchorage, you'll find the Kenai River Valley. The walk in from the main road is fairly moderate, so you won't need any special gear. The real treat is hitting this trail in mid-summer when the salmon are swimming upstream. Though be warned, there will be bears eating that salmon. Lots of them.
4. Oregon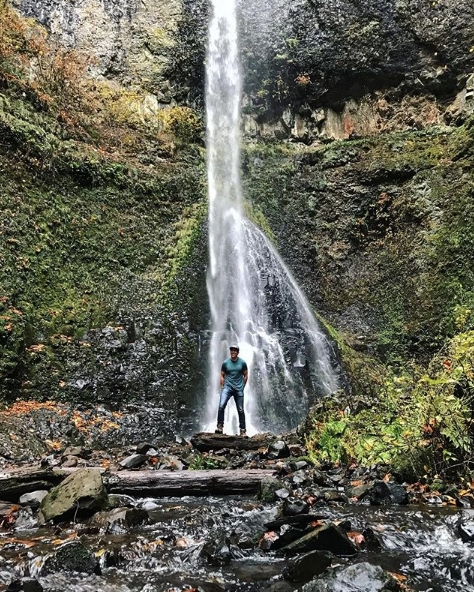 Oregon is a strong contender for one of the best hiking states in America. The beaches alone are worthy of a visit. Then there's a long string of volcanic peaks, plenty of dense rain forest, and arid high desert to boot. Add in the lush Columbia River Valley and Portland's beer scene and you've got the perfect spot to spend a three-day weekend.
Where to Hike: Trail of the Ten Falls

This one's all in the name. The 7.8-mile loop road in Silver Falls State Park (Oregon's biggest state park) takes you to, well, ten falls. This is an easy walk where you really only need a rain jacket. The forested path has some mild ups and downs to different falls, but overall this is an easy four-hour day hike, leaving you plenty of time to try some of that PDX craft beer.
3. Utah
Utah is a stunning place. The southern reaches are full of arid canyons with bright colored walls. The northern spots are full of Alpine peaks and dense forests.
Where to Hike: The Narrows, Zion National Park

The Narrows is one of the most iconic hikes in the world. The narrow canyon with towering rock walls on either side of a shallow river winds deep into Zion National Park. You can access the one-mile walk along the river if you're pressed for time. If you want to make a day of it and don't mind getting wet feet, you can tack on ten more miles into the canyon. That's hiking in the river. So bring a sturdy walking stick, plenty of water, and shoes that'll hold up.
2. Washington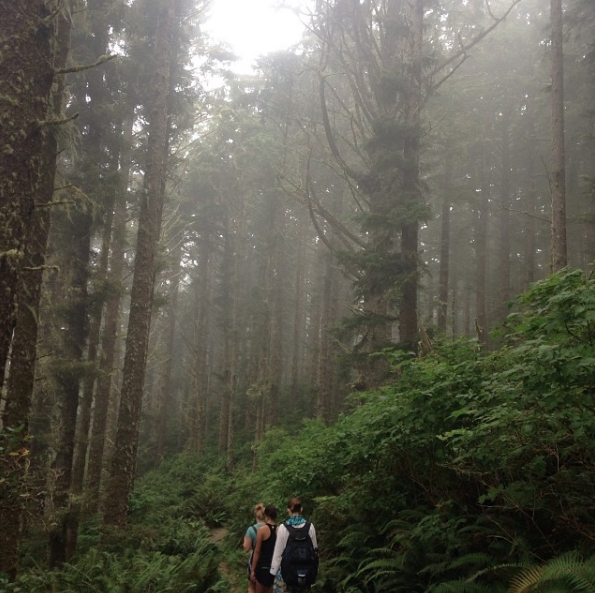 Washington state at number two is a seeding we can get behind. The state has a lot going for it with access to great nature seemingly around every turn. The western reaches of the state has mile after mile of coastline, temperate rain forests, and Alpine heights. The eastern half has a vast prairie, deserts, and then the foothills of the Rockies.
Where to Hike: Ozette Loop Trail, Olympic National Park

The Ozette Loop Trail is quintessential Western Washington. The 9.2 miles of trail wind through the rain forest with an old boardwalk towards a spectacular beach that also happens to be a millennia-old settlement that's now an archeological site. This is where the land crashed into the sea after and earthquake, preserving an Indigenous town beneath layers of mud. You can do this trail in one, long day. Overnight camping on the beach is highly recommended but you'll need a permit.
Also, dress for rain even in the summer.

1. Colorado
Landlocked Colorado takes the top spot, according to the masses. We're not so sure a state without a coast is worthy of number one. Still, it's hard to argue with the natural beauty of the Rocky Mountain state.
Where to Hike: Emerald Lake, Rocky Mountain National Park

The 3.5-mile roundtrip hike up to Emerald Lake is the perfect afternoon stroll through stunning wilderness. The reward at the end is a glacial blue lake surrounded by craggy peaks jutting into the blue sky well above the treeline. The trailhead is easily accessible by car and the hike is easy enough that no special equipment is necessary for a day hike. If you have more time, there are about five other lakes in the area, each only a mile or two from each other.