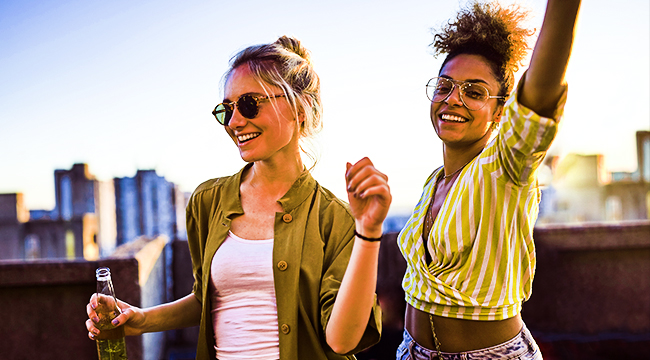 Few things make the summer heat feel bearable in the way that icy cold cocktails can. Well, maybe icy cold beers. So it makes perfect sense that we spend these sweltering months seeking out cool places to enjoy said beverages. Dark dive bars with air conditioning will do. So will breezy poolside cabanas. But to really maximize the joy of a well-made craft cocktail, quaff that sh*t outside. And if you want to take that to the next level, be outside on a rooftop high above an awesome skyline.
Cocktails, outdoors, high above it all in a stylish venue. That's the summer drinking trifecta, right there.
If you happen to have your own penthouse terrace, you already have everything figured out and you don't need any advice from us. But if you (like most people) have to find a rooftop bar in order to down some margs while you take selfies with the horizon in the background, then this list of the ten best rooftop bars in the nation is exactly what you need. With options from coast to coast, you should either find a venue near enough to hit up or be inspired to seek out one of your choosing.
Magic Hour Rooftop Bar and Lounge (New York City, New York)
All the high rises in New York City make for a lot of rooftop bars, but Magic Hour is the city's biggest indoor/outdoor hotel rooftop bar and lounge operating in all seasons. That's a mouthful. Which is fitting because the space is a massive 10,000-square-feet. In fact, the venue prefers to label itself an "urban amusement park" — a theme reflected in the rotating carousel seating and the naughty miniature golf course called Foreplay filled with animal statues in rather adult poses. This bar, atop the Moxy Times Square hotel, also delivers on views of midtown and the Empire State Building, so don't worry that you'll get denied your sky-high views.
The playful mood is also reflected in the food and drink options. There is a margarita gummy bear, a popcorn and cocktail pairing, some all-natural alcohol infused push pops, and literal IV bags filled with booze. And, if you get plastered, there are 100-square-foot rooms that go for $99.00 a night and are only available after 11 pm.

Altitude Sky Lounge (San Diego, California)
Altitude likes to bill itself as the place to see and be seen in San Diego and we freely admit that sounds a bit too #humblebrag to be appealing. But though it may feel boastful, it's not far from the mark. Sunset Magazine voted this hotspot the #1 rooftop bar in the western United States, and Conde Nast Magazine included it in their list of the top 50 bars in the country. And, as if the accolades weren't enough, Altitude is literally the highest rooftop bar on the west coast — sitting 22 stories above the city's epic skyline. You get views of Coronado Island, San Diego Bay, the Downtown Skyline, and Petco Park. You can literally see home plate from the bar, so you could opt to try watch a game from this elevated perch.
The menu isn't particularly elevated — bar food with offerings like sandwiches, flatbreads, chicken wings, and nachos. Tasty? Yes. Shockingly original? No. But we have no real complaints about classic bar treats. The cocktails are unique, however. Novel twists on the expected, and we think that the Mile High Spicy Margarita is tasty as hell. If you want to get really fancy, get the VIP treatment with bottle service. You go straight to the front of the line, enjoy private seating, and have your pick of bottles. It's not just champagne.
Departure (Portland, Oregon)
Portland continues to grow rapidly with traffic constantly backed up thanks to the construction of increasingly taller buildings. Assuredly, this means more and more rooftop bars are on the horizon, but chances are that Departure will remain the best. It was one of the first, and the last decade has done nothing to diminish how legit it is. It seems unlikely that will change. Positioned atop the landmark Meier & Frank building, Departure has a retro-futuristic aesthetic that is 'Gram gold — as are the panoramic view of the Cascade mountains and the bird's eye look at Pioneer Square. Travel + Leisure considers it one of the best rooftop bars in the country for a reason.
The menu here combines the best qualities of the Pacific Northwest's bounty with the flavors of the Far East. Grab some sushi like the kani avocado roll or the caviar and tomago roll, or try dim sum like pork shumai or steamed short rib buns. There are both a vegan menu and a gluten-free one, as well. If you want to go full East-meets-Northwest, grab a Hanasaka Jiisan cocktail made with Toki Japanese whiskey, Douglas Fir cordial, cynar, nonino, and bitters. Or take advantage of the fact that Departure has the largest selection of sake in the city.
City Lights Rooftop (Charlotte, North Carolina)
Floating atop the 18th floor of the five-star Le Meredien Charlotte Hotel, City Lights is one of the very few rooftop venues in Charlotte that offers a complete 360-degree view. It is also the largest rooftop in the area, so there is plenty of room from which to check out the whole city. We are really into their sense of fun, which includes LED furniture (the furnishings are literally lit), weekly live music, and a rotating lineup of DJs. It's a dope blend of the classy and the ridiculously exuberant. To enjoy the space with its modern décor, you do have to abide by the first come, first served rule. That can mean a wait. Also, the dress code is smart casual, so make sure you're looking good when you arrive.
To really maximize the classy/fun vibe, have a Sparkle & Pop, which pairs sparkling wine with your choice of locally made popsicles from the King of Pops. We also dig on the Pimento Fries, which use that signature southern foodstuff in a fondue that tops fries along with paprika and spring onions.
MBar (Seattle, Washington)
MBar established itself fairly quickly as one of the best places on the Seattle scene to grab drinks. Because of its popularity, you may want to make reservations or arrive early in the night for happy hour, or you may end up in the ground floor bar and waiting area for a considerable period of time. And who wants to be on the bottom when this place is next level?
Once you hit the elevator and exit into the neon-lit hall that leads to the 2,800-square-foot terrace, you will be treated to excellent views from Seattle Center, MoPop, and downtown to Queen Anne Hill, the Olympic Mountain Range, North Capitol Hill, and South Lake Union. If you want a stellar pic of yourself with an aesthetically legit cocktail in one hand and the Space Needle behind you, this is the selfie spot to end all of them. Also coveted for pics is the bar's hanging rainbow "egg chair." It's one of the little design touches, like the local handcrafted quilts for cold nights, that prevent the space from ever feeling too sterile.
The menu devised by noted chef Jason Stratton leans into Middle Eastern and Mediterranean flavors but with a New American twist. Lebanese style fried romanesco cauliflower with tarator and nigella seed? Yes, please. Be sure to try the corn nuts & fried fava beans with urfa biber. The signature cocktails are also bomb. The Porch Swing — featuring vodka, rhubarb, Lillet rose, lime juice, and black pepper — is stellar.

Monarch Club (Detroit, Michigan)
There was a midcentury rooftop bar heyday in Detroit when venues like Top of the Flame, Savoyard, and Recess had all the cool cats drinking Manhattans in the warm summer air. But as decades elapsed with people abandoning the city's downtown high rises, every single rooftop venue open to the public disappeared. The Monarch Club changed that. Sitting in the penthouse of the carefully restored Metropolitan Building, this 150-seat bar is the cherry on top of the Element Hotel. The Monarch Club has three terraces that provide amazing views from the 13th floor, and there is a classic aesthetic that nods to the past. Expect blue walls, red velvet banquettes, a white marble bar top, supple leather chairs, and sweeping views of the city through large, arched windows in the indoor areas of the bar and metal tables and firepits outside.
Chef Jared Bobkin (who may be recognizable from Hell's Kitchen) oversees daily operations with beverage director Mike Eisenberg of Roast, Detroit Optimist Society, and Grey Ghost. They also help to develop the menus, and both concur that the drinks are the primary focus of the bar. Classic sippers like gin martinis and old fashioneds sit on the menu next to more creative offerings like Fever Dream in a Mexican Airport, which is made with El Jimador Blanco, Ancho Reyes, creme de cacao, and lemon juice.
As for the food, for sure try the cauliflower steak and the burnt end poutine.
P6 (Austin, Texas)
Opened in March of 2019, the P6 rooftop bar sits atop The Line Hotel, which opened the previous year and has since distinguished itself as one of the most design-oriented boutique hotels in the nation. Named for the elevator call button for the original 1960s building's parking lot (where the bar now sits), P6 has a raw, natural vibe. The bar is made from local sandstone highlighted by white grout and potted plants punctuate the space giving it the feeling of a lush garden. The designers were asked to make the space feel like a reimagined greenhouse inspired by Monet's garden at Giverny, and it does capture the essence of a watercolor come alive. If that doesn't sound completely dope, the DJs that regularly spin house music sure do, as do the panoramic views of Lady Bird Lake.
The menu is filled with clean, simple items that have a Mediterranean flair, making the small plates perfect for summer noshing. The tuna crudo features charred lemon, grated olive, Texas olive oil, garlic chips, and fennel pollen, and there is a Spanish octopus with agrumato oil, saffron, tapenade, and gigante beans. The drinks are similarly refreshment focused. We think the Sundown Cobbler made with gin, fruits rouges, prosecco, fresh berries, and citrus is the perfect summer drink.
Sugar (Miami, Florida)
https://www.instagram.com/p/ByLSr3LhxpT/
Positioned on the 40th floor, Sugar crowns the EAST Miami hotel and offers sweeping 270-degree views of the Brickell skyline and Biscayne Bay. You couldn't pick a better place to take in the sunset. And though it's awesome to position yourself at a table overlooking Miami and take in the sights, your immediate surroundings are worth gazing at, too. The space has a tropical feel thanks to a lush Asian garden theme (the brand is Hong Kong-based and they stuck to that part of the world for inspiration). There are plenty of ferns and lots of bamboo, but it's also heavy on Miami cool. Oversized lawn chairs will beg you to curl up in them and twinkle lights strung randomly from tree to tree will impart the perfect amount of mood lighting.
Sugar serves a variety of cocktails and Asian tapas. Sushi is an option with items like the Sugar Roll, which includes shrimp tempura, carrot, and avocado with seared salmon across the top. There are also various satays and a list of small plates with items like pork belly buns and steamed prawn dumplings. We love their approach to signature cocktails because they find a way to marry seemingly disparate ingredients in the tastiest way possible. The Lychee Blossom uses vodka, sake, and lychee, and the East of Miami is made with gin, green tea, ginger, and lime.
Percheron Rooftop Bar (Kansas City, Missouri)
Recently opened, Percheron appeals both to lovers of cool beer history and people looking to have a craft cocktail while enjoying 360-degree views of Kansas City. Long ago, two buildings sat in the area now known as the Crossroads Arts District. One was a brewery bottling plant for Pabst Blue Ribbon. After years of being ignored, the building now houses the 131-room Crossroads Hotel, complete with a five-story atrium lobby that grants elevator access to Percheron, the rooftop bar. It can accommodate 200 guests at the picnic tables that are a nod to beer gardens and the small patio tables that line the edges of the space. There are also two bocce courts, on which guests can play for free.
Can you get a PBR? Of course, you can (for four dollars). You can also enjoy a few simple food items like marinated pickled vegetables, Italian sausage rolls, and hummus plates. But the real focus is on the cocktails. The Cool Hand Luca is perfect for the summer, as it is made with tequila, watermelon, Cointreau, lime, and agave. And the Paid Time Off with rum, falernum, avus amburana cachaca, green chartreuse, coconut, lime, and nutmeg is like taking a tropical vacation.

L.A. Jackson (Nashville, Tennessee)
This indoor-outdoor bar crowns the impressive Thompson Nashville hotel located in the recently revived Gulch neighborhood. L.A. Jackson is a fairly swanky hotspot with details like brass fittings and vintage photographs that add character to the sleek furnishings and fixtures. There is a modern-by-way-of-Old-Hollywood feeling in the dark palette, sleek lines, and shiny metal accents. But the real focus here isn't on the chairs and tables, it's on the incredible view of Music City. If you want to take a break from the rooftop scene, consider going to the hotel lobby to spin a few records from Jack White's label and to check out the work of local artists.
L.A. Jackson serves dinner and offers a late-night menu with a focus on small plates and shareable snacks. Standouts include the duck empanadas with duck confit and rhubarb gastrique and the venison poppers with bacon, jalapeno, cream cheese, and pepper jelly. The drinks menu puts a heavy focus on southern breweries as well as providing an extensive list of wines by the glass and some fantastic signature cocktails. The ANGO Unchained includes rum, angostura, pineapple, lime, and almond — paradise in a coupe glass.