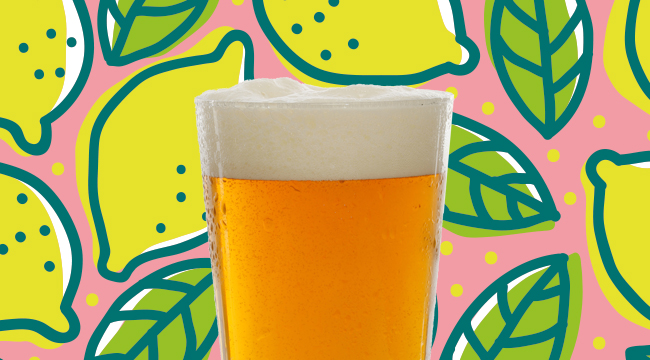 Do you like lemonade? Do you like beer? If you answered yes to both of those questions then the radler/shandy is the summer drink for you. Technically, a "shandy" is a drink that is equal parts beer and lemon-lime soda. But, like the very similar radler, many people choose to add lemonade instead of soda. You can easily do this at home with your favorite wheat beer, pilsner, or pale ale. Give it a try. You might actually find a combination that you love. But, if home beer-centric experiments aren't for you, you can try one of these premade shandies/radlers. Check out some of our favorites below!
Samuel Adams Porch Rocker
This 4.5 percent offering from the folks at The Boston Beer Company is designed for summer consumption. It gets its refreshing and subtly tart flavor from the combination of Helles lager and fresh-squeezed lemons.
Leinenkugel Summer Shandy
Leinenkugel makes a variety of shandies, but the best is the original. Based on the classic Bavarian-style, this perfect summer brew is made by combining the brewery's traditional Weiss beer and natural lemonade flavor.
Boulevard Ginger Lemon Radler
Boulevard is the king of Kansas City beer. It makes a myriad of award-winning beers, but its Ginger Lime Radler is one of the best for summer drinking. It's a sessionable 4.1 percent with the zesty flavors of ginger and lime paired with a thirst-quenching beer.
Stiegl Radler Grapefruit
https://www.instagram.com/p/Bj2pNxlhuBM/?tagged=stieglradler
This classic radler gets its flavor from real grapefruit juice. It's also more juice-heavy than most radlers (it's made up of 40 percent Stiegl Goldbrau and 60 percent fruit soda) and sits at a crushable 2 percent.
UFO Blueberry Lemonade
This isn't UFOs first foray into the world of shandies. The brand previously released UFO Big Squeeze Shandy and more recently, Pink Lemonade Shandy. This 4.8 percent offering is a collaboration with seltzer-centric brand Polar.
Narragansett Del's Shandy
This beer is pretty much summer in a can (or glass). That's because it's more than just beer and lemonade. This 4.7 percent shandy is a collaboration between the famous Rhode Island brewery and the iconic Del's Frozen Lemonade stand.
Schofferhofer Grapefruit Hefeweizen
This pink-hued brew is an authentic German-style 50/50, combing 50 percent Schofferhofer Hefeweizen and 50 percent carbonated grapefruit juice made with 100% natural ingredients.
Curious Traveler Lemon Shandy
This 4.4 percent shandy is Curious Traveler's take on the authentic German style. It's made by combing a wheat beer with lemon and a hint of lime. The result is tart, crisp, and refreshing.