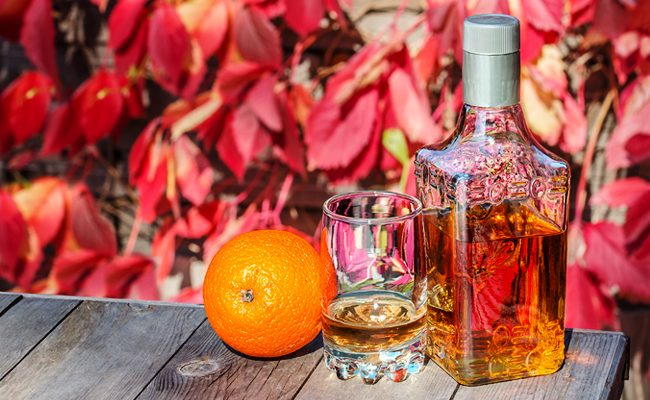 It seems like once fall arrives, tequila tends to lose a little of its luster. You probably enjoyed a margarita, Paloma, or tequila sunrise at some point this summer. Those light, refreshing, sweet, cocktails are perfectly suited for steamy July days and long August nights. But just because you drank tequila all summer doesn't mean that you can't roll right into fall with the beloved Mexican spirit.
To do so you'll have to change up the tequila you're drinking. Instead of blanco (unaged) tequila, you should be grabbing bottles of anejo and reposado. To help you figure out the right fall tequila for your palate, we asked some of our favorite bartenders to pick their favs.
Check out their answers below!
Tears of Llorona Extra Anjeo
Jeremy Williams, lead mixologist at Lumber Baron Bar in Grand Rapids, Michigan
"When the weather cools down I move away from margaritas and favor an agave spirit that can be a slow sipper. Tears of Llorona Extra Anjeo is just that. With a beautiful mahogany hue, lush aroma and rich complex flavor, it reminds one of drinking a high-end single malt scotch or fine cognac. This is due in part to that fact that this tequila spends time in three different barrels, Islay single malt scotch, sherry, and cognac casks. It's pretty clear this one has a lot to say."

Siete Leguas Reposado
Will Benedetto, cocktail curator at In Good Company in New York City
"In the Fall I start turning towards Reposado Tequilas. Most tequilas are aged in ex-bourbon barrels, which impart some fun Fall flavors like, baking spices, apple, and pecan. Siete Leguas Reposado is one of my favorites."
Clase Azul Reposado
Danwel Olivo, lead mixologist at Conrad Fort Lauderdale Beach
"The ultra-premium Clase Azul Reposado is my preferred tequila for fall. Made with Tequilana Weber Blue Agave, the blend is aged in second-use American oak barrels for eight months after the distillation process. Reminiscent of the season, it offers notes of apple cider, honey, cinnamon, and jasmine.
Fortaleza Anejo
Josh Cameron, head bartender at Boulton & Watt in New York City
"What's the best tequila to drink this fall? For me, fall is the time for barrel notes. I love Fortaleza Anejo this time of year. Just enough kick, just enough wood."
Casa Noble Reposado
Jonathan Shock, bar manager at Lady of the House in Detroit
"I love the rich herbaceous flavors of tequila, but when the weather gets a little cooler I find myself reaching for tequilas that have a bit more barrel aging to them like the Reposados and Anejos of the world. Casa Noble offers a whole line of beautiful, sustainable tequilas, and their barrel aged tequilas are aged to the maximum amount that they are legally allowed for their category — meaning you're getting the most for your money if you are looking for a slightly softer, rounder tequila option. Their Reposado tequila offers that bright herbaceous-ness I look for in a tequila while still offering some of those more mellow honey and vanilla notes that come from sitting in a charred oak barrel."

Casamigos Reposado
Homero Villarreal, beverage manager at LH Rooftop in Chicago
"The best tequila for this season is Casamigos Reposado. This classy tequila can put a twist on classic cocktails that don't normally contain tequila, like an Old Fashioned, which really accentuates its rich caramel and vanilla notes."
Codiga Rosa
Sam Cable, head bartender at P.S. Speakeasy in Kansas City, Missouri
"Codigo Rosa is not an easy going tequila. It has character. It has spice. And, it's absolutely delicious. Mix it if you must, but I enjoy it with a big ice cube like you would a fine Scotch."
Tequila Cabeza
Todd Thrasher, Potomac Distilling Company and Tiki TNT in Washington, DC
"Tequila is a tough spirit for the cooler months, and so as I was developing my menus for the season, I looked for a tequila that isn't too grassy and that has more substance to it. Right now I'm using Tequila Cabeza, which holds its weight in cocktails with fall spices."
Espolon Reposado
Logan Demmy, bar manager at The Citizens Trust in Columbus, Ohio
"The best tequila to drink this fall (and most of the year) is Espolon Reposado. I love it in fun applications like Phil Ward's 'Oaxaca Old Fashioned', one of the best modern classic cocktails made with reposado tequila, mezcal, agave and mole bitters."

Volcan De Mi Tierra
Lauren Kritt, head bartender at HarbourView Inn in Charleston, South Carolina
"I am a big Tequila fan and always looking for a new sipper to try. My most recent favorite is Volcan De Mi Tierra because it has a very rich agave taste and is perfect for sipping during the fall weather to help warm you up."
Don Julio Real
Sebastian Gonzalez, mixologist at Hilton Buenos Aires
"Fall calls for rich flavors and mature aromas with a hint of citrus and sweet notes. This is why Don Julio Real is you best tequila choice. Made from 100 percent Mexican agave, this exquisite spirit was aged in American oak barrels with vanilla and coconut aromas, perfectly painted in a deep caramel color that only a high-quality extra-añejo tequila can have."
Riazul Tequila Anejo
Jules Gomez, beverage manager at Zuma Miami
"I really enjoy agave so choosing one is challenging. However, some favorites happen to be Riazul Tequila Anejo for sipping and Tequila Fortaleza for making cocktails."
Milagro Select Barrel Reserve
Jon Griffiths, beverage director at Datz in Tampa, Florida
"When I think of fall, I always think of baking spices. I look for a Tequila that has long oak aging, which gives it flavors of vanilla, clove and other baking spices. Milagro Select Barrel reserve is perfect for that, They age in both French and American oak for a minimum of 14 months which ensures that you will always get those sweet and spicy notes that I love in an aged tequila."

Siembra Azul
Brice Peressini, lead bartender at The Victor in Vancouver, British Columbia
"If you're looking for something delicious that you may not have seen before, Siembra Azul makes an amazing tequila. The bottle isn't the prettiest, but what's inside sure is."
Avion 44
https://www.instagram.com/p/BoXZj0kAd5-/?tagged=avion44
Nahm Kim, mixologist at Sunda in Nashville
"Avion 44. My current favorite of the extra anejos. Big mouthfeel with tons of butterscotch, golden raisins, and a beautiful medley of baking spices."