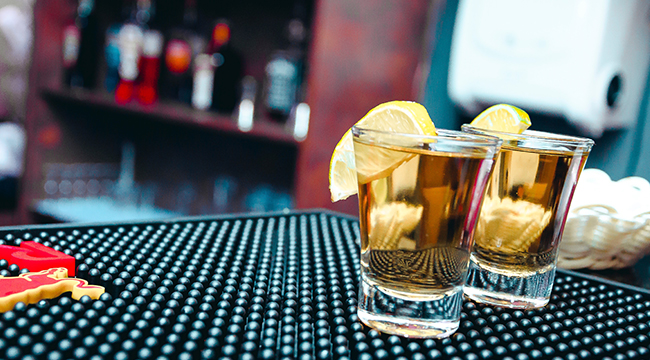 There are few spirits more closely associated with warm weather drinking than tequila (except for perhaps rum). Tequila-based cocktails are summery, light, and full of fresh ingredients. There's a reason we picked the paloma as the drink of summer 2019.
With this blue agave-based spirit seeing a popularity spike in warmer months, it's no surprise that July 24th is National Tequila Day. To get prepped for the occasion, we asked some of our favorite bartenders to tell us their go-to tequilas for summer sipping.
Casa Noble Anejo
Torrence R. O'Haire, beverage director at Gage Hospitality Group in Chicago
I prefer tequila for sipping, overall, so I'm a huge fan of Casa Noble Anejo. Balanced, creamy, and very agave-driven, with enough barrel-age to support the structure without too much clumsy oak-flavor covering up the aromatics.

Tequila Ocho Plata
Alex Gregg, lead bartender at Curadero in San Diego
For sipping, I'm going with Tequila Ocho Plata. All of their tequilas are single-estate, meaning that all of the agaves are grown and harvested from a single estate or ranch, as opposed to sourcing from all over the place. This approach gives each batch a unique sense of terroir much in the same way single estate wines are expressive of the particular place where the fruit is harvested.
Fortaleza Blanco
Daniel King, beverage director at Butchertown Hall in Nashville
Fortaleza Blanco is the answer for a summer sipper. Just pour it on the rocks and sit with it. There's already plenty of citrus flavor to it, so no need for a lime on the side or anything like that. It has a very apparent mineral quality to it that feels refreshing — like spring water. The best part is it is only just as sweet as it has to be, so it feels very light in the summer heat.
If you do want a margarita or something, be sure to back the proportions of sugar and lime down a bit so the tequila can really have a chance to shine.
Espolon Reposado
https://www.instagram.com/p/BzJ00lvFexS/
Jack Galobich bartender of The Gage in Chicago
Espolon has a wonderful reposado which I love to use for margaritas and to pair with a nice mixing Mezcal for Oaxacan old fashioneds. It's quite smooth but has enough personality for cocktail mixing as well.
Herradura Reposado
Joey Biñas, bartender at Bootlegger in San Diego
Depends on my mood. If I'm ready to party, shooting a nice smooth Reposado tequila, like Herradura or Casamigos, is easy on the tongue — whether served chilled or at room temperature. In terms of mixing tequila cocktails, however, I really don't have a preference. Well thought out and mixed margaritas and palomas can shine without a high-end brand name tequila. (As long as it's 100% agave, of course.)
Don Julio 70
Alli Torres, bartender at Refinery Rooftop in New York City
Don Julio 70. This is an añejo claro — which quite literally means a clear, aged tequila. A hint of vanilla and an unbelievably smooth finish makes it a warm-weather winner for sure!
I, personally, drink this neat or on the rocks but if mixed into a cocktail, the flavor profile really does all the work and nothing but fresh ingredients are needed to create something delicious.

Casamigos Reposado
Casey Lyons, bartender at Pacific Hideaway in Huntington Beach, California
This summer I feel like no one can go wrong with Casamigos. The tougher call is between the blanco and the reposado, I feel like bringing either to party will make you the most popular person in the room.
Karma Silver
Justin Monell, general manager at BLVD & MAIN in Las Vegas
Karma Silver. Tequila can be so smooth and easy to drink if you just pick the right one, and for me, it's Karma Silver. You definitely don't need to mix it with anything.
Patron Silver
Laura Mitchell, Bar Lead at BEER PARK in Las Vegas
I'm a silver tequila drinker. I like Patron and Cazadores— chilled with an orange slice dipped in cinnamon.
Mi Campo Blanco
Mark Hawkins, director of food and beverages at RT Lodge in Mayville, Tennessee
I love Mi Campo Blanco. It's rested in Napa Valley Chardonnay barrels for three weeks before bottling. It's smooth and creamy, with hints of Vanilla, white pepper, and clove. You can't beat this $25 bottle of tequila. Whether chilled in a shot on served neat next to some tacos it's my summertime go-to.
Altos Olmeca
https://www.instagram.com/p/BXW5MthgYIz/
Ilan Chartor, spiritual advisor at KYU in Miami
My favorite summertime tequila would definitely be Altos Omeca. It's great for cocktails and the reposado can be sipped all day long.
Revolucion Anejo Cristalino
Kelly McGee, beverage manager at Park Avenue Tavern in New York City
My latest favorite tequila is Revolucion Anejo Cristalino. It is a very smooth tequila that has a sweet agave finish, making it ideal for this season.
Corralejo Reposado
Josh Cameron, head bartender at Boulton & Watt in New York City
Well, summer is here, it is a Corralejo summer, over, and over again. It's so smooth, so clean, no lime needed, limited hangover (depending on how long you hang out bar side). It also mixes to well and doesn't overwhelm. Both a crowd pleaser and worth sipping for a one-on-one conversation.

Don Abraham Blanco
Leal Ransone, bar manager at Plat 99 in Indianapolis, Indiana
I prefer blanco tequila generally, and during the summer I really love the stuff that leans on the grassier side. Don Abraham Blanco is what we keep behind the bar in Plat 99 and what I lean towards in general, whether you're looking for a margarita or just a nice spirit on the rocks.