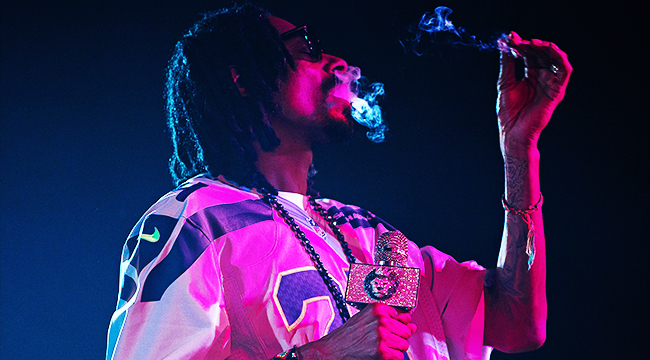 Summer is "best" for a lot of things. Swimming holes. Natural waterslides. Food festivals. Rooftop bars. Pool parties. River tubing. Milkshakes. The list goes on (and on and on). The point is: We're fans of this time of year.
It's also the best season to listen to music — whether you're making your way to a sprawling summer festival, catching bands at your local state fair, or taking advantage of the hot weather energy to check out your local clubs and dives. It's why literally every act on earth tours in the summer. All of them. And while they play, it's not uncommon to catch a whiff of weed twining through the air.
Of course, that whiff might actually be emanating from you. If so, you can enhance your experience with a strain that's well-tuned for shows, festivals, and concerts. The ten strains below are cannabis types that elevate live music and amplify your euphoria. Whether you're on your feet cheering, dancing your ass off as your faves hit the stage, or waiting tensely for the beat to drop — we got you. As always, be aware of the rules surrounding cannabis use in your city and don't do anything that could get you in legal trouble. Cannabis is a fun; jail isn't.
Green Crack
Originally dubbed "Cush" by its growers, this strain was renamed "Green Crack" by cannabis celebrity Snoop Dogg after he got a load of its powerful sativa effects. It does lean indica on the physical side of things, but everything else is an intense, energetic high that screams sativa. People bunched in a festival crowd will love this strain because it increases their ability to focus on the performances and to be inspired creatively by them. Plus, it causes psychedelic effects — so expect visual and audio distortions to add to the fun.
This strain has citrus notes in its scent, as well as earthy, woody undertones. When smoked, the flavor is a bit sweet mango, a bit hashy, and a bit spicy. It's very smooth, too — which makes it easy to use without coughing up a lung in front of all your new show friends.

LSD
We have to be honest and say that we are fully behind your use of genuine LSD at a show or festival. But this particular instance, we're talking about the indica-dominant cannabis strain that goes by the same name. Despite being an indica, this strain delivers big on feelings of happiness and mental stimulation. It also offers a vivid psychedelic set of effects that can enhance any live musical performance from deep house to shoegaze. You'll understand what you're hearing in a way that never occurred to you before, and that's cool as hell.
This is a decent tasting strain that has a lot of piney earthiness and dank skunkiness. It's also a little bit citrus-flavored, so much so that people compare it to biting into an orange or grapefruit. We might not go that far. It still ultimately tastes like weed. But we're still big fans of the bubblegum sweetness that lingers at the end of an exhale.
Rockstar
This 50/50 hybrid clearly has the right moniker for a concert-going strain. It's also a bit of a star in its own right — having come in second in the 2012 hybrid category of the High Times Cannabis Cup. Users love it because it has positive indica qualities like relaxing tension, easing aches and pains, and magnifying happy feelings, but you don't get any of the sedative effects. You can party all night (and party hard) without your energy flagging or your body getting sore (no matter how much time you spend in the mosh pit).
This strain is more of an acquitted taste, as it's super pungent with lots of woody and earthy notes. There's a little citrus, but it is more of an undertone than anything. If you're down with some skunky, strong weed, this will be perfect.
Super Lemon Haze
Speaking of High Times Cannabis Cup winners, this sativa-dominant hybrid strain nabbed first prize in both 2008 and 2009 and first prize at the IC420 Growers Cup in 2010. There are plenty of reasons it's so beloved and perfect for blazing up at a show. Great for fighting fatigue and stress, Super Lemon Haze gives users a heaping helping of pep and makes them chatty as a mofo. This is the perfect strain for seeing a line-up of bands with a group of friends and then proceeding to rage all night.
Obviously, the name tips you off to the lemony aroma and flavor that you can expect here. There's a lot of the terpene Limonene present. But there are also sweet and tart notes that take the lemon taste and make lemonade with it. Or at least Lemonheads candy.
Jack Herer
This sativa-dominant cannabis strain takes its name from a lifelong cannabis activist whose work helped forward decriminalization and legalization. Like the real Jack Herer, the strain of the same name is highly regarded by weed users. It balances the head high and the body high nicely — leaving users fairly relaxed but also focused and down to get into some conversations full of deep thoughts. Plus, you feel really creative, which leads to engaged, stimulated audience members. If you are yourself a musician, this is a good strain to use to find spontaneous inspiration at shows.
When you break up this bud, you'll get a lot of orange and lemon zest aroma with an underlying peppery note. But the flavor is more herbal and cleaner like smoking sage or oregano. It tastes pretty piney and earthy, so don't be fooled into expecting citrus by its smell.

Northern Lights
Arguably one of the most popular indica strains of all time, Northern Lights is considered a two-hit-and-quit option for people heading to concerts, shows, and festivals. Any more than that and you genuinely run the risk of becoming a spectator in your own life as you remain glued to a seat. Because it's one of the purest indica strains out there, it can be very sedative. If you're measured in your use, this strain gives you a solidly chill body high and an enjoyable sensation of well-being and joy. Anything you do after a couple draws from the pipe or vape will feel like the best night of your life.
The overall flavor profile of this strain is earthy and piney, so it's a lot like toking up something from a wooded forest. There is also a sweetness on the exhale that makes it a bit more palatable. If you dig skunky, hashy strains, this will be right up your alley.
Girl Scout Cookies
We wouldn't fault you if you wanted to take some actual Girl Scout Cookies with you to a show. Look, Samoas are delicious and we stand behind the people who want to get drunk and inhale them in mass quantities. Likewise, we support people who choose instead to inhale this cannabis strain of the same name. Well, not quite the same name. These days, it has to go by GSC to avoid upsetting the cookie folks. This strain offers a lengthy high marked by serious euphoria, all over tingles, giggle fits, and periods of introspection. It's a good time strain that doesn't really motivate or focus you at all. Instead, you just feel super happy, and you want to keep it that way.
This strain genuinely smells sweet right out of the container, and as you break up the bud to use it, that sugary smell increases. It's especially cool because the smell is mirrored in the taste, which is like a dessert. Sweet. Sweet. Sweet. It's also a little earthy and a little flowery, so you may feel like you are smoking a sugar dipped potpourri.
Blue Dream
This 50/50 hybrid is a cross between Blueberry and Haze, and it has a relatively high THC range that falls between 17 and 24 percent. Use it in moderation. It takes the best parts of its parentage to give users a heady rush that comes with a lot of focus and motivation. Then, as it develops, the high makes you totally relaxed and calm. As a bonus, you'll be pain-free.
All told, this is the perfect strain for a long night — as the early stages of the high have you eager to take in as much as you can and thrilled to put one foot ahead of the other. Then, as things wind down, you can really experience music on a new level. And feel free to wear your coolest, least comfortable clothes because they won't bother you when you're riding Blue Dream. Everything feels cozy.
This is a yummy, yummy strain. There is no doubt about it, the sugary berry flavors are a delight to smoke. If you have a way to vape the flower and get more flavor from that sweet-tasting herb, do it.
Cherry Pie
Also known as Cherry Kush, this indica-leaning hybrid is deeply potent, and it offers users the best that each of its parent strains (Granddaddy Purple and Durban Poison) has to offer. It's fairly balanced with neither the relaxation of an indica or the energizing nature of the sativa overtaking the other. We think it's a fun accompaniment to live music because it intensifies visual and auditory stimuli and makes the most routine thoughts have a new import. You'll not only experience shows in a new way, but all your reactions will feel considerably more interesting. Plus, many report an aphrodisiac effect — which could be just what you need to round your night out nicely.
This strain definitely has some rich, sweet cherry flavors, though it also has earthy, flowery notes as well. When you smoke it, the first tastes you get will be a bit toasted, then they mature to a hint of sugary berry. The smoke is very aromatic, so be careful where you smoke. — people will know.

Glass Slipper
A sativa-leaning hybrid, Glass Slipper is on the potent side, clocking a THC make up between 20 and 25 percent. You can expect the high to kick in very quickly with a burst of energy and a whole lot of happiness. As the journey continues, there will be a mild body stone but nothing that leaves you immobile, and the slight physical buzz grounds things so you don't need to worry about the being pushed into anxiety. Primarily, you'll find your senses enhanced, making listening to music considerably more impactful. Plus, it is great for calming social anxiety and making people incredibly chatty. It is pretty good as a daytime strain or a nighttime one, but it is energizing, so it's better for nights when you are going out to catch a band rather than trying to crash.
The smell of this bud is really unique; it's a bit fruity and sweet with some definite tropical notes. Some people identify pineapple notes for sure. Others also get a bit of dank earthiness. If you ignite it, expect pleasant, almost buttery smoke and an aftertaste that's traditionally masculine with leather and musk flavors.