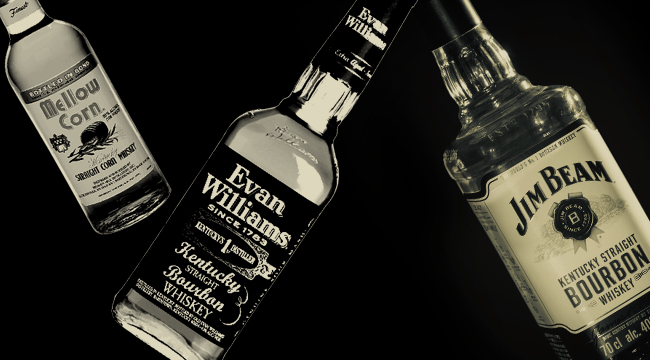 The term "bottom shelf" conjures up some pretty negative feelings regardless of the subject matter. Nobody wants to hear that the features of the resort they just booked are "bottom shelf". The same goes for the accountant they hire or the clothes they wear. Put simply, the phrase is a perjorative. The lowest of the low.
Not when it comes to whiskey. You might assume that if you're only spending around $15 dollars for a bottle of the brown stuff it's going to taste more like oak-flavored lighter fluid than a nuanced, finely aged spirit. In many cases, you wouldn't be wrong. But there are a handful of high-quality, well-made whiskeys out there that cost the price of a movie ticket and are likely to prove a hell of a lot more entertaining.
Turns out, in the right time and place, the bottom shelf just where you want to be. Check out the best whiskeys for under $15 below.
Jim Beam White Label
Jim Beam White Label is one of those classic bourbons that you can find at pretty much every liquor store or bodega in the country. It's cheap, it's consistent, and it's remarkably sippable and mixable for such a reasonably-priced bottle. This is the flagship bourbon of one of the most well-known whiskey brands for a reason.
Tasting Notes: If you're a fan of bourbon, you've probably tried Jim Beam at some point. If so, you've been met with hints of toasted oak, vanilla, crème brulee, and a subtle hint of peppery heat at the finish. If you haven't tried this bourbon, you need to remedy that.

Mellow Corn
There's a reason Mellow Corn is a bartender favorite. Sometimes misidentified as a bourbon, this corn whiskey is bursting with corn (81 percent), with the rest of the mash bill made up of malted barley and rye. Because of its high corn content, the result is a very sweet, highly mixable whiskey that should be a stalwart in your home bar for use in your favorite whiskey-based cocktails.
Tasting Notes: While some 100-proof whiskeys tend to be a little harsh, Mellow Corn lives up to its name. It's mellow, sweet, and full of butterscotch, corn, and vanilla flavors with a hint of spice at the end. Definitely worth more than the price (but don't tell its makers, Heaven Hill, that).
Evan Williams Black Label
Supposedly, Evan Williams Black is made up mostly of five, six, and seven-year-old bourbons. That's why it's so surprising that you can easily find this whiskey at most stores for around $15. It's bottled at 86 proof, so it's a little higher than most, but not so high to be harsh and rough.
Tasting Notes: Even if you're a fan of more expensive bourbons, you should definitely have a bottle of Evan Williams Black Label in your home bar. It's great for cocktails but is also worthy as a sipper with immediate hints of caramel and vanilla that progress into candy corn and toasted oak, leading to a pleasantly dry finish.
Four Roses Yellow Label
When we see the words "Four Roses" written on a bottle, we can be fairly sure we'll be happy with the product inside. The brand has multiple high-quality bottles in the $30-$50 range, but even with that high level, it's best not to sleep on Four Roses Yellow Label and it's $15-20 price tag.
Tasting Notes: Your first thought might be to mix this bourbon into an old fashioned, mint julep, or whiskey sour. That's okay, but this budget whiskey is also great for slow sipping. It's warming — with creamy caramel, English toffee, honey, and sweet corn flavors. It also has a pleasing hit of rye spice at the end.

Old Overholt Rye
Beloved by bartenders, Old Overholt is the best budget rye on the market at around $15-20 for a 750ml bottle. This subtly spicy rye whiskey is perfectly suited for mixing but also works well on the rocks on a brisk late summer or early fall evening.
Tasting Notes: This is a very complex whiskey with an obvious high rye content (it is a rye whiskey after all). The result is the peppery spiciness rye drinkers have come to expect paired with hints of crisp green apple, dried fruits, and sweet malts.