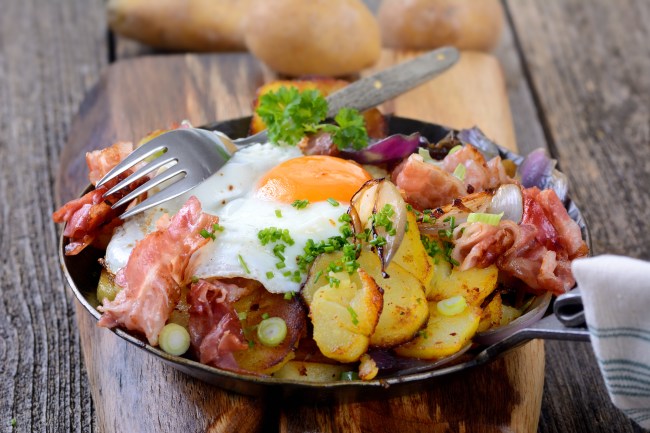 Breakfast is the most important meal of the day. It's tradition. It's revered and lauded as the cornerstone of any healthy diet. Without breakfast we're going to become obese and die of a million heart attacks. Yeah, except that as the New York Times asserts, none of that is really true.
From ancient times until the advertising boom in the mid-20th century, breakfast was something eaten by children, day laborers, or the elderly and infirm. Back then it was a pint of ale, maybe some bread and cheese, or a porridge of grains. Basically it was reserved for the people who needed the energy and strength to get through another day. For the average person, breakfast was a pint of beer.
Then along came Sigmund Freud's nephew — Edward Bernays. Edward Bernays is one of those men who was at the eye of the perfect storm of technological advancement, psychological theorizing, unchecked capitalist greed, and complete gullibility of the public — which he exploited to pursue mammoth wealth. He also liked breakfast.
Bernays was an adherent to his uncle's "herd instinct" critique of human nature. He employed it to convince women that smoking Lucky Strikes was feminism and liberation. He invented the idea that Thomas Edison was the sole inventor of the light bulb by deleting Sir Joseph Swan entirely. He used doctors to sell people on Ivory Soap being medically superior to all other soap — it wasn't obviously, it was just white soap. You know why you're using a disposable cup for your coffee, beer, and cigarette butts? Because Eddie Bernays convinced the public that using reusable cups would spread venereal disease and disposable was the way to go. He was instrumental in the USA launching Operation PBSUCCESS to overthrown the democratically elected Guatemalan government so his client, United Fruit Company (now Chiquita), could sell more bananas. Seriously. Most importantly, after returning from Europe where he attended the peace talks ending World War I, he realized that "propaganda" had become a word people couldn't trust. So he started referring to it as public relations. He was basically all the worst parts of Mr. Burns and Don Draper combined.

And this guy is the reason you associate pancakes, eggs and bacon with breakfast. Edward Bernays got U.S. President Calvin Coolidge to shill for pancakes by endorsing them as a breakfast meal. It's true: He got the president to make a commercial. That may seem tame by today's standards of shilling, but Coolidge's "Pancake Breakfast" was a first. The whole scheme was that cool celebrities would gather at the White House to eat pancakes. The general public started eating more pancakes.
Later Bernays' client, Beech Nut Packing, needed a new ad campaign to help them sell more pork. Let's let Bernays tell the story…
Life Magazine considers him one of the top 20 greatest Americans of the 20th century. In many ways, Edward Bernays America-ed the hardest and won all the manifest destinies.
Breakfast has become so engrained in our cultural psyche that it has become fetishized. No meal gets more attention than breakfast. We even invented a super breakfast and called it brunch. What used to be a meal for people that had to go out and cut down trees or build skyscrapers has turned into a decadent excuse to post Instagram shots and berate McDonald's employees.
Finally, we are starting to learn that Bernays and his 5,000 "doctors" were full of it. Breakfast isn't the wonder meal we were all led to believe. When most of the "studies" are examined more closely they either fall apart from misleading citation, misleading results, and desire to prove themselves right. One study shows missing breakfast causes obesity. Another study proves that missing or eating breakfast makes no difference at all. And yet another study shows people who skip breakfast AND have breakfast both lose weight. Basically most studies about breakfast are either biased by funding, misinterpreted research, or based on association and not causation. Or, to put it in laymen terms, "It's hard as f*ck to measure these things because there are so many variables."

It's time to stop listening to advertisers trying to sell you food. It's also time to stop listening to single studies and assuming they mean the scientific community has a consensus about the subject. And it's definitely time to stop listening to studies funded by the industry that thrives on your consumption of their product. As for breakfast, that's up to you. Follow your tastebuds and your own eating choices. Just know that your heart isn't going to explode if you decide to skip it.
As for us, we might just go back to a single beer for breakfast. It's got everything you need — hydration, some carbs, some vitamins and minerals, and a little kick of alcohol to get the day started. 5,000 years of history can't be wrong.
Via the the New York Times