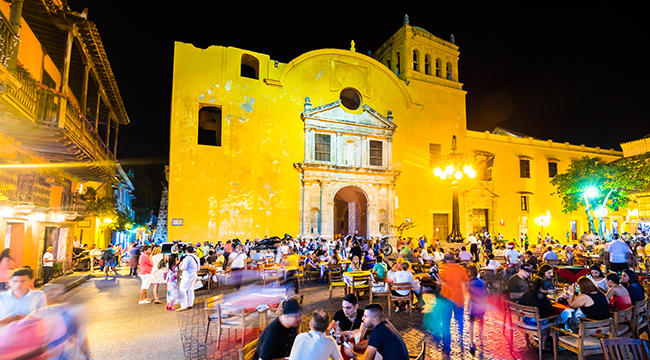 Rubbing the sleep out of my eyes, I roll over in bed to see light peeking through sheer, gauzy drapes. There are faint sounds of birds chirping in the distance. I lay there, sinking back into the bed — which is the kind of comfortable only a hotel bed ever seems to be — and bask in the peaceful beauty of the moment. In the stillness, fuzzy, dreamy memories of the previous day float back to me, and I can't help but smile. This is how Cartagena, Colombia greets me every morning — with quiet moments and happy memories. I've only been here for three days, but already I feel drawn in by the gentle rhythm of the place. I am catching some serious feelings.
It's my job to travel a lot. I create content through trips to beautiful locations all over the world. This year, I've been all over — Mykonos, Grenada, Costa Rica — but I've actually traveled very little in South America. When planning a trip, my initial instinct is usually to jump the pond. But with so many amazing paths-less-traveled in South America, my desire to see more of it has been steadily growing. Destinations like Colombia have become more of a priority for me, and so recently, I decided to head to Cartagena to start experiencing the region more deeply.
What I found was a stunning city that absolutely surprised and delighted me at every turn. Nestled into Colombia's Caribbean coast, Cartagena is Colombia's hidden jewel. It's filled with rich history, well-preserved colonial architecture, and a vibe unlike anything I've ever experienced. It's no surprise that this is where wealthy Colombians flock every year during the holidays to attend extravagant parties. So, if you're like me, and have been searching for the perfect way to start experiencing the uniqueness of South America, here are some reasons why Cartagena is the perfect destination to start that journey.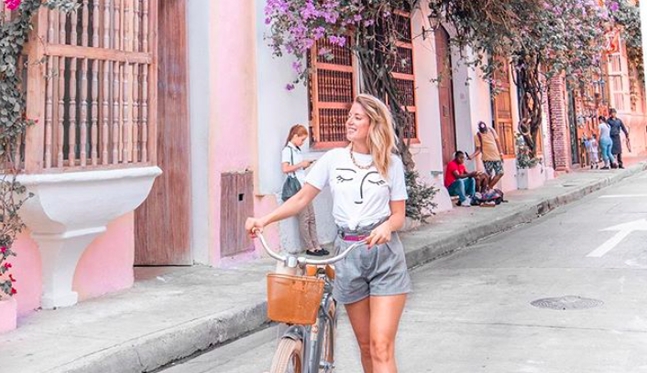 It's easy to get there.
Getting to Colombia is surprisingly easy and while I expected flights to be on the pricey side, Copa Airlines offers quite a few reasonable fares. They fly all over South America and out of 10 major U.S. airports. I decided to go with them because they offer extended stopovers in Panama City free of charge. I figured, why do one country when you can do two? It was a nice little bonus for my trip without adding more expense.

The Walled City is so unique.
Cartagena's Walled City is essentially a city within a city that was built to protect wealthy aristocratic families and their jewels from invasion by Caribbean pirates. And it was while exploring the Walled City that my love affair with Cartagena began.
It's truly pedestrian-friendly. I took a bike and slowly peddled down the cobblestone streets while a soft wind brushed through my hair. Almost all of the buildings have been preserved/restored to maintain the city's original architecture. Many feature colorful facades with large wooden doors adorned with metal work, and bougainvillea vines with beautiful floral arrays that frame windows and doorways, adding further charm to the city streets. In the walled city, everyone was smiling despite the humidity. It quickly became obvious that I was not the only one who was captivated by the beauty of the Walled City.
The food is incredible.
When it comes to the food, Cartagena blew all my expectations out of the water. If I'm being honest, I had envisioned a lot of ceviche, fresh fruit, BBQed meats, and simple dishes. Walking into Carmen restaurant, I was caught completely off guard. Sunshine filled the restaurant's small courtyard, casting rays of light across scattered outdoor seating and illuminating the beautiful tiles and foliage. Surrounding the courtyard were enclosed air-conditioned rooms with further seating for those who had yet to adjust to Cartagena's hot climate. And the dishes were masterpieces in both presentation and taste. The first course? A large upside down wine glass filled with thick grey smoke. Once lifted, a coconut scent filled the room to reveal a delicious seared sea bass on a bed of creamy risotto, a dish that still makes my mouth water just thinking about it. I was further surprised to find out that a 5-course tasting at Carmen WITH wine pairings only cost around $100 US per person.
That was only the first amazing culinary experience of the trip. Another favorite, featuring traditional Colombian cooking, was Candé. It was raining the day my friends and I headed to the small Colombian restaurant that had received high praise from many locals. We arrived starving and wet. Piling into the small entrance way of the restaurant, the atmosphere was just what we needed — warm and full of delicious smells that made our bellies rumble. The menu was packed with fresh seafood. I picked the grilled fish and this turned out to be one of my favorite meals of the trip. By the time we were finished, the rain had subsided, the sun had come out, and our bellies were full.
The Caribbean coast is breathtaking.
Being on the Caribbean coast means getting out on the water is a must. Colombia has some beautiful secluded islands and offers great snorkeling and scuba diving adventures, so renting a boat or hopping on a chartered catamaran can easily be done. I spent an afternoon on the water on a sailboat cruise. Being on the water was absolutely magical — my friends and I sat on a bed of pillows at the front of the boat, taking in the city skyline, sipping champagne, and toasting to the good life while the sun is set
Sunset Sailing offers a four-person, four-day charter for $5000 US. It's pricey, but this includes food, lodging for four days, and activities like snorkeling, SUP, and mangrove kayaking. Plus, you get to experience multiple islands. The captain and first mate drive the boat and prepare all your meals, leaving you to sit back and enjoy four glorious days out at sea.
There are amazing cultural traditions here.
I loved walking around Cartagena, it's just a friendly place filled with vendors selling handmade beaded goods, small accessories, dresses, and freshly cut fruits. But it was while watching the street performances that I really fell in love with Colombia. The traditional dances there are gorgeous, and I stood there in a euphoric trance, absorbing the energy and vibe of that moment until I was physically pulled away.
If you get the chance, I recommend taking a dance class as well as doing a coffee tasting while in Cartagena. Coffee is one of Colombia's largest exports, so where better to learn about coffee taste profiles, different brewing methods, and the bean growth cycle? Both activities are really fun and give you a feel for the local culture.
And there's a neighborhood I loved, with a more lived-in, bohemian feel, just outside of the walled city called Getsemani. It was once the epicenter for Colombia's Independence Revolution and today is full of cool cafes, restaurants, and hostels. The streets of Getsemani are adorned with beautiful murals from local artists, and since the area is both smaller and cheaper than the walled city, it's a perfect option for accommodations and dining for money-conscious travelers.
The boutique hotels are cozy and charming.
While in Cartagena, I stayed at two boutique hotels within the walled city. The first was called Tcherassi Hotel and Spa – a beautiful, airy, boutique hotel that perfectly combined casual luxury with modern design. The hotel consists of 42 bright and spacious rooms and was designed by famed Colombian fashion designer Silvia Tcherassi. In the evenings, after we were done exploring, my friends and I would head up to the beautiful pool on the rooftop, and sit in one of the cabanas enjoying a drink. We would hang out there 'til the sun would creep away, leaving us to enjoy incredible views of the city at sunset.
The second hotel I stayed at was a beautiful colonial style boutique property called Hotel Casa San Agustin. Each of the three exquisitely restored buildings that make up the hotel were once colonial-era homes, and I don't mean to brag, but my room must've been someone important's because it was huge with a four post bed, beautifully tiled bathroom, and a private balcony with lounge chairs. I loved the inner courtyards here. The first was a little oasis with a pool and a half dozen sunbathing chairs that my room looked down onto, and the second, a breakfast patio with a small pond where I would sit and enjoy my morning coffee to the sounds of birds chirping.
There's great night life.
On one of my last nights in town my friends and I went out to Alquimico, a chic cocktail bar in the walled city. The bar was packed with young locals and foreign professionals and we stayed there drinking delicious cocktails all night long, practicing our 'introductory at best' salsa moves, and singing along to everyone from Calvin Harris to Lauren Hill. This was one of the best bars we went to while in town and I had so much fun here. Cartagena also has a few big techno clubs and a handful of LGBT bars. I was really happy to find out that Colombia is very LGBT friendly.
Walking around the walled city with a beer is also completely fine and on weekends, locals and tourists gather in Plaza Fernandez de Madrid, located just down the street from the hotel I was staying in to drink. The square is surrounded by bars and restaurants, so after dinner, people will often spill out onto the streets and into the square to party further.
The last night, beer in hand, dancing in the street with my friends, I knew that I still had a lot of South America to see, but even as I explore the rest of the continent, discovering new adventures, there's one thing I'm certain of: Cartagena is a place I'll come back to again and again.
Uproxx was hosted for this story by ProColombia Tourism. You can learn more about the Uproxx Press Trip policy here.