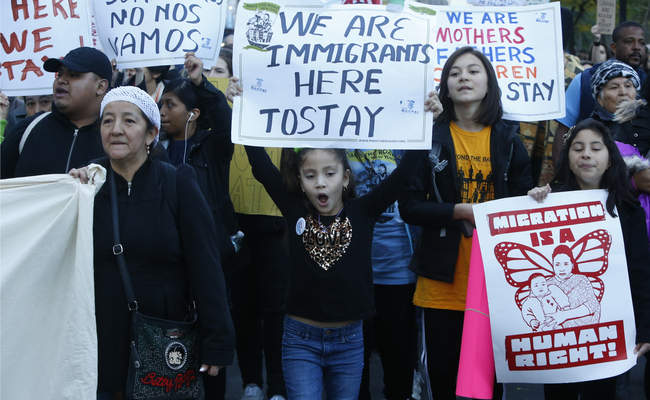 Today is the "Day Without Immigrants". Businesses all over the country have decided to close their doors in solidarity of the immigrants whose hard work makes America work. Offices, stores and even restaurants are staying closed today in an effort to show the importance of our immigrant population. Janet Murguia, the president and CEO of National Council La Raza took to Twitter to voice her support for the strike.
Her Tweet was in response to famed Spanish-America chef Jose Andrés and his decision to shutter many of his restaurants in Washington, D.C. on Thursday. The protests are designed to draw attention to the Trump administration's ban on a number of Muslim countries, the proposed border wall, and the illegal-immigrant sweeps across the nation in recent days.
Here's is the official statement from Jose Andrés ThinkFoodGroup:
In solidarity with the many immigrants on our staff who are passionate about participating in A Day Without Immigrants, ThinkFoodGroup will close most of its DC-area restaurants on Thursday, February 16 – Oyamel, the three area Jaleos and Zaytinya. China Chilcano, minibar/barmini and all locations of Beefsteak will remain open, staffed by a collective team from all of our DC-area restaurants so that we can continue to both serve our guests as well as provide for those of our staff who plan to work that day. We will resume service at all restaurants on Friday, February 17.
Restauranteur Ajay Walia, of Michelin starred Rasa Contemporary Indian (and Saffron Indian Bistro) is
an immigrant from India
. He also decided close his restaurants for the "Day Without Immigrants" protests. An outspoken advocate for human rights, Walia told UPROXX:
In solidarity with the immigrants across the nation and to share how important immigrants are to our community, both Rasa and Saffron will be closed on February 16th. I am a first generation immigrant myself from India and we as a country are all immigrants; so we have to stand by the immigrants that help feed our country.
Like many, Walia believes that without immigrants, there would be no America. He also recognizes that the restaurant industry, in particular, is powered off of immigrant labor. "We understand their cause so the most peaceful way to do show our solidarity was to close both of our restaurants. After closing, I personally called and texted our 95 reservations for the day."
Andrés and Walia aren't alone. A number of chefs have decided to keep their doors closed today. Tom Colicchio and Rick Bayless are two of the more well-known chefs to support the protest, but there are countless other all across the country. Many of which took to Twitter to praise their teams for the hard work they do on a daily basis. Some of these chefs are popular figures in print and on television, but their staffs strive for success day in and day out without the glory of cameras.
The restaurant business is extremely fickle and margins are thinner than the garlic slices in Goodfellas. Closing your doors for one day can severely impact sales. It's a big deal that so many restaurants have decided to show their support in lieu of serving paying customers. Let's just hope the right people are listening.