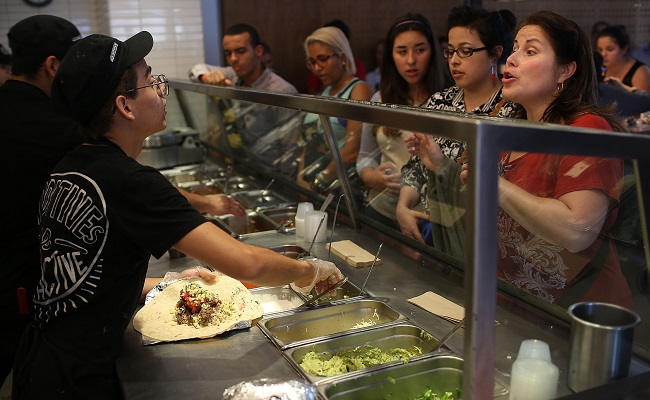 Remember when a scourge of Chipotle restaurants were contaminated with E. Coli, and one in Boston was plagued by norovirus (which inadvertently affected the performance of Boston College's basketball team)? Yes, that all happened, and ever since that fateful news and ensuing media firestorm in December, the company has been struggling to recover. The latest effort to improve the burrito chain's image includes an easy, and somewhat cheap, but ultimately effective method of persuasion — free food.
According to CNBC, co-CEO Montgomery "Monty" Moran delivered the news during an interview at the ICR Conference last Wednesday. Described as one of "the premier investment conferences in the world," ICR generally draws "retailers and restaurateurs" from all over to its annual meeting of investors — which explains why Moran decided to spill the (possibly contaminated) beans on the company's plans to re-attract former customers.
The restaurant chain has doubled the amount of free food stores can give away to customers… While the practice has existed at the company since the "old days," it had diminished, said CFO Jack Hartung during an interview. "We've always had it, but it just kind of drifted to such a low-grade level that it was kind of non-existent."
Per Moran and Hartung's separate comments, Chipotle has always equipped its franchises with extra food for this very purpose. Why? To attract repeat customers. Now that the company has endured a severe health crisis, however, it looks like even more free food will be on the menu.
Whether these more frequent giveaways will be scheduled with certain promotional events, occur at random intervals, or just be flung into crowds of mall-goers remains to be seen. Even so, combined with Chipotle's previously announced company-wide closure of all franchises in February for a required safety meeting, new health guidelines, and the hiring of a food safety expert, it seems the company is finally back on the right track.
(Via CNBC)