There's something about a dirty gin martini that feels right during the holidays. It's big, savory, acidic, and very easy to drink. It's also pretty damn easy to make, assuming you have the right ingredients.
When it comes to any martini, you kind of have to dial in the ratios that fit your vibe. Some folks like a splash of dry vermouth in there. Others will demand that a bottle of vermouth not even cast a shadow over their gin (or vodka) when making their martinis. Neither is wrong and we're not here to judge your palate.
Dirty martinis are different. In this case, you need the dry vermouth to counter the umami-bomb and light lemon citrus of good olive brine (high-quality olive brine should just be water, salt, and lemon oil/juice). The addition of soft botanicals and the very distant fruit of the dry vermouth adds a balance to the hefty botanicals of the gin and the salt/citrus of the brine.
It's a little bit of magic in a glass when balanced right — so let's get into it!
Dirty Gin Martini
Ingredients:
3-oz. dry gin
0.5-oz. dry vermouth
0.5-oz. olive brine
1 dash Angostura Bitters
Ice
Olives
Let's focus on the olives first. I'm using Iliada green olives from Greece. They're pitted and pretty big (so you don't need a lot). Also, the only ingredients in this jar of olives are, well, olives, water, salt, and lemon acids. That's ideal, as it adds the umami you're looking for while also giving the martini a touch of acid for balance.
I'm also using Beefeater 24 London Dry Gin and Noilly Prat Dry Vermouth. Each is iconic but subtle. The gin is drawn back from the juniper and leans a little more towards the orris root and wild florals while the Noily brings nice floral support with a touch of citrus and a slightly herbal edge.
Lastly, there are the bitters. I like a dash of Angostura Bitters in my martinis. It's not traditional but adds that little botanical x-factor that'll help your martinis pop.
What You'll Need:
Coupe, cocktail glass, Nick and Nora glass, or lowball glass
Cocktail mixing jug
Barspoon
Cocktail strainer
Jigger
Toothpick
Method:
Prechill your glass in the freezer.
Add the gin, vermouth, and olive brine to a mixing jug. Dash with bitters and fill with ice 2/3 of the way up.
Stir until the jug is ice-cold to touch, about 15 to 20 seconds.
Strain the cocktail into the prechilled glass.
Garnish with one to three olives on a stick and serve immediately.
Bottom Line: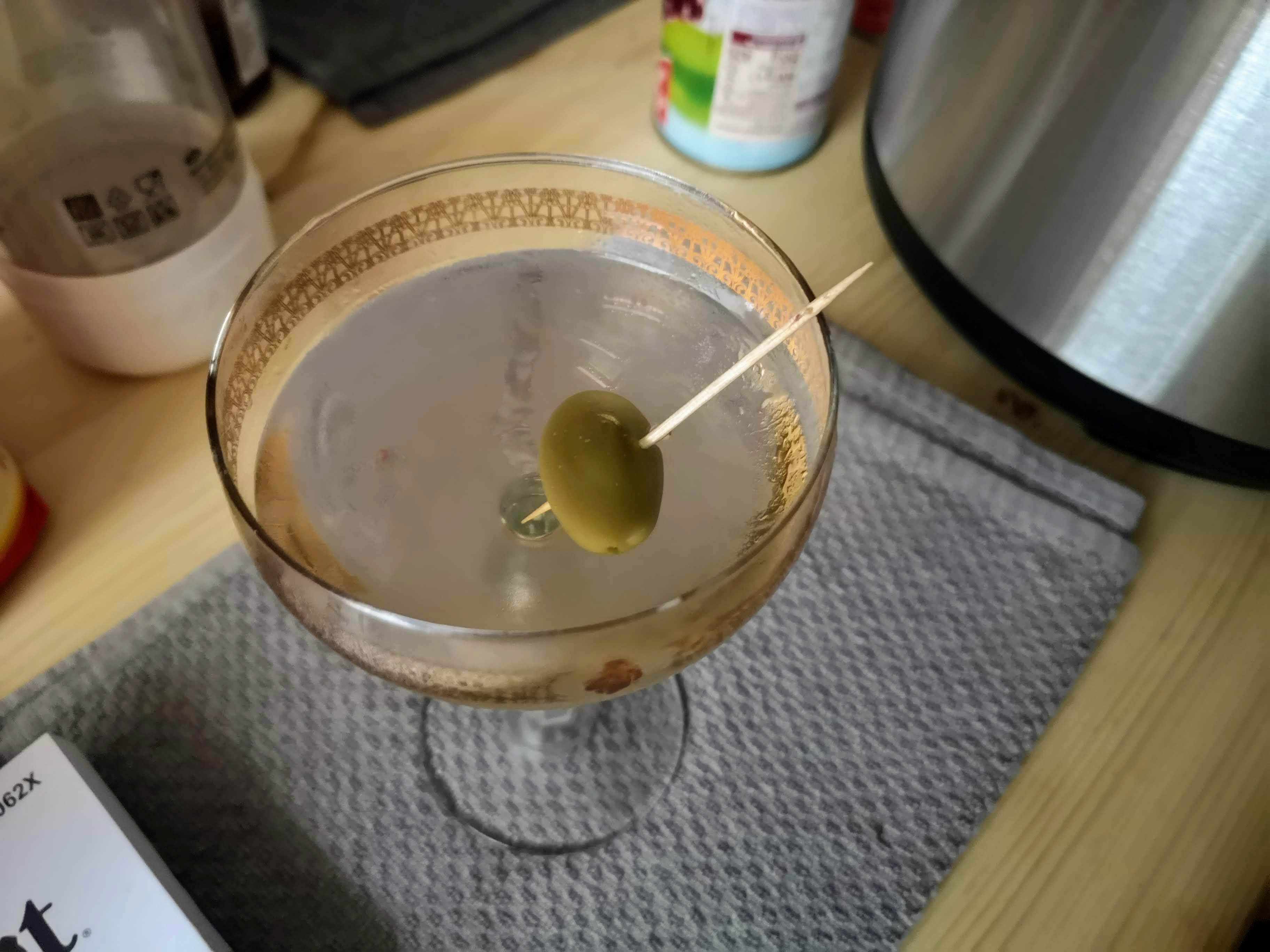 The softness of this cocktail is astounding. The umami and acid from the brine bring this balance that lets the gin calm down while the dry vermouth slowly massages its own botanicals and sweetness towards the front of the sip.
This is savory, acidic, herbal, botanical, and pure silk in every single sip. Every time I make one of these I wonder why I don't drink them more often. They're super easy to master, fast to make, and just beautifully delicious — especially if you're looking to get away from the overly sugary cocktails that tend to dominate a lot of menus these days. There's a faint sweetness buried in this but it's really about that balance of umami and acid with the botanicals. It's just … right.
I'm definitely going to be making these for the rest of the festive season (as soon as the eggnog runs out anyway).