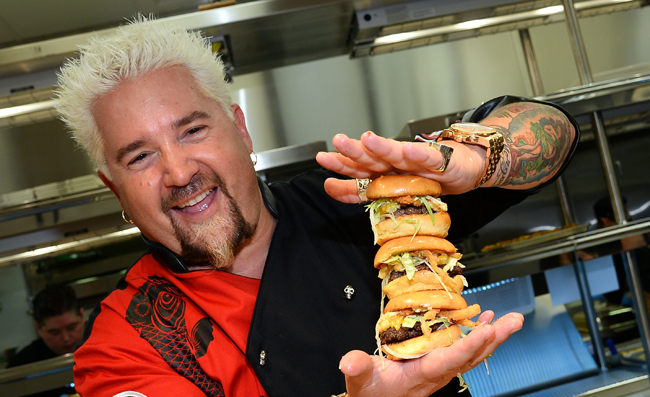 The days of mocking Guy Fieri — founder of Flavortown, king of the frosted tips, and lord of noisy bowling shirts — are over. The dude does his thing. If you don't like it, skip it. While haters have been busy hating, Fieri has become an icon for fun food, and somewhat of a hero for small towns as he travels dusty highways highlighting little-known restaurants that can benefit from a TV boost.
Watching "Diners, Drive-Ins, and Dives," it's a bit disconcerting that Fieri doesn't have some major health problems from chowing down on the often fat-laden delicacies at the diners he visits, and even more shocking that he's able to make everything look so delicious, leaving the viewer to scribble down the name of the diner and dish just in case he or she happens to travel through that town one day.
Alas, Fieri's enjoyment of all of the food he eats may just be some TV magic, because in a recent interview with Billions creator/podcaster/filmmaker Brian Koppelman, he has admitted that he isn't actually a fan of everything he tries on his show. Naturally, as a chef, himself, and the proprietor of dozens of his own restaurants, the Man In The Flamed Shirt might be a tad picky when it comes to food. He said on the pod:
Some chefs that'll see it… will do their investigation…We'll go to commercial, and they'll go, "Well, did you like that?" And I'm like, "Yeah it was good." And they'll go, "Well you didn't go, like, 'This is off the hook.'" And I'm like, 'Well, it was good." And I'm like, "Don't be offended, I don't like every single song that's on the Rolling Stones album. There's ones that you like.
Fieri went on to say that he doesn't leave chefs high and dry, though. He gives them advice. As a seasoned (pun intended) chef, he has much to offer those who are just starting out, or who could stand to change things up a little. In the big scheme of things, getting to be on his show and then getting a free cooking lesson is probably a small price to pay for a negative critique.